Robotics allow St. Luke's staff to practice high-risk birth scenarios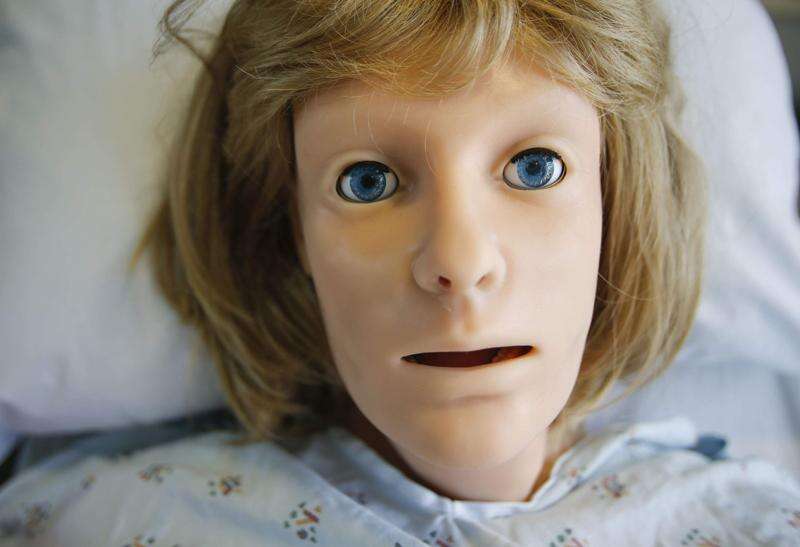 CEDAR RAPIDS - A lifelike robot newborn baby - which is expected to be able to cry, move its arms and legs and change color to indicate blood and air flow - is being added as a training tool at UnityPoint Health-St. Luke's Hospital Birth Center in Cedar Rapids.
Medical staff will be able to more accurately drill high-risk birth scenarios using the neonatal baby simulator, said Advanced Practice Nurse Debra Johnston, which is critical when preparing for real emergencies during and after childbirth.
'We know from the airline industry and the military that simulation is one of the best ways to ensure safety measures," Johnston said. 'It lets you practice it as close as you can without it being real."
The baby simulator will be in a space at the St. Luke's Women's and Children's Center, 150 11th St. NE, that already is home to a maternal robot that simulates a mother in labor. Hundreds of students and staff practice responding to multiple birthing procedures on the robot, named Victoria, every year, Johnston said.
Both Victoria and her neonatal counterpart are financed with support from Variety, a children's charity focused on at-risk, underprivileged, special needs and critically-ill youth. St. Luke's Hospital received a $37,450 grant from Variety this month to purchase the baby simulator, according to a September news release.
The simulation room has baby dolls that are used for simulations, but residents, nurses and other staff aren't able to complete all the procedures they might need to on a real baby on the dolls, including intubation or checking their vital signs.
A baby simulator as high-tech as Victoria will make 'each case study more realistic," Obstetric Outreach Coordinator Rachel Petersen said. Practicing how to respond to dangerous cases can only improve care for the real babies and mothers in the hospital, she said.
'The scenarios we practice in here often happen out there like a month later," Petersen said.
l Comments: (319) 398-8330; molly.duffy@thegazette.com