Review: Maroon 5 revs up 'newbo evolve' stage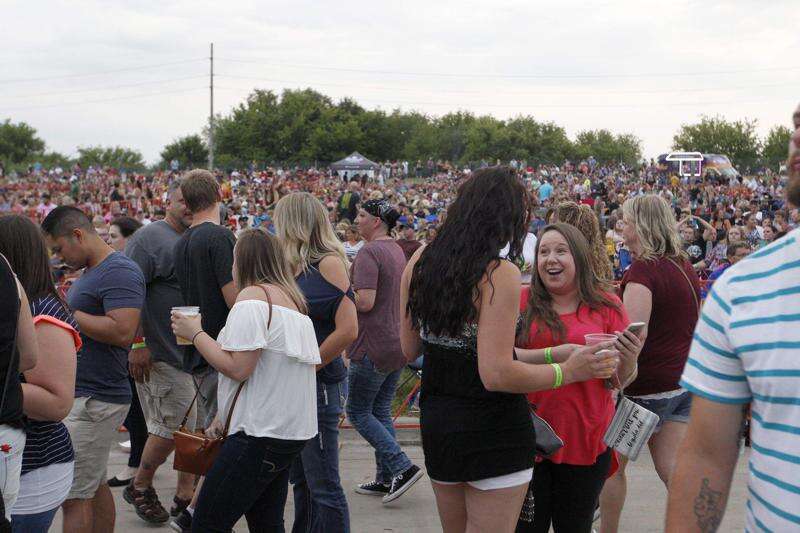 CEDAR RAPIDS - Two powerhouse judges from 'The Voice" television competition brought their powerhouse concerts to the 'newbo evolve" main stage, and the NewBo District will never be the same.
That's my hope, anyway. The gigantic stage set up behind the Kickstand restaurant was the perfect place to lure thousands of people to the new river levee lawn for these gigantic concerts.
Kelly Clarkson was wonderful Friday night, and Adam Levine was phenomenal Saturday night, fronting his Grammy-winning band, Maroon 5.
The overarching theme I heard from the festival's celebrity speakers and out-of-town guests was that they had no idea Cedar Rapids was so cool, and they were so impressed with the way residents and businesses pitched in to pull off this inaugural event. I would love to see the festival return, but beyond that, I'd love to see this new stage continue to reel in the huge summer shows that head to the big venues that can pack in huge audiences they're after.
The massive stage, crystal-clear sound system and sophisticated light show rival any venue I've been to. Add in a nice variety of food vendors and plentiful beverage stands and 'comfort" stations, and this was an uptown setup for welcoming back-to-back superstars and their legions of fans.
Although crowd counts weren't available at this writing, Clarkson drew a big crowd, and Maroon 5 drew even more. Saturday's standing-room-only pit was completely full, and several celebs were spotted rocking out in the VIP section, including 'Hairspray" writer-director John Waters; Carson Kressley from 'Queer Eye" fame; cable TV's 'Wood Work"; and 'Fixer Upper" carpenter Clint Harp and his wife, Kelly; and MIT political science professor and author Adam Berinsky.
Fans showered Levine with screams even before he stepped into the spotlight, and the volume pumped even higher when Maroon 5 dialed up 'Payphone." Even though I can't remember the last time I saw a pay phone, this one proves that happy ever-afters still exist, as this 2012 hit still will be fun technological light years from now.
For me, Maroon 5 is one of those bands where I didn't realize I knew every hit on the set-list until I heard them woven together in concert.
The band segued seamlessly through a 90-minute hit parade that continued with 'This Love" and 'Misery," both marked by angsty lyrics wrapped in bright and bouncy beats, giving way to the soulful jazz of 'Sunday Morning," propelled by a bass kick that pulsed right through your chest.
'Animals," however, is where we heard the full flexibility of Levine's multi-octave voice. He can even add a little growl when he launches into his falsetto.
Near the end of the song, he went into full beast mode in a guitar duel with Lincoln, Neb., native James Valentine, who killed it all night long on lead guitar.
The pop-rockers also gave fans a taste of the styles that have evolved through their award-winning career, adding a little reggae funk with 'One More Night" and a little hip-hop party groove with 'Cold," from the latest album, 'Red Pill Blues."
Between bouncing around the stage and simply breathing, Levine didn't have to work too hard to get the crowd revved up, but everyone was more than happy to clap along on-cue on 'Maps."
The light show was amazing all night long, as well, but 'Maps" took on even more urgency under pulsating white lights and Valentine's wild guitar and the band's instrumental jam at the end.
Roars pierced the perfect night air on the intro to every song, but especially for 'Love Somebody," a cover of Michael Jackson's 'Rock With You," and of course, 'Moves Like Jagger."
And that wasn't the end the show. The band came back with four encores - a slow cover of 'Forever Young," 'Girls Like You" and a gorgeous acoustic duet with Valentine as they romanced 'She Will Be Loved."
Levine turned playfully snarky as he admonished those who were seen making an early break for the gates: 'It's a concert - enjoy the moment."
Hopefully on their way to their cars they could still hear the band pull out all the stops for the finale encore, 'Sugar." I lost count of the number of guitars Levine played, but this last one was a flashy hot pink, adding another level to the panache of the evening.
'It's our first time in Cedar Rapids," the L.A. rock star said early in the show. 'It's always nice to do a first time. Thank you so much for having us - it's such a pretty place."
Judging from the crowd reaction, we'd love to have you back any time. Yes, please - you can put it down on us any time.
Two acts opened the show with wildly different styles.
Marc Scibilia from Buffalo, N.Y., launched the concert with a wholly satisfying folky acoustic set, lighting a spark with a cover of Bruce Springsteen's 'Dancing in the Dark."
Robert DeLong then whipped up nearly an hour of electronic soundscapes created by sampling various instrumental sounds, interspersed with live keyboards, vocals, guitar and percussion, augmented with a kaleidoscope of undulating video geometrics.
The result was oddly mesmerizing, and seemed to resonate with the young members of the multigenerational crowd.
The entire evening personified the festival's slogan of showcasing 'music, art and inspiration," as the crowd spilled into the streets of New Bohemia to rock the night away.
l Comments: (319) 368-8508; diana.nollen@thegazette.com
BALLOON GLOW
l What: Freedom Festival Balloon Glow, rescheduled from June
l Where: Sinclair Levee/BoTown Entertainment Park, 1430 Second St. SE, Cedar Rapids - same location as 'newbo evolve" concerts
l When: 6 to 9:30 p.m. Tuesday, Aug. 7; gates open at 5 p.m.
l Band: Arch Allies
l Admission: $5 Cedar Rapids Freedom Festival button, available at the gate, cash only; free ages 8 and under
l Extras: Bring chairs and blankets; coolers with beer and wine allowed, food and wine vendors on-site; no pets, no fireworks (including sparklers)
l Shuttles: Kingston Stadium/Kernels lots open at 5 p.m. for parking; shuttles pickup/drop off from stadium's south ticket gates. Also, shuttle pickup spots at White Star Alehouse, Smulekoff's and Lot 44; shuttles run from 5 to 10 p.m.
l Details: Freedomfestival.com/events/balloon-glow-is-back/150/