Pie bakers sought for Buchanan County Fair contest
Proceeds to benefit local 4-H, FFA programs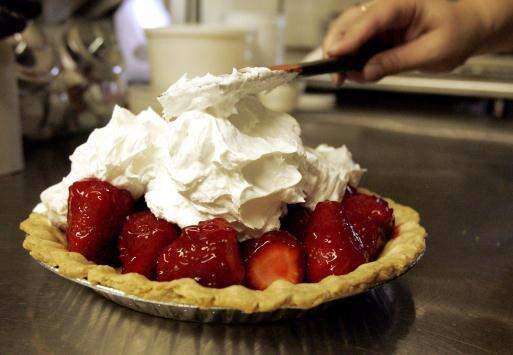 The Buchanan County ISU Extension and Outreach office is searching of a few great pie bakers for the 43rd Pie Baking Contest & Auction at the 2021 Buchanan County Fair.
Pie baking time slots are available each hour between 6 a.m. and noon on July 8. Call (319) 334-7161 to reserve your spot. This year's auction will be held on July 8 at the Black Pavilion at 4:15 p.m. Pie judging will begin at 2:15 p.m.
Registration form available at https://www.extension.iastate.edu/buchanan/page/projects.
Pie baking teams arrive at the 4-H Building at the Buchanan County Fairgrounds at their designated hours. Pie tins, traditionally donated by Steve Brentner, and lard for making flaky crusts, donated by Fareway, are provided. All other supplies are brought in by the pie making teams. Rules indicate these judged pastries must be fruit pies with no lattice top, frozen crusts, streusel topping or one-crust pies allowed. Pies are numbered to allow anonymity from the judges and baked by the contest supervisor. Cooled pies are sampled by the judges beginning at 2:15 p.m. Awards are presented at the start of the auction. All pies are then auctioned to benefit the 4-H program. Generous donors have been known to pay more than $300 for a pie to benefit student 4-Hers and this worthwhile organization.
Previous pie and bucket of flowers auctions proceeds have helped to ensure that local 4-H and FFA members have access to exceptional youth programming throughout Buchanan County. Programs supported include signs, supplies and materials for the county fair; 4-H awards night and county fair recognition materials; 4-H record cook awards and supplies; 4-H county fair judges meals; 4-H recruitment events (including scarecrow scavenger hunt, pet costume contest; Spring in the Heartland Eggstravaganza, 4H YCC Kickball Tourney;) 4-H STEM day camp programs; and support for regional 4-H Junior and Intermediate day camps at EWALU. Sign up today at https://www.extension.iastate.edu/buchanan.
If you have any questions, please contact Brenda at the Extension Office at (319) 334-7161 or email bgfuller@iastate.edu.