North Liberty Blues & BBQ festival celebrating 15 years
Musician ZZ Ward will be headlining this year's festival on July 8
NORTH LIBERTY — With summer right around the corner, that means North Liberty's Blues & BBQ festival is getting closer and closer.
This year is a special one for the free annual community festival held at Centennial Park as it celebrates 15 years of blues-inspired live music, barbecue, craft beer and family-friendly activities.
This year's festival will take place from July 8 from 10 a.m. to 11 p.m. at Centennial Park, 1565 St. Andrews Dr. Last year's Blues & BBQ attracted 20,000 people to the event.
Nick Bergus, the city's communications director, said this year's event will feel familiar for attendees and be an exciting celebration of what's to come. Bergus has attended all 14 events and has been involved in the planning committee since 2013.
There are still spots open for anyone looking to sign up to volunteer at this year's Blues & BBQ festival.
There is a list of available tasks and times at northlibertyblues.org and anyone interested can sign up online.
Volunteers receive a special Blues & BBQ T-shirt, $5 voucher for food or for a beverage, fanny pack, reserved event parking, among other perks. Volunteers must be at least 14 years old to sign up without a parent or legal guardian.
On the Blues & BBQ website, there is also a volunteer frequently asked questions page that answers what volunteers do, what they should bring/wear and more.
ZZ Ward will be headlining this year and is performing at 9 p.m. Other performances throughout the day include Kevin Burt & Big Medicine, Hector Anchondo, The Diplomats of Solid Sound, James Tutson & The Rollback, Dave Moore and The Wilted.
"We're at a little bit of an inflection point as we look forward to the next stage of Centennial Park," Bergus said.
North Liberty's "Next Stage" campaign has a vision of transforming Centennial Park into a regional attraction and venue with an indoor event space, outdoor stage, open air pavilion, splash pad and more. The $16 million project has a goal of raising $1 million from the community to push forward plans.
⧉ Related article: North Liberty seeking community support for Centennial Park's 'next stage'
This year's festival is an opportunity to celebrate and look "back to the past but also really looking forward to continuing tradition," Bergus said, adding how the next stage project will benefit the festival and the community.
"People look forward to (Blues & BBQ) every year, and people have been really supportive of it," Bergus said. "It's been really great to watch it grow."
How it all started
The first Blues & BBQ was held in 2007.
The first event was intended to be a one-time celebration for the grand opening of Liberty Center pond, Bergus said. There was local music, carnival games, petting zoo and fishing.
"Their expectation was that they'd get a couple hundred folks out. There turned out to be a couple thousand folks, and that was the start," Bergus said.
The festival took a "big step" in 2014 by moving to Centennial Park and being held on a Saturday in July instead of the Sunday during Memorial Day weekend, Bergus said.
"We really started to think about what other steps could we take to make this not just a community celebration but something that would draw from a wider place," Bergus said.
Due to the COVID-19 pandemic, there wasn't a festival held in 2020 or 2021.
The Blues & BBQ festival is organized by the nonprofit North Liberty Community Betterment Group. The planning committee includes business leaders, city representatives and residents.
Work on planning the festival begins in the fall and runs through the summer, Bergus said.
"We love seeing folks come out for it," Bergus said. "It's a great community festival, and we're proud to have been able to do it for 15 years."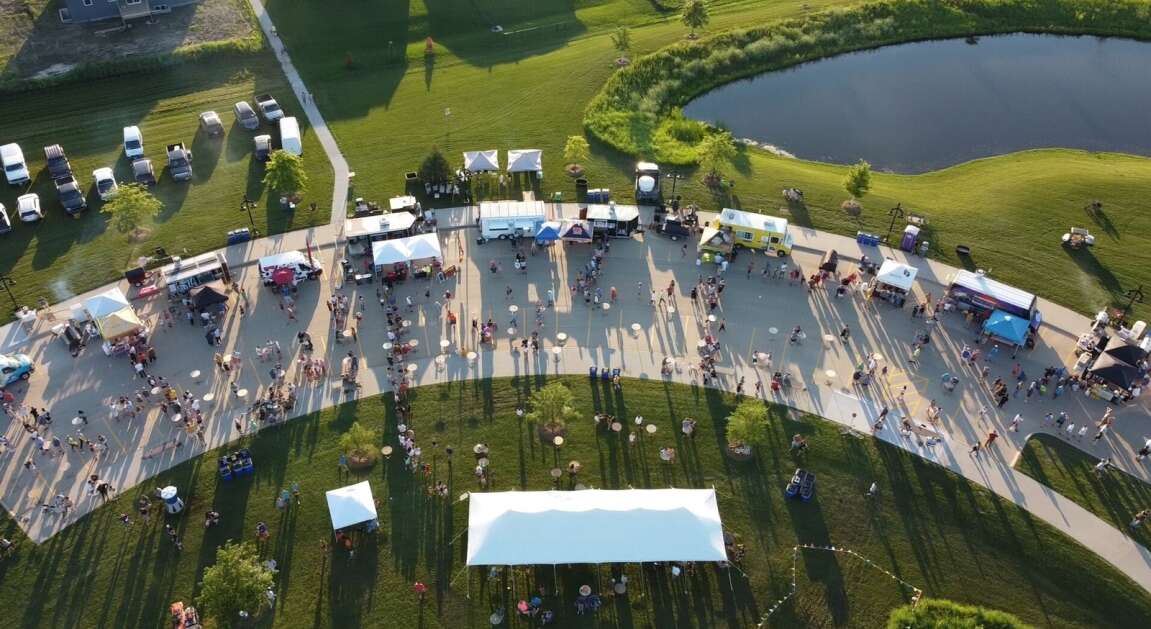 Recruiting volunteers
Part of the work ahead of Blues & BBQ includes recruiting volunteers. It takes about 300 volunteers to make the celebration a reality each year.
That includes setting up, running the beer garden, greeting attendees, answering questions, helping clean up and other tasks to ensure the day runs smoothly.
Recruiting for volunteers starts the day after each festival, said Jean Keeley, volunteer coordinator for the Blues & BBQ festival. One of the first things Keeley does after the festival is send out an email to those who just volunteered thanking them for their work and including a save the date for the following year.
Bergus and Keeley both emphasized how important the volunteers are to making this event happen every year.
"We have a lot of repeat people, and I think that is because it's a fun event," Keeley said. "They enjoy not only the event but they enjoy being part of making it happen."
Keeley said existing volunteers will often do recruiting as well and have a friend join them. She added that it hasn't been a difficult event to recruit for in the past.
"I think folks are proud to show off the festival," Bergus said. "I think they're proud to show off their hometown. I think they're proud to put on an event that their neighbors enjoy."
Comments: (319) 339-3155; izabela.zaluska@thegazette.com