ISU-John Deere program prepares student apprentices for workforce
A dozen students were offered full-time positions after apprenticeship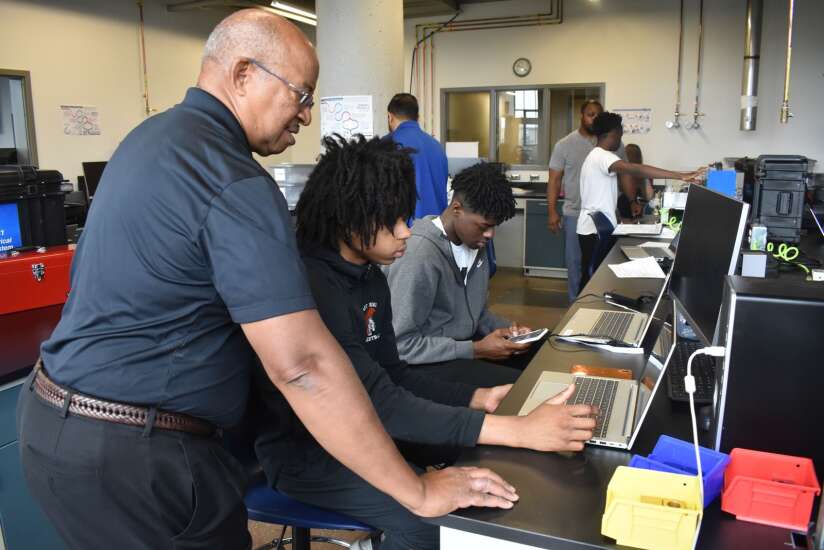 A program run by Iowa State University professors and John Deere is helping high school graduates enter John Deere's workforce and improve their communication skills for future employment through a new apprenticeship program.
The four-week speaking and writing course works with 50 students going into their senior year from 12 high schools and is held in John Deere facilities in Davenport, Waterloo and East Moline, Illinois.
Apprentices work part-time during the school year, and 35 hours a week in the summer.
The program also added IGNITE: Introduction to Advanced Manufacturing this year, which is aimed at students in eighth to 12th grades. IGNITE is run through Hawkeye Community College in John Deere's Waterloo TechWorks Campus. Students learn about advanced manufacturing and get paid.
David Ottavianelli, John Deere's director of workforce and community development, said Waterloo was added to the program this year after seeing overwhelming interest the year before.
"This is, in addition, really to help enhance that candidate pipeline of high school students to give them the skills and awareness to do this," he said.
The program had six participants in its first year in 2019 and has grown to 50 apprentices. Students can focus in computer numerical control (CNC) machining, welding and software engineering in the apprenticeship.
Emma Murray, an assistant teaching professor at ISU, is an instructor in the program. She teaches high-level courses in scientific and technical writing at the university.
Student apprentices get to go on the floor and shadow John Deere employees and do hands-on work within legal limits, she said.
From there, if they have mastered their skills, completed the certification and have the behavioral competencies, like showing up on time and communicating with people appropriately, they could be offered a full-time job if they are 18, Murray said.
Twelve out of 15 students from Davenport and East Moline, Ill., were hired for full-time employment at John Deere after their apprenticeship last year, she said.
"That was pretty cool just to see that it was making a difference for them and their future career," she said.
Apprentices participated in a pitch contest, where students had to pitch the benefits of the program to John Deere employees.
"That was one way to get them kind of comfortable in front of an audience even though you know, typically they would be just with a friend talking," Murray said. "Then that kind of set them up for their final formal presentation, where they share with those John Deere and IGNITE stakeholders their experience with the program."
Working with John Deere employees has taught Murray new things, too, like how important communication is, she said.
"It turns out from the interviews that I've done with a few of the engineers at John Deere, there is a lot of communication going on — (from) proposals to email writing to PowerPoint presentation building," she said.
Comments: (319) 339-3159; sabine.martin@thegazette.com