Iowa City Reading Tree inspires young readers
Following derecho, couple turn tree stump into free book exchange library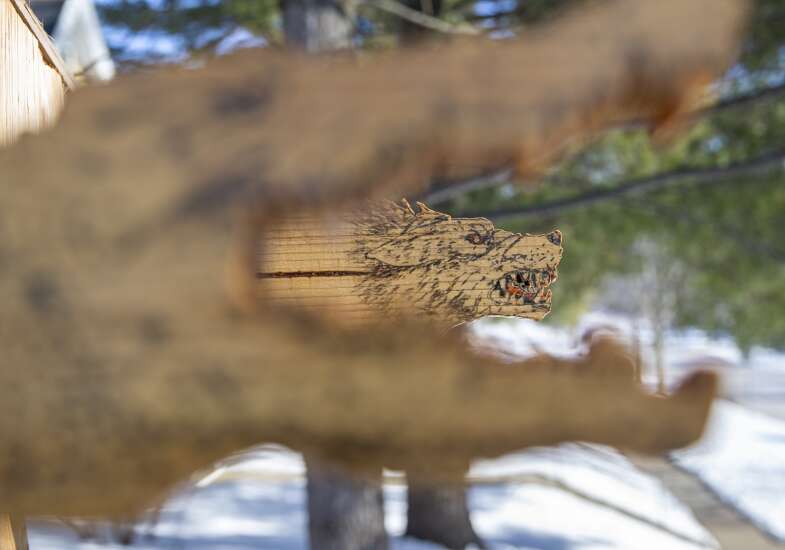 IOWA CITY — Legend has it, the Reading Tree was built by elves.
The mini library appeared within a 16-foot stump of a white pine tree in Iowa City about a month ago, with the hope the mythical elves' home could inspire a love of reading in local children.
The man behind the project (who is not an elf) is Joseph Hennager, a 69-year-old Iowa City resident who wanted to start a neighborhood book exchange after the August 2020 derecho damaged the tree in his front yard.
In the first month or so since Hennager completed work on the mini library and began filling the shelves with books for all ages, he said the library already has gained widespread interest.
"It's taking on a life of its own," he said.
The Reading Tree, located at 312 Ronalds St., is registered as a Little Free Library, a nationwide initiative that promotes neighborhood book exchanges.
But it's not just a typical library. According to a children's story written by Hennager and Julia Wasson, his wife, the little building in the pine tree is home to elves who wanted to share their passion for books with everyone. The story goes that dogs from across the neighborhood were hired to help the elves build the home.
A Ring camera installed on the library itself allows children to talk to an "elf" while selecting a book to take home.
Both Hennager and Wasson have elementary education degrees and say they understand the importance of early reading. Their passion for books, coupled with the desire to pay tribute to the mammoth tree that had to be cut down, led to the idea of building a neighborhood book exchange.
"My goal is that this last longer than I do. I have nine grandkids, and I want something for them to remember me," Hennager said.
The 87.5-foot-tall white pine tree, which was planted by a neighbor about 65 years ago, was about 40 feet taller than Hennager's and Wasson's home. The tree already was leaning toward the house before the record wind gusts blew through Iowa more than a year and a half ago.
Hennager designed the Reading Tree to feature two sides, one for "littles" and "middles" with children's books and another for "bigs" containing books for adults. He did most of the construction himself over the course of 14 months, putting in time after work that sometimes ranged from a couple hours to 14 hours a day.
A local electrician who works for Price Electric and lives in Coralville provided free labor to wire the lights within the Reading Tree, and ImOn Communications offered its technical support as well, Hennager said. They've also received community grants, including $500 from the city of Iowa City and $250 from the insurance company Thrivent.
The couple also has started a GoFundMe page to raise funds for ongoing expenses: gofundme.com/f/iowacityreadingtree.
The Iowa City couple hope the Reading Tree will not just be a free little library, but a community events space that will host readings with local authors and concerts with local musicians.
Hennager is making plans with a nearby school principal to host readings with local children's book authors and illustrators for elementary school students. Ideally, each student would be provided a book after the event, in the hopes it can inspire them to one day try creative writing.
"If kids learn can become a good reader, they can become a writer," Hennager said. "It's just critical, these little steps in what it means to read a book, and how to write a book. That's how creativity starts."
Planning for those events still is in the early stages, with the events scheduled to take place sometime in the spring or summer.
In the meantime, Hennager plans to continue work on the library to add final finishing touches to the Iowa City Reading Tree.
Comments: (319) 398-8469; michaela.ramm@thegazette.com