Horizons looking for Meals on Wheels volunteers
The organization also has its Lunchbox Fundraiser this month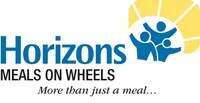 Horizons is short of Meals on Wheels volunteers and is looking for drivers to help deliver meals and assist with one of its biggest fundraisers of the year.
Sofia DeMartino, the community relations and grants director for Horizons, said the organization needs volunteers for its regular routes.
"That can look like volunteering once a month, once a week, once a day," DeMartino said. "It can take around an hour a day to do or we have event volunteers too and that can take a couple hours. So we will take people however we can get them."
DeMartino said Horizons is aiming for 20 more volunteers to help deliver meals and a friendly well-check to the older adults the organization serves. The organization typically has 400 to 500 volunteers annually. The largest need for volunteers typically happens on Mondays and Fridays right now.
Horizons also is looking for volunteers for its Lunchbox Fundraiser, which usually happens twice a year. This year's fundraiser will be the first event back since the pandemic started last year.
The need for drivers will be high during the week of Sept. 13. Those interested can sign up with the sign up portal.
Each $15 lunch will help feed two homebound seniors, along with providing them a friendly well-check, so they can stay home safely during this time of uncertainty, DeMartino said.
Currently, ordering is live at Horizon's website, with pickup or delivery happening Sept. 14-16.
"It feels really good to be able to bring the community together again to support older adults," DeMartino said. "They are higher risk for complications and we've had to consider that in the way we did our work and it was really hard to make those changes."
DeMartino said some of those changes included frozen meals and limiting physical visits to once a week. Now, the organization is back to its regular five-days-a-week service.
"It just feels good to be able to serve hot meals again. Making phone calls was also hard to maintain the same level of interaction," she said. "It was a big change for everyone and it feels normal again."
Individuals interested in volunteering can sign up at horizonsfamily.org and click on the tab at the top of the page that says "volunteer."
"People can learn all about the opportunities we have and we also have a portal for signing up for routes that work for them," DeMartino said.
Comments: (319) 398-8255; gage.miskimen@thegazette.com