Grow: Johnson County expands food production, education efforts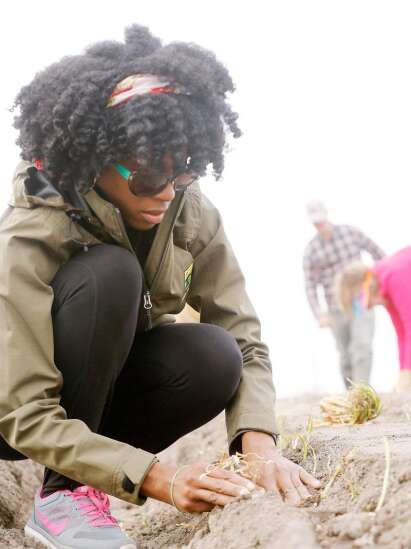 IOWA CITY — Math, science and even literacy can all be taught by the back of a seed packet.
Scott Koepke, education director for Grow: Johnson County, uses that philosophy when teaching kids and adults alike soil science and gardening skills. Grow: Johnson County, a nonprofit operating on the Johnson County Historic Poor farm to grow fresh produce for area pantries, is ramping up its education efforts to supplement its growing food production.
'We knew from day one we absolutely wanted education to be a critical part of what we do,' said John Boller, program director for the organization. 'We see this as a great hands on learning opportunity.'
The organization began its planting season Friday with onion and potato plants. Now in its third year of production, Grow: Johnson County has expanded to almost four acres and has a target goal of 40,000 pounds of fruits and vegetables this year, up from 28,500 pounds last year.
This year won't come without its challenges, though. Jason Grimm, production manager, said thanks to the late winter weather, planting is pushed back a few weeks so they'll have to pack in the planting to try to catch up.
In addition to the production growth, the organization is adding the Organic Farm Apprenticeship program. Four University of Iowa students have been chosen for the apprenticeship that will run from mid-May through October and teach concepts like food and farm safety, Boller said.
The planting season means the end of Koepke's newest initiative — working with people who are incarcerated during the winter. He started outreach gardening programs at Oakdale prison and Linn County Juvenile Detention Center.
He said while is programming is vocational for adult imamates/inmates, his lessons through gardening can teach children skills like patience, anger management and listening, among others.
'I did not see any work in the corrections system but that I'm there, it really resonates with the community,' Koepke said.
Grow: Johnson County also expects to host a number of school groups and summer camps this summer as well as host any volunteers interested in learning about gardening. Volunteers can sign up for orientation at growjohnsoncounty.org/calendar.
Koepke also offers continuing education through Kirkwood Community College at the farm as well. Information can be found at kirkwood.edu/ce.
In the future, Koepke envisions even more for Grow: Johnson County's education system. He said something called 'Bloom Academy' could be created offer people an education, even a GED, when the traditional education system doesn't work for them.
Koepke said he also has dreams of creating features like an orchard or expanding to other counties.
'This isn't the end all be all,' Koepke said. 'It's just the beginning.'
l Comments: (319) 339-3172; maddy.arnold@thegazette.com