Grant helps Fur Fun Rescue in Lisbon save dog's life from cancer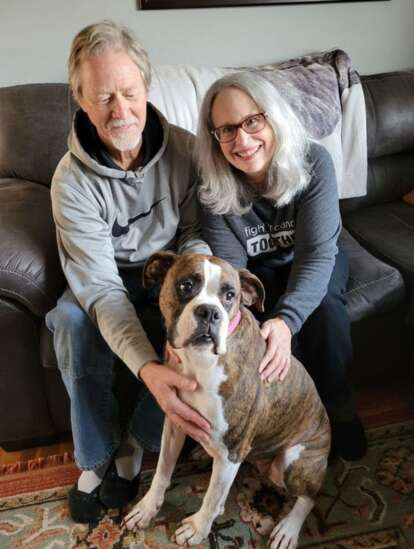 LISBON — Fur Fun Rescue received a $3,600 grant investment from Petco Love to support their lifesaving work for rescue dogs in Northeast Iowa.
The grant will pay the cost of surgery that removed 10 superficial tumors from Nina, a boxer. Four were mast-cell tumors. They were found to be slow-growing cancers, and all tumors were removed with good margins. This meant Nina did not need chemotherapy or radiation, and her prognosis for recovery is good.
Petco Love is a nonprofit leading change for pets nationally by harnessing the power of love to make communities and pet families closer, stronger and healthier. Since their founding in 1999 as the Petco Foundation, they've empowered organizations with $300 million invested to date in adoption and other lifesaving efforts "as part of our commitment to create a future in which no pet is unnecessarily euthanized," said Susanne Kogut, President of Petco Love.
"We are very grateful for this grant from Petco Love's Shelter Pet Cancer Treatment Fund. Not all owners or shelters can afford treatment for a dog with cancer. Petco Love's award helps fill that gap. We are so glad that Nina's cancer surgery was successful and that she is now happily adopted," said Roxanne Hoover, Fur Fun Rescue president.
Fur Fun Rescue is an all-volunteer, foster-based nonprofit organization specializing in the rescue of dogs with medical needs. In seven years of existence, Fur Fun Rescue has adopted over 2,000 dogs and treated many of them for serious medical conditions like Nina's.
For more information about Fur Fun Rescue, visit furfunrescue.org. To learn more about Petco Love, visit petcolove.org.