Grace church in Cedar Rapids lends out medical equipment
People travel from across Eastern Iowa to borrow wheelchairs, walkers, knee scooters or other equipment from the lending closet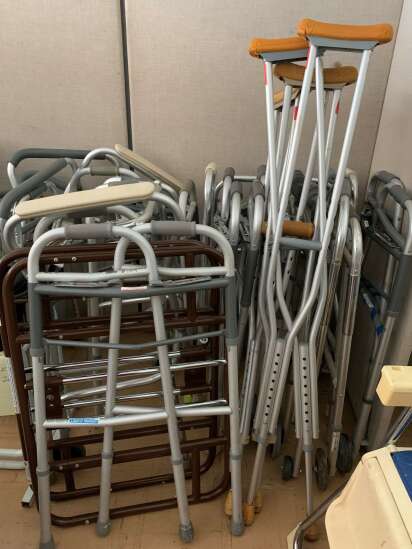 When a loved one has a surgery or develops a new medical condition, costs can rise quickly.
That's why Grace Episcopal Church, at 525 A Ave. NE, in Cedar Rapids, for years has operated a medical lending closet where people can borrow — mostly free of charge — medical equipment including hospital beds, wheelchairs, knee scooters, walkers, crutches and toilet seat risers.
"Like many congregations, we're shrinking and aging," said the Rev. John Greve, Grace church rector. "But this gives us something we can do for the community."
Lending closet volunteers collect donated medical equipment, make sure it is functional and then loan it out to people who may not have health insurance to cover such equipment.
"In some cases, a hospitalized patient may not be released until they have the medical equipment necessary," the website states.
Sometimes hospitals in the area will refer patients to Grace lending closet, Greve added.
Most equipment is free to borrow, but the church does charge a small refundable deposit for motorized equipment, such as hospital beds or electric wheelchairs, to make sure this gear is in good condition for each user.
The closet is open to anyone — not just Cedar Rapids residents — and people can keep the equipment as long as they need it, Greve said. The service is open to walk-ins only and volunteers will not hold equipment.
This fall, Grace has been replacing the flooring in the lending closet, which gets a lot of foot traffic and movement of medical equipment. The Mercy Foundation provided $5,000 toward the $25,000 project and Iowa's episcopal diocese also has provided a grant, Greve said.
The Grace lending closet accepts all medical equipment in good working order and may accept some things needing only minor repairs. The group accepts adult diapers in unopened packages. Donations that fit these criteria may be dropped off during the lending closet's business hours:
Monday: 10 a.m. to 1 p.m.
Wednesday: Noon to 3 p.m.
Friday: 10 a.m. to 1 p.m.
The program also could use more volunteers, Greve said. If you are interested, stop by during business hours or email the church at info@crgraceepiscopal.org.
Comments: (319) 339-3157; erin.jordan@thegazette.com