Goldfinch Tap + Eatery in Marion raises Christmas gifts for kids through Whoville display
In making a destination for Christmas, the restaurant continues to shape uptown Marion into a destination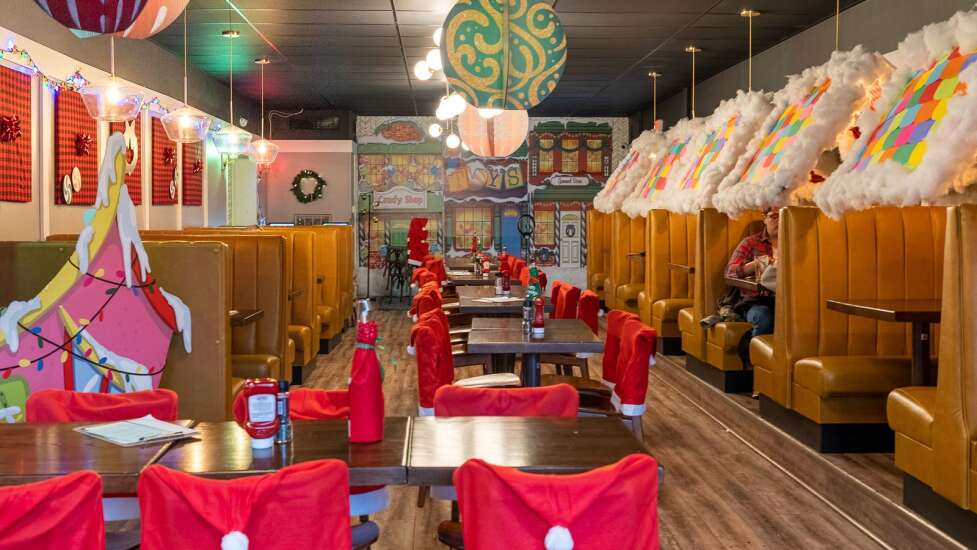 MARION — As people everywhere wonder what they'll be getting for Christmas or make plans on where to spend it, one restaurant in Marion is making the holidays about the who.
Whoville, that is.
This holiday season, diners at Goldfinch Tap + Eatery have been privy to a new decor theme for a good cause — giving Christmas gifts to almost 40 children in Marion who might otherwise have gone without them this year.
On Dec. 1, the restaurant underwent an overnight transformation from a chic uptown eatery to the campy town from Dr. Seuss' "How the Grinch Stole Christmas" in the restaurant's most over-the-top Christmas celebration since it opened in 2019.
Window-front shopping center images line the walls, booths have "who house" huts with colorful, fluff-trimmed tiles, giant ornaments float over the bar and Santa hats back the chairs.
And on Dec. 14, they saw the payoff as they delivered gifts to their partner in the endeavor, Marion Cares, where a social worker helped identify families in need.
As they invited folks in to experience some special themes in various parts of the dining rooms at Goldfinch, special events coordinator Taylor Cole said they had to refill their Giving Tree three times.
"In 48 hours, half the tags were gone," she said. "We had to call to get more families to sponsor. It ended up being much larger than we thought (it would be)."
The host stand is now a ticket booth, with a host that dresses as a conductor almost every night to direct you to a Polar Express-themed bar or another table. When Santa shows up, they dress as an elf.
"We've had buy-in from the whole staff," Cole said.
If bright pastels and balls of fluff aren't your thing, tables with a cool blue winter theme adorn the private dining room.
Though they considered outdoor igloos like other restaurants, they wanted to do something out of the box. And in searching for what to do, they settled on the Who — a new reason to leave the house.
"I love a good pun. How the Finch Stole Christmas rolled off my tongue as I sent this dream board to our owners," Cole said. "What's more classic than 'How the Grinch Stole Christmas?'"
But while it serves a good cause, the effort is part of a larger trend in Marion that will stick around after the holidays pass: making Marion a destination.
Where: Goldfinch Tap + Eatery, 740 10th St., Marion.
When: Whoville and Winter Wonderland theme decorations and a redesigned menu will be up through New Year's Day.
"Being new to Iowa, I felt like there weren't that many destinations during the cold weather. We wanted to become a destination — something to put smiles on faces," Cole said. "Something for the public to look forward to outside of the typical dining experience."
In creating a casual winter destination for food and drinks, Goldfinch is hoping to make uptown Marion a destination in its own right when the dust from improvement projects settles. Soon, they hope Goldfinch is a landmark reference.
"I think Marion is almost like the long-distance relative to Cedar Rapids," she said. "There's so many options in Cedar Rapids. Getting people to drive to Marion, especially with the construction, is an effort everyone is making."
Comments: (319) 398-8340; elijah.decious@thegazette.com