Gilded Pear Gallery hosts Friday reception for spring exhibits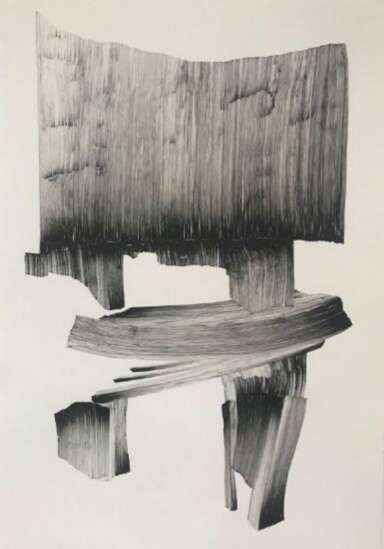 CEDAR RAPIDS — Gilded Pear Gallery will host a public reception this Friday for its spring exhibits: "On The Verge," abstract drawings and birch bark sculptures by Cedar Falls artist Crit Streed; and "Fiber Optics," fiber wall sculptures and mobiles by Minneapolis artist Kristina Fjellman.
The reception will be held Friday from 5 to 7 p.m. at the gallery, 808 Third St. SE, which is celebrating its 11th anniversary. The exhibitions are on view through May 21.
Streed was born in Iowa, explored much of the world, and continues residency in Iowa. Streed has been awarded both university grants, Iowa Arts Council grants and several funded national artist residencies. Never calculating how a drawing takes its shape, Streed continues to draw to be amused, amazed and even at times dismayed in what the drawings reveal ever cognizant of the absolute interrelationship of all things. www.gildedpeargallery.com/on-the-verge
Fjellman is a visual artist and performer and is drawn to creative projects that combine both these passions. She has exhibited her work in venues around the Midwest and Twin Cities and was a recipient of a Jerome Fiber Art Project Grant for 2010-2011 at the MN Textile Center. www.gildedpeargallery.com/fiber-optics
The gallery is open Mondays through Fridays from 10 a.m. to 5 p.m. and Saturday from 10 a.m. to 2 p.m. Admission is free.