DACA recipient starts tortilla factory in Iowa City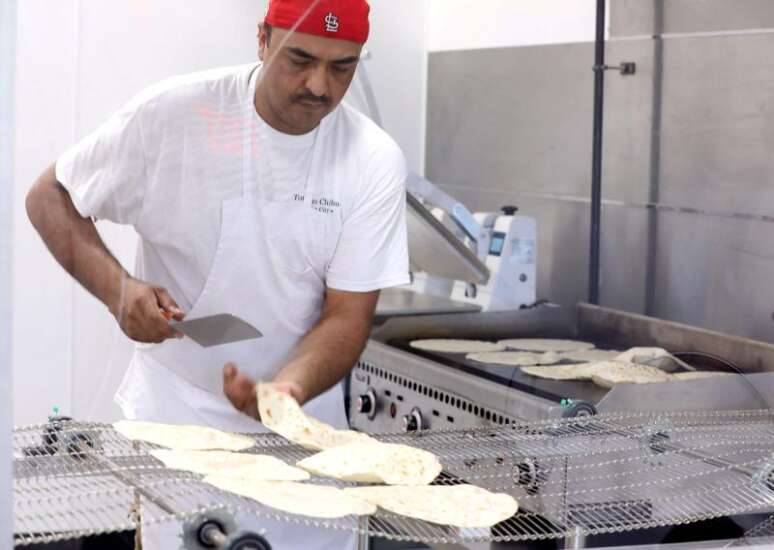 IOWA CITY — Kavir Ramos is making his American dream come true, one tortilla at a time.
Ramos, 19, is a recipient of the Deferred Action for Childhood Arrivals program, which allows young, undocumented immigrants brought here as children to live and work legally in the United States.
With this status, he was able to open Tortillas Chihuas, a small tortilla factory in Iowa City, with his father, Carlos Ramos.
The lightly toasted flour tortillas sliding off the griddle in their small industrial kitchen on Iowa City's west side are made with a recipe from Chihuahua, Mexico, where the Ramos family lived before coming to the United States 15 years ago.
'We didn't like how the big brands were making their tortillas,' Kavir said. 'They tasted awful to us.'
Kavir's cousins, who have tortillerias in Chihuahua, came to Iowa to show the Ramoses how to mix the dough, roll it by hand into balls, steam press each ball into a tortilla and then grill it.
So far, they have three regular employees and work two days a week to make fresh tortillas they sell to Iowa City and Coralville Hy-Vees, as well as Acapulco Mexican Bakery in Iowa City and Don Miquel Tienda Mexicana in Cedar Rapids.
Kyle Sieck, owner of Local Burrito and Heartland Burrito, has bought 1,000 tortillas in the past month from Tortillas Chihuas to make burritos that are then frozen and sold under the Heartland Burrito label at grocery stores.
'When I heard about Kavir, I was very excited,' said Sieck, of Iowa City. 'We specialize in organic ingredients to make it as clean as we can.'
Tortilla Chihuas makes most of its tortillas with a preservative so they can stay fresh longer in customer's refrigerators. But the Ramoses make a version without preservative for Heartland Burrito.
Sieck likes the texture and structural integrity of Tortillas Chihuas tortillas, he said.
'Kavir's tortillas definitely hold up,' he said. 'I also really like supporting a local business.'
Immigrant entrepreneurs
Immigrants are almost twice as likely to start businesses as native-born Americans, according to a 2015 report from the Kauffman Foundation, a Kansas City-based organization that promotes education and entrepreneurial efforts to help people be financially independent.
This may be because people who move to a new country to find a better life are inherent risk takers.
More than 28 percent of new entrepreneurs in 2014 were immigrants, up from 13.3 percent in 1997, Kauffman reported, and about one-quarter of the engineering and tech companies started in the United States between 2006 and 2012 had an immigrant among their key founders.
But it isn't easy to navigate the laws and financing of American business — something Kavir has learned first hand.
'In April, we had some problems with the health inspector because of the water. That was slowing us down,' he said. 'We've been anxious to start ever since we rented this place.'
Carlos Ramos, who now has a visa to live and work legally in the United States, used his savings to pay factory start-up costs. Those included an industrial mixer, dough cutter, tortilla presses and a grill that fits 10 eight-inch tortillas at a time.
Expanding Operations Amid Uncertainty
After the lightly toasted tortillas cool on a hand-built conveyor belt, they are packaged into clear bags and affixed with a simple label. Kavir immediately packs the tortillas into a box, which he plans to drive up to Cedar Rapids that afternoon so he can offer store managers samples of the fresh product.
If the Ramoses can sell more tortillas, they can work more days and hire more employees, he said. Right now, both father and son also do construction work.
But they have plans to expand Tortillas Chihuas.
'That space over there,' Kavir said, pointing to a large corner of the industrial kitchen. 'That is meant to be for a corn flour machine.'
DACA, created in 2012 under then-President Barack Obama, allows more than 700,000 young, undocumented immigrants, brought here as children, to live, work and go to school legally in the United States.
A family friend helped Kavir Ramos and his sister, Valeria, 18, apply for DACA status in 2014, when they were 15 and 14, respectively. With the status, they've been able to get Social Security numbers that allow them to drive and get jobs.
Valeria, who graduated from Iowa City West in May and is bound for Kirkwood Community College in the fall, helps out at Tortillas Chihuas when she's not working at Target.
President Donald Trump announced last September DACA would end in March if Congress didn't act on immigration changes — which it didn't.
A court injunction has required the government to keep renewing the status of DACA recipients and the program also is accepting new applications, FiveThirtyEight reported earlier this month.
Kavir and Valeria Ramos are in the process of renewing their status.
'Everything here is under my name,' Kavir said of the small factory. 'If it (DACA) goes away, we lose it all.'
But the Ramoses are optimistic, both about DACA and the business. Carlos's wife, Maria, sometimes comes to help, bringing Kavir's younger siblings, Carlos, 11, Marely, 10, and Mateo, 1, who all are U.S. citizens.
It's nice to work with his family, Carlos Sr. said with a smile. 'Fantastico!'
l Comments: (319) 339-3157; erin.jordan@thegazette.com