Couple turns family dream house into rural Airbnb near Morning Sun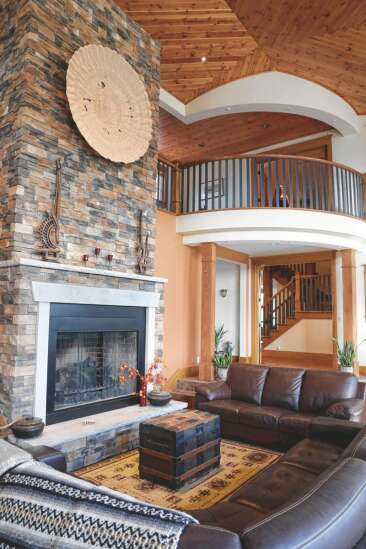 Built for family by family, no one's a stranger at Buckman's Guesthouse.
Situated 'in the middle of everywhere,' the bed-and-breakfast in southeast Iowa is equidistance from Columbus Junction, Wapello and Morning Sun via Highways 61, 92, 78 or 218, and then just a scenic jaunt down County Road X37.
It's not visible from the road, but a sign directs you down a country lane where you'll drive past the farmhouse where Paula Buckman grew up — perhaps wondering if you're on the right path. Then, lo and behold, a gorgeous mansion, huge pond and equally huge silo, with a University of Iowa Tigerhawk, emerges in the middle of the farm fields.
And you're home — for a day or a weekend or however long you'd like.
Completed in 2014, Buckman's Guesthouse is no ordinary farmhouse.
Buckman, a former two-term Louisa County supervisor, thinks the county assessor is 'generous' in putting its size at 8,000 square feet. But it is massive, and it's open year-round.
The house is wheelchair accessible, with an elevator, accessible guest bedrooms and common spaces, and a hallway ramp offering easy access from the garage. It's also pet friendly.
Buckman's huge breakfasts have garnered rave reviews from Airbnb users, including 10 home-schooling moms from Davenport, who stayed there recently, reveling in a midwinter break from ice, snow and kids.
The Buckmans — Paula, a retired auditor who still works during the tax season, and Bob, a retired banker — intended to open their new home to relatives needing a place to stay for weddings, graduations, reunions and other gatherings.
But, Paula Buckman said with a laugh, their relatives haven't moved very far afield. Because the rooms weren't being used, a relative who was staying there during a wedding suggested the couple look into becoming an Airbnb site.
Buckman checked it out and was sold.
'What's not to like?' she said. 'They take the reservations, they collect the money, they do the marketing.'
Unlike some Airbnb properties, the Buckmans live in the house and generally are on-site during guest stays.
The five guest bedrooms — each with an attached or adjacent bathroom — can be booked separately or in a block, and can accommodate a dozen or more people. Current prices range from $74 for the largest room to $54 for the room with two twin beds. Groups can reserve all five bedrooms for $249, which averages about $50 per room.
The cost includes the signature breakfast, with multiple options, as well as use of the common areas indoors and out.
The spacious second-floor game room sports a Ping-Pong table, library, sofa and toys. A balcony serves double-duty as a hallway and an architectural delight offering views into the main-floor gathering room.
Tucked off the first-floor kitchen with side-by-side stoves is the dining room, with plenty of seating.
The star, however, is the gathering room with its two-story soaring ceiling, massive gas fireplace, bar and Zen-like plant corner. Sunlight floods the room from a two-story wall of windows, and French doors open onto the patio, firepit and a backyard perfect for group games like corn hole and croquet. A deck will be finished this year.
The adjacent pond is big enough for a paddleboat and for fishing, although it needs to be restocked. The fish have been in short supply, most likely because of a snapping turtle, which Buckman and her sister caught as it ambled across the yard. It became the featured entree at a neighborhood fish fry.
Indoors or out, guests can drink in the sweeping countryside views that lured the Buckmans to move from Morning Sun, several miles to the south.
Their odyssey began when Paula Buckman had the opportunity to buy and build on five acres of the family property.
Buckman's cousin, Doug Buster, a Morning Sun native who is an architect and artist in Chicago, designed the house, and his paintings adorn the walls. Her nephew, Will Buster, a contractor with B&B Construction in Morning Sun, built the home. Another relative who shows his artwork in New York and abroad created the large circular piece that adorns the two-story stone fireplace in the gathering room.
The pond came first, in 2011, so the Buckmans could orient the house to the expansive body of water. They moved into the house three years later and have been operating as an Airbnb for about a year-and-a-half.
The busiest times are April through September, but bookings are pretty consistent throughout the year.
'You'd be surprised how the $54 room brings people up from I-80,' Buckman said.
Those guests have come from all over. One of the first was a family of four from Germany on the last leg of a world tour. Another was a family that gathered from around the Midwest to spend time with a relative battling terminal cancer.
Others come for birthdays, reunions, business retreats, the Midwest Old Threshers Reunion in Mount Pleasant or the Chief Wapello Days in nearby Wapello each July. Two American missionaries serving in Italy were married last summer in the gazebo and had their reception on the guesthouse lawn.
'We've never had a group here we haven't enjoyed,' Buckman said. 'It keeps us busy, and we enjoy meeting everybody. It's been a joy.'
Where to Find It:
WHAT: Buckman's Guesthouse
WHERE: 7450 County Rd. X37, Morning Sun
DETAILS: airbnb.com/rooms/21974745?s=51
Also check out:
WHAT: English Valley B&B
WHERE: 4459 135th St., Montezuma
DETAILS: (641) 623-3663,
WHAT: Farm House Bed & Breakfast Inn
WHERE: 2866 270th St., Fredericksburg
DETAILS: (563) 237-5969, thefarmhousebb.com
WHAT: Our Tara Inn
WHERE: 1231 Highway 9, Lansing
DETAILS: (563) 568-2665, ourtara.com
WHAT: Spring Valley B&B
WHERE: 1567 Rutledge St., Knoxville
DETAILS: (641) 828-9021, springvalleybb.com
WHAT: The Barn House
WHERE: 13527 Gun Club Rd.,
Epworth
DETAILS: (563) 876-3337, countrybarnhouse.com
WHAT: The Red Brick Inn
WHERE: 30158 Jigsaw Rd., Garnavillo
DETAILS: (563) 880-5196, theredbrickinnbb.com