Chauncey tower one of four major Iowa City developments opening in 2019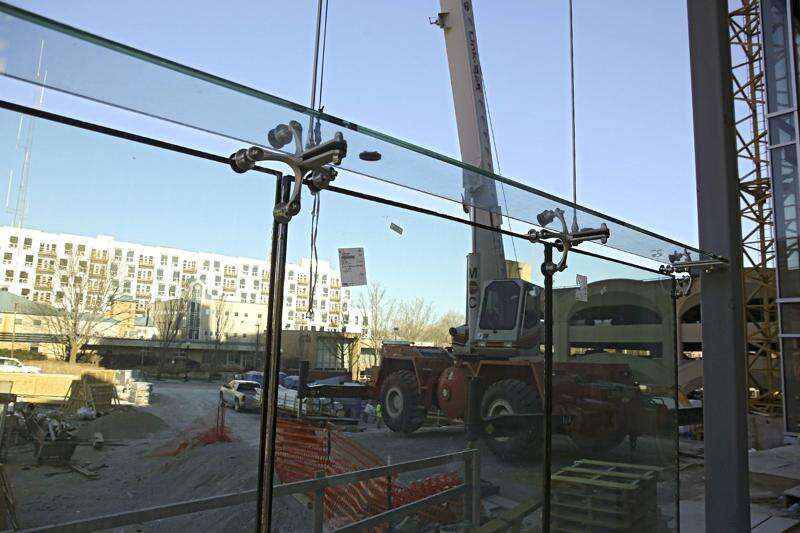 IOWA CITY — Multiple major developments will see buildings completed in 2019, including the Chauncey, a controversial $57 million high-rise in downtown Iowa City.
Chauncey opening in August
The Chauncey is expected to open in August after a yearslong battle to get the 15-story mixed-use development constructed at College and Gilbert streets. The project includes FilmScene movie theaters, a bowling alley, hotel, restaurant, coffee shop, commercial and office space, and condominiums, as well as the remodeling of Chauncey Swan Park.
Attorney and now-council member Rockne Cole and the organization Coalition Against the Shadow, formed in response to the project, took issue with the Chauncey's height when the building was first proposed and filed a lawsuit challenging a City Council rezoning decision that made the project possible. After a lengthy legal battle, which began in 2013 and eventually reached the Iowa Supreme Court, the lawsuit was determined to have no standing and was denied further review in April 2016.
Sneak peek walk-through of The Chauncey of Iowa City in 19 photos
A 15-story new development The Chauncey in Iowa City is expected to open in August following a yearlong battle regarding the building's construction.
Project developer Marc Moen, of the Iowa City-based Moen Group, said the businesses that will operate the bowling alley and restaurant will be announced at a later date, and the coffee shop will be called Fix!
FilmScene was an early partner in the Chauncey project and will move into the new theaters at the building, which will include two large theaters and one small one. Joe Tiefenthaler, executive director of FilmScene, said the new location will include 325 seats and add 35 mm and 16 mm film projectors — the nonprofit can only show digital films at its current location, he said.
'We're going to be right on the corner of an arterial road in Iowa City that has a parking ramp. It's right on the bus lane. Just completely much more accessible, and it's important for our nonprofit organization that that's happening,' Tiefenthaler said.
Augusta Place plans June opening
Another large development near Chauncey, Augusta Place next to City Hall and the former Unitarian Universalist Society Church, is slated to be wrapped up in June. That seven-story project includes 104 apartment and 26 rental townhomes, with six total affordable units.
'We think just because of the location, it will be in high demand for students but we have had some old people interested as well,' said John Yapp, with Iowa City-based Allen Homes.
Developer Allen Homes purchased the property from the city with the promise to preserve the historic church, which will likely be turned into commercial or office space. Yapp said no company has signed a lease for the church but the inside will be remodeled this spring.
The Crossings keeps growing
Over in the Riverfront Crossings District just south of downtown, The Crossings is set to open two new buildings this year, 1201 and 1141 S. Gilbert St. Developer Randy Miller said 1201 is expected to open in August with 1141 following soon after.
They're both 56-unit apartment buildings — including six affordable units each — with a pedestrian plaza in the middle and sit next to Iowa City's Big Grove Brewery.
The Crossings is typically aimed at young professionals, with most residents in the 26 to 50 age range and who are in the workforce, Miller said.
The complex when complete in 2021 will include five buildings. Miller's 1301 Gilbert building, which has 54 residential units and businesses on the first floor, opened in 2018.
'It's just with the (Riverfront Crossings) Park and being down here and the walkability and bikeability, it's just a great project. We're really excited about it,' Miller said.
Hieronymus Square condos and hotel
Finally, Hieronymus Square will open this year, with construction on its 43 high-end condos being wrapped up in August. A Marriott Element extended stay hotel is the other half of the project and is expected to open by the end of the year.
'It's a pretty aggressive schedule but that's what we're shooting for,' said developer Kevin Digmann, adding that construction began in early fall 2018.
The project totals seven stories and two towers at the intersection of Dubuque and Burling streets. Digmann said a rooftop terrace will connect the hotel tower with the tower of condos.
l Comments: (319) 339-3172; maddy.arnold@thegazette.com