Cedar Rapids foster children receive new bikes and helmets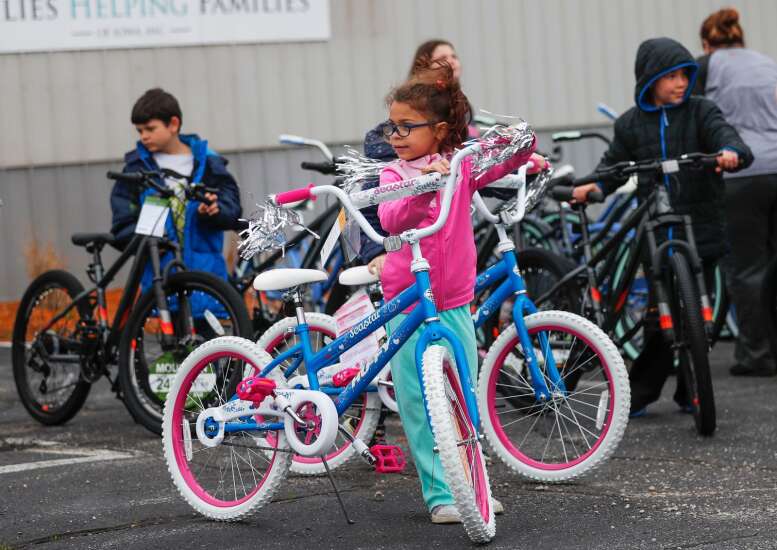 Cedar Rapids — Children gathered outside the Families Helping Families office on May 3, full of smiles and excitement. The group had a couple of things in common: they were each involved in the foster care program at some point in their lives, and they were each about to receive a brand-new bike.
The bikes, 24 of them, came in various sizes and designs. They were donated to Families Helping Families, a nonprofit organization that supports foster children and foster families through various programs, by the Geico Philanthropic Foundation. Local Geico spokesperson LeAnna Kruckeberg said when the corporate office reached out asking if she wanted bikes to donate to a local organization, she didn't hesitate to say yes.
"They asked how many I wanted, so obviously I took as many as we could get," Kruckeberg said.
The bikes were assembled by local Geico employees, and each came with a new helmet. Kruckeberg said this is the first year the philanthropic foundation has donated bikes, but she hopes it can become a regular opportunity.
Several thank-yous were offered as the children received their bikes and immediately began testing them out. Not all of the children who won a bike were able to be at the presentation, but Melissa Carlson, the executive director of Families Helping Families, said all of the bikes will be delivered.
Foster families were invited in April to submit children's names and information to Families Helping Families for the chance to win one of the donated bikes, and Carlson said that for most of the size categories, they had enough bikes for all of the children whose names were entered. Some of the bikes and categories had to be shuffled around a bit, with some girls getting boy bikes and some large families getting a few different sizes to trade among themselves, Carlson said.
In one size category there were more children who entered than there were bikes available, so the winners were chosen through a random name drawing, Carlson said.
Carlson said this was an exciting opportunity to bring more joy to children in foster care, who have already been through so much in their lives.
"We're a nonprofit, and our whole mission is supporting children in foster care," Carlson said.
Comments: (319) 398-8328; emily.andersen@thegazette.com