California organist with Iowa ties fires up Paramount's Mighty Wurlitzer for online concert
Instrument in fine voice for small audience invited for the taping
By Diana Nollen, The Gazette
CEDAR RAPIDS — With an orchestra at his fingertips and sound effects at his toes, a much-lauded organist added lots of bells and whistles to make the Mighty Wurlitzer sing through the rafters of the Paramount Theatre early Friday evening.
Mark Herman, 33, of Monrovia, Calif., was in Cedar Rapids to tape another episode of his virtual theater organ tour. The online concert will debut at 7 p.m. Saturday on his YouTube channel, youtube.com/user/markhermanmusic, where it will remain for subsequent viewing.
Links also will be available on his Facebook page and on the Cedar Rapids Area Theatre Organ Society (CRATOS) website. Viewing is free, but a link will be available for tips.
In 2012, he became the youngest person to be named the American Theatre Organ Society's Organist of the Year, and in 2004, won the Young Theatre Organist Competition. He performs in concerts at home and abroad; writes scores and accompanies music for silent films; has performed on piano and organ in films and television shows; and has been featured on American Public Media's radio show, "Pipedreams."
With 1,450 subscribers to his personal YouTube channel, viewers around the world will be able to hear online what 16 invited CRATOS members and friends heard in person: an eclectic, hourlong mix of Broadway and Great American Songbook favorites, as well as a medley of audience requests.
Bells, cymbal crashes and snare drums were sprinkled throughout, and the whistles built into the organ's sound effects ushered in an encore of "Chattanooga Choo Choo."
"A pipe organ is only as good as the room it plays into, and this instrument has the benefit of both having a great acoustic into which to speak, but also, the organ itself is wonderful," Herman said. "Since it was restored to such a high level, everything works perfectly. And from a tonal perspective, it's very refined.
"So as an organist, I can sit down and it goes anywhere I decide to take it on a whim, and it's really like having an orchestra at your fingertips. You can't improvise with an orchestra, but you can with this."
PANDEMIC PIVOTS
Herman had 30 gigs lined up at home and abroad for the 2020-21 season. With all of them canceled — and the loss of income staring him in the face — he decided to create a virtual tour for tips, livestreaming cocktail piano from his home, then branching out to perform on various organs around southern California.
From there, he began traveling to the East Coast and the Midwest to broaden his scope, estimating he's streamed about five dozen concerts in the past year.
"Which is a lot," he said, "but obviously when you're playing for tips, you're not getting your normal concert fees. But since I was one of the only people doing that for theater organ, I developed a following, and it's helped me reach an entirely different audience than I would normally reach through my in-person concerts.
"I'm still doing some of that because I've really enjoyed putting these programs together. They've become a lot more sophisticated. At first it was a cellphone on a tripod, and now I'm putting together a little bit more of a production — very high quality audio and miking and mastering. Because after all, it's still all about the music.
"And it's been a great challenge to me personally," he added. "While some people spent the pandemic baking bread, I got that out of the way in the first week. So I went back to music, and it's been great for me to be able to do so many programs where I'm always learning more music, and I feel like I'm in better practice than I've ever been."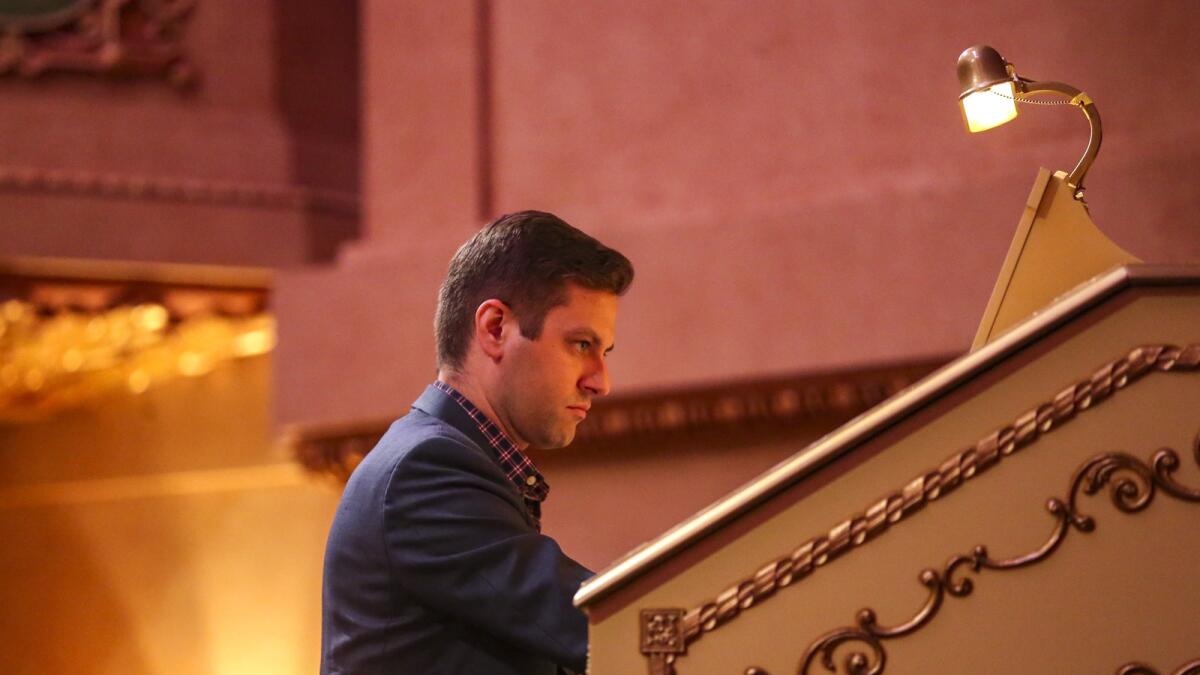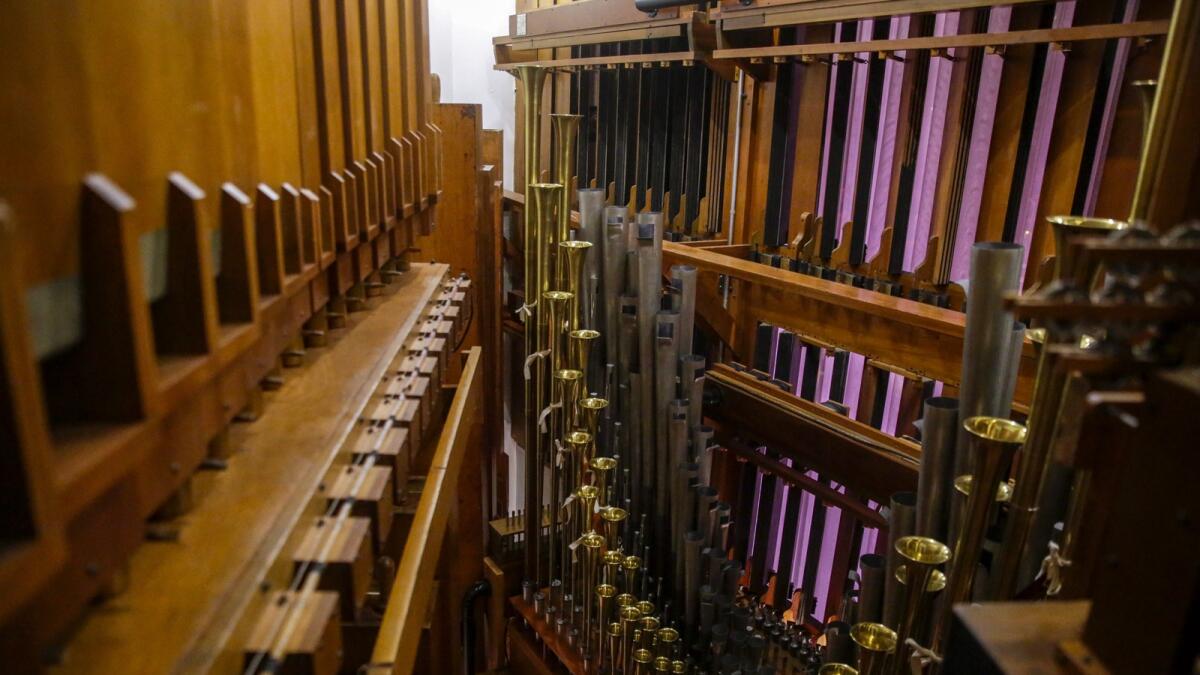 Concerts aren't his sole source of income, however. He also has an organ business, buying, selling, renting and working on organs — everything from renting them to the Hollywood Bowl each summer to installing organs in churches and working on theater pipe organs.
"So I do a lot of organing," he said, noting that while church organ sales have been down during the pandemic, sales for home installations been up, as people have had more time to explore music during quarantines.
BACKGROUND
Born and raised in Fort Wayne, Ind., he felt the call of the keyboard as a child.
"I have pictures of me sitting on my grandma's knee at her piano when I was about 8 months old," he said, "and there are countless other photos of me at a very young age with this magnetic attraction to anything with the keyboard. I had a gravitational pull towards anything with keyboards and buttons and switches. And therefore, the pipe organ is pretty much king."
He started out playing piano by ear, then began piano lessons at age 7, adding organ, as well. Undecided on a career path in college, he considered organ performance, piano performance, composition, lighting design and business.
"Ultimately, I settled on a program in arts management because I figured that would be something that I could combine some of my interests with," he said. He graduated with a degree in theater management from DePaul University in Chicago.
The Windy City also is where he met his husband, McGregor native Anthony Snitker, so he's become familiar with Eastern Iowa through visiting family here.
When Darren Ferreter saw through social media that Herman was nearby, he invited him to come to Cedar Rapids to play the Rhinestone Barton at Theatre Cedar Rapids. Like the Paramount's Wurlitzer, it had been badly damaged in the 2008 flood. The Barton had been repaired and reinstalled, but the Wurlitzer hadn't come home yet.
Last week, the timing was right for Herman to return to Cedar Rapids to play and share the Paramount organ with his online audiences. So he reached out to Ferreter, 53, of Ely, chairman of CRATOS.
"And the red carpet just rolled right out," Herman said.
Comments: (319) 368-8508; diana.nollen@thegazette.com