Autistic children meet first responders in Iowa City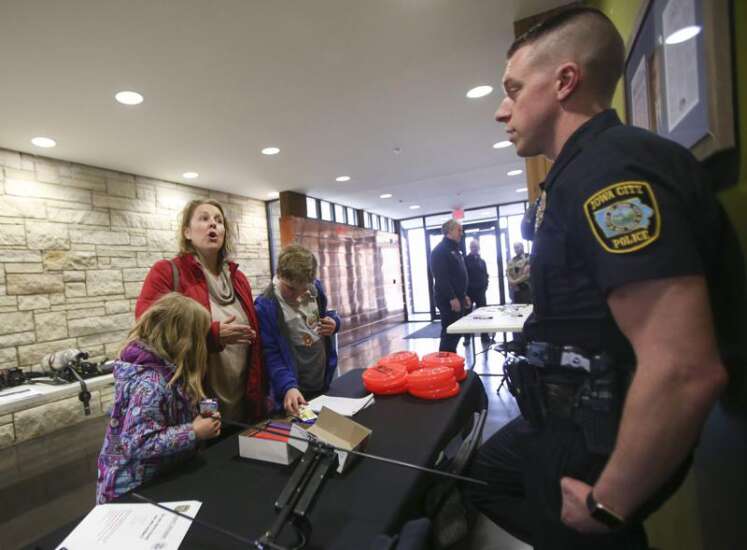 IOWA CITY - Children on the autism spectrum may be more likely to seek or accept help from a police officer or firefighter if they've met emergency responders before in a friendly, non-emergency setting.
That's the idea behind the Community Autism Day held Monday night at Terry Trueblood Recreation Area in Iowa City. The event brought together law enforcement officers, firefighters and emergency responders from across Johnson County to meet children with autism and their families.
'Giving kids on the autism spectrum a chance to approach and explore vehicles and personnel on their own terms makes any possible future encounters much less frightening," said Jessie Witherell, of Iowa City, who has a first-grader diagnosed with autism.
Witherell, co-founder of the Iowa City Autism Community, said the importance of the event is underscored by the April 7 disappearance of Jake Wilson, 16, of La Porte City. Wilson, who is autistic with a mild intellectual disability, had asked to go to a nearby creek and never returned.
More than one-quarter of school-age children with autism spectrum disorder or other developmental disorders wander away from adult supervision each year, according to a study published in 2016 in the online scientific journal PLOS ONE. Children ages 6 to 11 were more likely to wander than children ages 12 to 17, the study found.
Matt Farrey, an Iowa City firefighter, organized the first Community Autism Day last year. He has a Master's degree in special education and worked at the Transitions Services Center, an Iowa City program that helps special education students ages 18 to 21 develop living and working skills.
The Autism Day event is designed for kids on the autism spectrum.
'It's more one-on-one, as opposed to 20 kids looking at a firetruck together," Farrey said. 'We'll let them hold some of the tools and see the differences between the vehicles."
In addition to making buttons and having snacks, children at the event had the chance to see a firetruck, hop on a medical gurney and hold an oxygen tank. Iowa City also demonstrated Project Lifesaver, a program that allows people who might be prone to wandering to wear a device that can be tracked by police.
The Iowa City community will hold its first modified Safety Village for children ages 6 to 12 with special needs June 18-21. The popular camp with a child-size village that has buildings, streets, traffic lights and pedal-driven cars prepares children for real-life situations. More information and registration can be found here: https://www.mercyiowacity.org/Default.aspx?id=156&sid=1&CWFriendlyUrl=true
l Comments: (319) 339-3157; erin.jordan@thegazette.com