Asylum seekers safe in Cedar Rapids after crossing 10 countries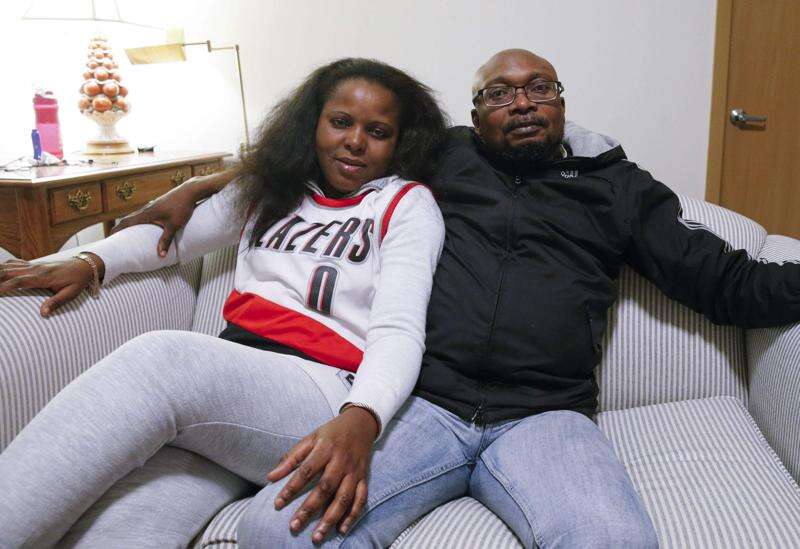 CEDAR RAPIDS — The officials told Sarah Francisco she would see her uncle again soon. Six months later, she doesn't know where he is.
It was May when Sarah, then 15 years old, and her uncle, Nkunbi Glady, presented themselves at the U.S. border with Mexico and asked for asylum. They had just completed a perilous monthslong journey through South and Central America that included being smuggled in tightly-packed cars, walking through jungles and being shot at. They were exhausted, worried about family members — including Sarah's parents and siblings, from whom they had gotten separated during the journey — but relieved to have reached the United States at last.
But when they arrived, the U.S. government's policy of separating migrant children from their families at the border was in full swing. When Sarah and her uncle arrived at the border, they were taken to separate rooms.
Sarah said she was told it would be just a few days until she could see him again. They told her the same thing, she said, two days later when they put her on a plane — that her uncle would be waiting when the plane touched down.
He wasn't waiting. Instead, Sarah was taken to a facility for migrant youths in Chicago, where she spent five months before being reunited with her family.
Requests for interviews with officials at Heartland Human Care Services, which ran the migrant youth center in Chicago, Immigration and Customs Enforcement and the Department of Health and Human Services, which was responsible for caring for separated migrant children, were not returned this week.
'It was hard without my family,' Sarah, now 16, said of her time in Chicago. 'There were times I was very sad and missed my family a lot. ... I felt betrayed and lied to.'
In October, she was able to join her mother, stepfather and three siblings in Cedar Rapids as the family tries to start a new life here.
They still are trying to figure out what happened to Glady after Sarah was separated from him — no one in the family has heard from him since.
The story of how the family got to Cedar Rapids is a complicated one. Though they traveled through Central America along much of the same route thousands of migrants take to try to reach the United States, their journey started in the Democratic Republic of Congo and its neighboring country Angola.
Searching for safety
Marie-Louise Mutonji, who often goes by Mamy, grew up splitting her time between those two countries. Her father was Angolan, her mother Congolese; she went to school in Democratic Republic of Congo but would vacation in Angola. Her husband, Papy Kikongo, is from the Democratic Republic of Congo. Along with Sarah, who has another father, they have three children; Maravilha, 12, Samantha, 8, and Maurice, 1.
As a mixed-nationality family, they ran into discrimination in both countries that sometimes descended into violence. They aren't the only ones facing those pressures. In October, about 200,000 Congolese were expelled from Angola after ethnic tensions and conflict, according to the United Nations refugee agency.
'The Congolese didn't like people from Angola. I decided to go back to Angola, but they didn't accept Papy there,' Mutonji said.
The family is learning English and speak French, Portuguese and Lingala. They spoke to The Gazette through translators.
'It was difficult in Angola for us who speak Lingala and French — they kick us out. And when you go to Congo, they say, 'You're from Angola,'' she said. 'People from Congo are killing people from Angola, and vice versa.'
In 2010, Mutonji and Sarah went to live in Angola, where she worked in marketing, while Kikongo remained in the Democratic Republic of Congo capital of Kinshasa with Maravilha, where he was a pastor.
But in 2014, Mutonji said she and Sarah were both raped in a violent attack, and she decided they couldn't stay in either Angola or Congo. Kikongo, meanwhile, said he faced threats for preaching against corruption and violence.
In 2015, Mutonji traveled to Brazil, because Angola and Brazil are both Portuguese-speaking countries. But she had trouble finding work, and she missed her family So she returned.
In 2017, she decided to try again, and she, Sarah and baby Maurice moved to Brazil. Six months later, in January 2018, Kikongo, Maravilha, Samantha and Glady — Mutonji's brother — met them in Ecuador, a country they didn't need a visa to enter.
It was the start of what would become a long attempt to find a country where they could stay together as a family.
A long journey
Officials in Ecuador said it couldn't be there.
'We didn't know anything about this country. They didn't accept immigrants, and they sent us to the Colombian border and told us, 'You can't come back in,'' Mutonji said.
They were in Colombia for two months before traveling to the border with Panama. Panama wouldn't allow them in, so they traveled with smugglers, who took them on a 12-day journey, walking through the forest.
Their guides, however, aimed to rob them. They started shooting at them, Mutonji said, and in the chaos, the family got separated — Sarah with Glady, Kikongo with Samantha and Mutonji with Maravilha and Maurice.
'We were tired, we didn't have money, we started struggling,' Mutonji said.
She, Maurice and Maravilha were intercepted by Panamanian authorities, who put them on a bus to Costa Rica. Costa Rican authorities housed them at a shelter for migrants in the southern border town of Golfito for two weeks and gave them medical care and food.
After two weeks, authorities took them to another shelter in La Cruz, on the border with Nicaragua.
Next they were smuggled through Nicaragua and then spent time in a shelter in Honduras.
'The immigration service, after a week, said 'you have to leave, you are illegal.' They put us on a bus to Guatemala,' she said. 'We didn't even spend a night in Guatemala — they took us to Mexico.'
There they stayed at a camp in Tapachula and met up again with Kikongo and Samantha.
'We weren't feeling good, we weren't healthy. After two weeks, they told us we have to leave the country … We took a bus to the United States to ask for asylum,' Mutonji said.
They presented themselves at the border, where authorities kept them for two days. When officials released them, it was with ankle monitors to track their whereabouts. Immigration authorities have since removed Mutonji's monitor because it was irritating her skin, but Papy still wears his.
Though they didn't know anyone in the United States, they had met people in Mexico who previously had been deported from the United Sates. The acquaintances told them Iowa was a good place to live, and one man gave them his brother's phone number in Cedar Rapids.
So when immigration authorities asked where they wanted to go, they said Iowa.
That was in May — four months after they first started looking for a place to live.
They wouldn't be reunited with Sarah until October.
Hoping for home
Once in Cedar Rapids, they went to the man's house whose brother they had met. He told them he couldn't keep them at his apartment, but he connected them with the local nonprofit Catherine McAuley Center, which helps immigrants and refugees. Catherine McAuley in turn connected them with Family Promise of Linn County.
Family Promise coordinates a network of churches in Cedar Rapids to provide shelter for homeless families.
Families in the program spend one week sleeping at each participating church, spending their days at the Family Promise headquarters in the basement of First Presbyterian Church in downtown Cedar Rapids.
There, executive director John Derryberry helped get the children registered for school and the parents in English classes at Kirkwood Community College.
He also has acted as liaison of sorts with the legal system; the family must regularly check-in with officials from Immigration and Customs Enforcement as they wait for their day in court.
For now, they aren't legally able to work, a frustrating situation, said Kikongo.
'It's not easy when you have kids and you can't work, you can't go anywhere to help your family,' he said.
Mutonji said she didn't know what they would have done if Family Promise hadn't helped, but they never wanted to rely on charity.
'We're thankful, Family Promise helped us a lot. But it would be nice if we could find a job and do something to help,' she said.
A month after arriving, worrying about Sarah the whole time, they got a welcome surprise; a Facebook message from her to Kikongo, sent with the help of a case manager at the 'International Children's Reception Center' in Chicago where she was held.
However, officials wouldn't agree to return Sarah to Kikongo and Mutonji's care for several more months. Though Mutonji said she had paperwork, including Sarah's passport, to show she was her mother, the government made her take a DNA test to prove the relationship. Then concerns were raised because the family was living in a shelter instead of their own housing, said Derryberry. Finally, the government reunited Sarah with her family.
Family Promise worked with Willis Dady Homeless Services to find more permanent housing for the family. Three weeks ago, they moved into an apartment at Crestwood Ridge, a newly-constructed 45-unit apartment complex on Edgewood Road NW. Five units in the building are designated for families facing homelessness.
'The first night we slept here is the first day I felt at peace since we started our journey,' Mutonji said. 'I feel like I can start to build my life again.'
uncertain future
The family now is waiting for two things; the arrival of work permits and the initial court dates for their asylum applications; the family is trying to get Sarah's application combined with her parents'. In February, Mutonji and Kikongo have a hearing to determine when their case will be held at immigration court in Omaha. In the meantime, they're looking for a lawyer.
More than 60 percent of asylum cases in 2017 were denied, a sharp jump from five years ago, when about 44 percent were denied, according to a November 2017 report from the nonprofit, nonpartisan data research center TRAC. Applicants without lawyers faced long odds — TRAC reported almost 90 percent of asylum applications without representation were denied, compared with about half of cases with representation. Family Promise is working to find a lawyer for the couple.
They've also applied for work permits, which should arrive Jan. 23. In the meantime, they're focused on learning English. Kikongo carries a French-English Bible.
If their case is denied and they have to go back, 'it will be bad,' he said. 'Congo is a country where there is not a lot of justice. ... In the Bible, it says if you leave a place for asylum, you should stay if you find peace. That's why we want to stay here. We have found peace.'
JUST One story
Sarah was one of thousands of kids separated from relatives at the border this year — at least 2,500 children were taken from their parents over a period of six weeks, according to the Washington Post. Sarah said children at the Chicago center ranged in age from 8 to 17.
'I wonder why kids are separated from their families when they come here together,' she said. 'I don't understand the thinking behind that.'
In Chicago, she said the kids would occasionally be taken on outings. Once, before Sarah got in touch with her family, they met children from another shelter.
One was a very young girl and Sarah stared at her and wondered if her little brother, not yet 2, was in a shelter somewhere. 'I worried about him,' she said.
Once a case worker found her parents, she was allowed to talk to them just once a week, she said. Every day at the center, the children woke at 6 a.m., had breakfast and English and other classes, plus one hour to spend outside in a fenced-in area. Once, she recalls politicians coming to see them but she said they weren't allowed to talk to them.
The positive thing about the center, Sarah said, were the friends she made; other girls from all over the world. Most spoke Spanish, she said, but there was another Congolese girl there. Sarah still talks with many of them over Facebook.
After everything she has gone through, Sarah said she doesn't regret making the journey.
'It was worth it,' she said. 'For the safety of my family.'
• Comments: (319) 398-8339; alison.gowans@thegazette.com
Jeremie Diame of Hands Up Communications and Alexandra Olsen of The Gazette provided translation from French and Portuguese in this report.