African American Museum in Cedar Rapids hires new deputy director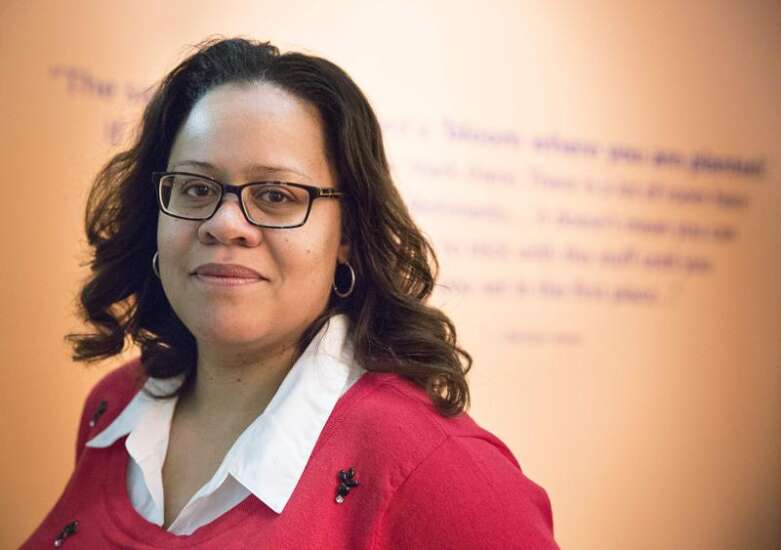 When LaNisha Cassell lost her home to a fire last September, the community reached out to help her.
'They were incredible,' she said.
Now — after 11 years as executive director of the Marion School Foundation — the 42-year-old hopes to 'give back' to the community as deputy director of the African American Museum of Iowa. She started Monday.
'I've always loved nonprofit work,' she said. 'I have a passion for good causes, and I can't imagine a better cause than promoting African American history.'
'She brings a lot of enthusiasm,' said Tom Moore, the AAMI's executive director.
He was impressed by her work at the foundation — building donor contributions, overseeing more than $1 million in assets, raising community awareness, fundraising and marketing.
'We needed someone to take over day-to-day activities to allow me to get out and grow statewide outreach,' he said. 'She's ideal to do that.'
He said the potential also exists for her to eventually step into his role.
Cassell, a Washington, D.C., native, said her leadership, management and marketing experience, as well as her 'lack of museum experience,' will have her thinking creatively to find ways to expand the AAMI's endowment contributions, outreach, membership and awareness of the museum.
Despite the museum's history along the Cedar River in NewBo, Moore said many people don't know it exists.
Still, last year was a success, he said. More than $80,000 was raised, exhibits were expanded and about 40,000 people in 21 communities were reached, But Moore said he didn't see much foot traffic in the downtown location. The museum hopes to attract more visitors.
'We want to be available when families are available,' Moore said.
The museum plans to extend hours with a trial run. It will be open Sundays in February and March from noon to 4 p.m. to celebrate black history month.
If successful, the museum might keep those hours and remaini open at least one weekday evening. Plans have not been solidified, Moore said.
Plans also call for expanding and rearranging the museum's permanent exhibit to make it 'more teachable,' and approachable for self-guided tours. It contain new features, such as audio of oral histories recorded during the past 20 years, and will be designed for more flow, he said.
Ultimately, Cassell hopes to help 'promote, exhibit, preserve and teach African American history.'
'I'm all about preserving African American traditions,' Cassell said. 'It's important that all culture is preserved... . If we don't work hard to share and preserve our history, it will get lost.'