A home for misfit animals: Iowa Farm Sanctuary takes in injured, sick goats, cows, pigs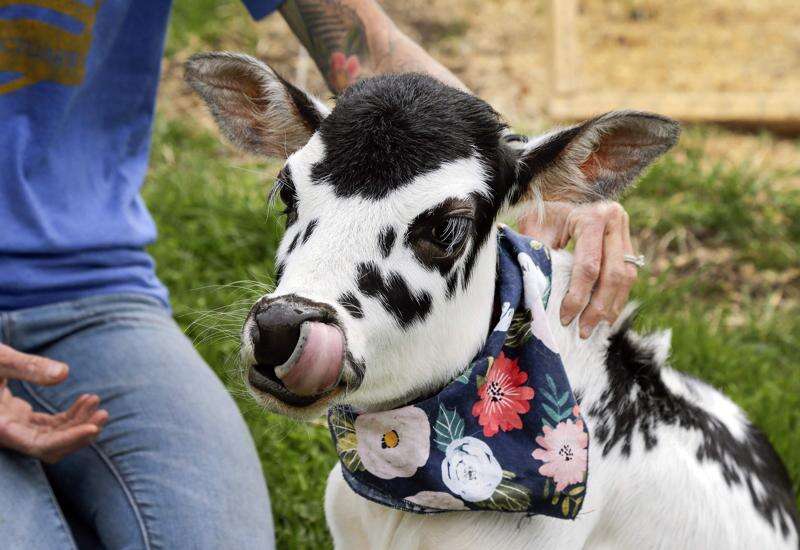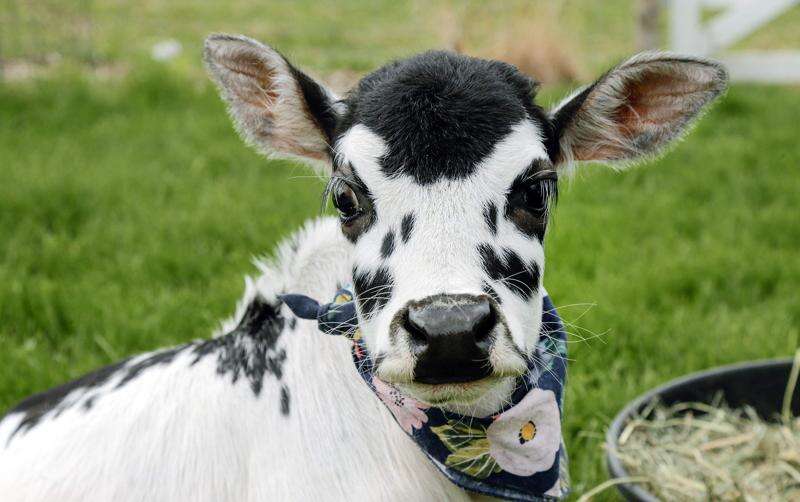 MARENGO — In the 'misfit barn' at the Iowa Farm Sanctuary just outside Marengo, volunteer Kevin Recknor gives Molly Brown the pig a belly rub. He's laying down, stretched out on the farm floor, and Molly Brown is clearly enjoying the attention.
'I've known Molly since she was tiny,' Recknor said. 'We have a special bond.'
When Molly was a piglet, she was left on a semi transporting pigs between farms, then almost drowned when the truck was put through the wash. Now she makes her home at the farm sanctuary, which former North Liberty residents Shawn and Jered Camp established as a nonprofit in 2015.
They spent more than a year looking for land before finding 10 acres just outside Marengo on Highway 6, which they purchased in June 2016.
They have around 60 animals between bovines, pigs, sheep, goats, ducks, chickens and a turkey.
'I have a passion for animals,' Shawn said. 'There are animals that need rescued in every walk of life. There are wildlife rehabilitation centers, cat and dog rescues, already. An area we saw lacking was for farm animals.'
She and Jered are both vegan, and Shawn said she is trying to live her values.
'I aligned my diet to match with ethics, and then I thought, OK, what else can I do?'
Their first rescues were two piglets from a hog confinement. Runts, they were smuggled out by an employee who had been directed to kill them.
'It snowballed from there,' Shawn said.
Many of the animals they care for were surrendered by their owners, usually because they had an injury or illness. One cow, Pumpkin, was given to them by a girl who was raising her for 4-H but couldn't keep her and didn't want to have her slaughtered after she developed a bad case of pneumonia. Pumpkin has recovered now, but still has a chronic cough.
That actually makes her the perfect companion for another cow, Ellie, who is blind. The first heifer the farm rescued, she follows Pumpkin around as her 'seeing eye cow' companion. Shawn said the vet told them normally the lead cow in such an arrangement would wear a bell, but for this pair it wasn't necessary — Pumpkin's cough lets Ellie know where she is.
The 'misfit barn' is home to animals with special needs and those that can't mingle with the other animals as easily.
The farm cares for goats that lost limbs due to frostbite, a chicken with a malformed beak and animals with trouble walking, such as Angel, a miniature zebu cow who uses a special cart to move around — her back legs don't function and are tucked up under her body.
Along with owner surrenders, they have taken in several animals rescued from transportation accidents, including piglets and steer that fell out of semis or were injured when trucks crashed.
Camp said they can't save every animal and have had to euthanize some, but they are willing to pay for expensive veterinary care when needed.
'We usually let vets make a call on when an animal can't be helped. We'll do everything we can to help an animal, if that means they'll have a good life,' she said.
When the veterinary care and persistence pays off and a sick or injured animal recovers, Shawn said it's all worth it.
'Seeing those turn arounds. To see an animal who had never used her legs before be independent and walk on her own — those are the moments,' she said.
Most of their funding comes through donations, including sponsorships for the care of different animals.
'We're really still kind of grass roots,' Shawn said. 'The power of social media is alive and well.'
While Jered is a supervisor for Johnson County Ambulance Services, Shawn is at the farm as 'a full-time volunteer,' she said.
Members of the public can visit the farm during its two annual events, a spring picnic (or 'pig-nic,' as they call it) and a fall birthday celebration for Carl the cow. They also hold open barn days on Sundays throughout the summer, during which people can mingle with the animals and bring a picnic lunch, for a minimum donation of $10.
Volunteers also are welcome after they attend a quarterly orientation — the next one will be in July.
In the future, the Camps hope to build a new pig barn, as well as an education building on the farm. They also hope to eventually acquire more land.
'We're running out of room already,' Shawn said.
They get lots of messages about animals people would like them to take in, but they're pretty much at capacity so they are only taking in new animals in emergencies.
They recently participated in a rescue from a flooded farm in Nebraska, working with the local sheriff to recover animals that had been largely abandoned. They sent the pig they rescued to a farm rescue in Colorado they knew — Shawn said the rescue community communicates and coordinates where they can.
Shawn said she doesn't expect to change Iowa's commodity farming system or even change many minds about raising animals for food. Rather, she just wants to help the animals she can.
'I don't have super unrealistic expectations that by having this shelter we're going to turn everyone vegan,' she said. 'I think when you just come from a place of true compassion for these animals, most people can see why we do this.'
If You Go
• What: Iowa Farm Sanctuary
• Where: 2485 Highway 6 Trail, Marengo
• When: The sanctuary is open for visits each Sunday starting May 12 for open barn days, noon to 3 p.m. Admission is a minimum donation of $10 for adults, $5 children.
• Details: (319) 642-7362, iowafarmsanctuary.org
l Comments: (319) 398-8339; alison.gowans@thegazette.com