Home / Business News / Columns
The Ground Floor: Cobble Hill restaurant owners completing journey begun in N.Y.
George Ford
Feb. 12, 2013 6:00 am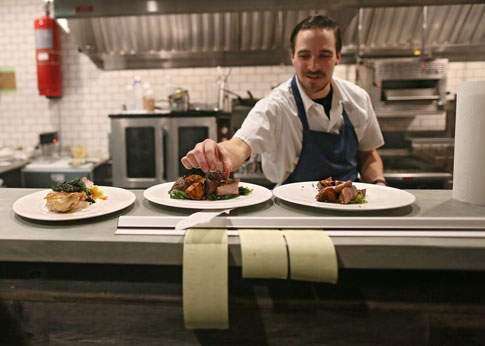 The official opening of a new downtown Cedar Rapids restaurant will complete a journey that began in New York for Andy and Carrie Schumacher.
Cobble Hill will offer food prepared from regional sources and served in an atmosphere that the Schumachers hope to replicate from the Cobble Hill neighborhood of Brooklyn, N.Y.
"We walked constantly around Cobble Hill and the surrounding neighborhoods all the time, and there was always something new and fresh," Carrie said. "There were tons of restaurants with a lot of new energy.
"It was very common to see people sitting on their front porch drinking a glass of wine and talking to each other. That's what we're hoping to do in the front of our restaurant."
Andy, a Cedar Rapids native who trained at a New York culinary school, is the former executive chef at Lincoln Café in Mount Vernon. Carrie, who hails from Algona, recently left her position as director of catering at Hotel Vetro in Iowa City.
They met while students at the University of Iowa and moved to New York to pursue job opportunities.
"I was a biology major, but I enjoyed cooking in my spare time," Andy said. "It sort of became a passion, so I decided to go to culinary school. I ended up working for several Manhattan restaurants in the kitchen, and Carrie was managing the front of house for a restaurant."
The couple started a boutique catering company with a friend that did some cool gigs for celebrities such as Calvin Klein. But Andy said never really got to be a big operation.
"We always wanted to open our own restaurant and we considered doing it in New York, but that really didn't seem like a good option," he said. "We were starting a family, all of our family is in Iowa, and we felt that we should bring our experience back here."
Preparing a business plan to obtain a bank loan, Andy and Carrie looked at potential costs for food and labor, rent, utilities and all the other financial aspects of starting a business from scratch.
"We initially looked at a location in downtown Marion last winter, but it just didn't work out," Andy said. "We decided to regroup while we continued to work in Mount Vernon and Iowa City."
The Schumachers had considered downtown Cedar Rapids, but felt there was a lack of energy in the aftermath of the June 2008 flood. When Andy received a call from Marty Hoeger offering to show the couple a potential location, they were initially hesitant.
"When we first looked at the space, my first thought was it wasn't possible with the amount of financing that we had for the business," Andy said. "Marty said he needed to build out the space, and maybe we could meet in the middle.
"We were able to work out a deal and it turned out perfectly like what we wanted."
Andy and Carrie wanted Cobble Hill to open for New Year's Eve, but construction was not complete.
"Honestly it was probably for the better because we would really have been rushing to get everything done," Carrie said. "This way, we were able to hire our staff and have adequate time to train them. We always said that we didn't want to open until we were ready."
The couple is considering Sunday brunch in the summer months, but it won't be open for dinner that day.
"We want our staff to have some time off, rather than spending all their time here," Carrie said.
Owners: Andy and Carrie Schumacher
Company: Cobble Hill
Address: 219 Second St. SE, Cedar Rapids
Phone: (319) 366-3177
Website: www.Cobblehillrestaurant.com
Hours: 5 to 9 p.m., Tuesday through Thursday, 5 to 9:30 p.m., Friday and Saturday