Home / Sports / Columns & Sports Commentary
'Big E Langston' goes from Hawkeyes to WWE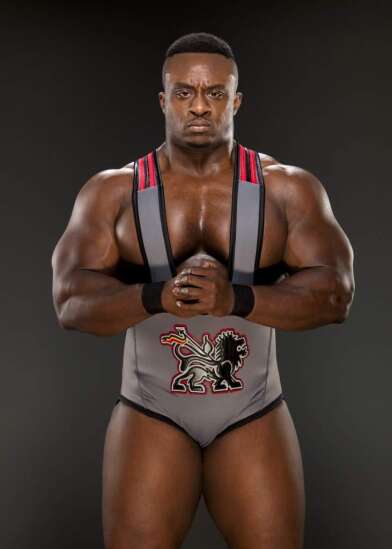 There may be an Iowa Hawkeyes football tailgate of a different kind next weekend in Cedar Rapids.
Some former Hawkeye players and maybe an assistant coach or two will gather at the U.S. Cellular Center to see one of their own in action. Former Iowa defensive tackle Ettore Ewen, now known professionally as Big E Langston, will be part of the World Wrestling Entertainment show here on Saturday night, June 29.
"I'm trying to put together a tailgate party," said former Hawkeye linebacker Mike Humpal. "I've got a handful of us lined up already. We want a big support group for Big E.
"We always called him 'Big E.' I don't know where they get that 'Langston.'"
After meeting on a flight a few years ago, WWE executive Jim Ross noticed that Mike Doughty of Washington, Iowa, was wearing a Hawkeyes wrestling jacket. Ross asked Doughty to let him know if any heavyweights in the Iowa program had potential to be a pro wrestler.
Doughty casually mentioned that to Humpal while they were at an NCAA Wrestling Championship in St. Louis a few years ago, and Humpal quickly had a name for him.
"I told Mike that Ettore Ewen didn't wrestle in college, but he was a high school state-champion in Florida. And he was a college football player, which has got to be worth something. The rest is pretty much history."
If you aren't familiar with Ewen, the Hawkeye, it's understandable. He came to Iowa from Tampa, Fla., with little fanfare, and played only one season before injuries forced him out of the sport.
"I went to a private school that didn't offer football for middle school and high school," Ewen said. "I was finally able to transfer my senior year. I had a good senior year of football at Wharton High, but didn't have many offers.
"I was in the weight room after I was done with my senior year of football. At the time, Coach Phil Parker was recruiting the Florida and Tampa area heavily. He walked in the weight room and saw me bench-press 315 pounds for 10 reps. It all kind of started from there."
Ewen got to Iowa in the summer of 2004, but tore one ACL one year and the other the next. He was healthy enough to play the entire 2006 regular-season, but missed the Alamo Bowl because of a torn pectoral muscle.
"Surgeries and rehab were difficult," he said. "The hardest part was feeling disconnected from the team. Not that it was anyone's fault."
Iowa placed Ewen on medical scholarship. He earned his undergraduate degree and entered a Masters program at Iowa.
"I got my teaching certificate and at one point was employed by the university," he said. "I was making plans to finish up my Masters and work on a Ph.D. I was in line to spend another five years at Iowa. Actually, what I wanted to be was an athletic director. That's slightly different from what I'm doing now."
What he's doing now is evolving as a personality on WWE to go with his 5-foot-11, 280-pound chiseled physique that Humpal describes as "Holy cow!"
"The guy's a monster," Humpal said.
He's imposing, for sure. But to flourish in the world of sports-entertainment, as the WWE calls itself, you need more than a look. You need to be a communicator, a personality with charisma.
Ewen signed a developmental contract in 2009, learned the ropes (no pun intended) for a few years, and joined the WWE's upper-end talent roster late last year.
"The first month, I went without doing any talking at all," he said. "I was just kind of a stoic bodyguard. But eventually I've been given some opportunities. Every performer should have an evolution.
"I grew up very introverted. (Former Hawkeye) Mitch King and guys like him wondered if I could do this for a living because even in my college days I was introverted. But I've always been a budding extrovert waiting to come out.
"Honestly, this was something I never considered for a job. But they set up a tryout and everything just kind of happened from there. It's been a whirlwind, an amazing experience so far."
As for his in-ring skills, Ewen said "I'm a powerhouse, but I think I bring something else to the table as far as my agility and being explosive. I think what separates me from some other bigger, more-muscular guys is my movement."
This will be Ewen's first professional appearance in Eastern Iowa since he signed with WWE.
"I couldn't be more excited to be back," he said. "I'll spend a few days hanging out and seeing old friends I used to play ball with."
Maybe "Big E" will be even bigger the next time WWE passes through this area. Several WWE performers have gone on to acting careers.
"Who knows where he'll go?" Humpal said. "He's a presence. Once he got into the whole wrestling thing it's like a different light kind of shines from him."