Home / News / Government & Politics / Campaigns & Elections
Kirsten Running-Marquardt wins close Democratic primary for Linn County supervisor
Breanna Oxley may ask for recount to determine who will face Republican Mark Banowetz in general election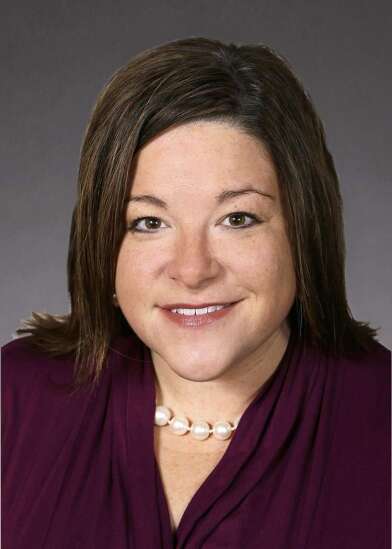 CEDAR RAPIDS — Former state Rep. Kirsten Running-Marquardt won a close, three-way Democratic primary for Linn County supervisor on Tuesday.
Running-Marquardt had 1,807 votes to runner-up Breanna Oxley's 1,774 votes, in unofficial results. Former Supervisor James Houser was third, with 1,048 votes.
Given that 33 votes separate the top two vote-getters, Oxley said she may request a recount.
"I have phone calls coming in left and right so I'm waiting to see if anyone talks recounts, but I congratulate the winner," Oxley said Tuesday night. "We're reviewing things for the recount, but nothing is decided. We're just reviewing everything."
Oxley said on Wednesday she's made no decision on asking for a recount. The request must be filed with the county auditor's office three days after the votes are canvassed, which typically happens the week after an election.
The Democratic winner will face Republican Mark Banowetz in the Nov. 8 general election for the District 1 seat on the three-member county board. The winner will succeed Supervisor Stacey Walker, who did not seek re-election.
Running-Marquardt said she was grateful to those who voted Tuesday.
"I'm going to have to go out and again, work really hard to earn the votes of the people in District 1," Running-Marquardt, 44, told The Gazette on Tuesday night.
"The priorities of voters I heard at the doors is that everyone wants a fair shot in the county, strong economic development and mental health access…," she said. "I just want to make government work for people, and I look forward to earning folks' votes come November."
Oxley, a teacher at Roosevelt Middle School, is the granddaughter of the county administration building's namesake — Jean Oxley, the first woman to serve on the board and its longest-serving member.
Houser served six terms on the county board, from 1990 to 2011 and from 2015 to 2019.
Running-Marquardt represented House District 69 for 13 years in the Statehouse.
She said she is looking forward to moving on from state government to county government and to working more closely on local issues.
Banowetz, her Republican opponent in November, is a business owner in Ely and a former City Council member there.
The newly redrawn District 1 covers southern Cedar Rapids and Linn County, including Ely and Fairfax.
County supervisors will make $124,967 in the fiscal year beginning July 1.
Comments: (319) 398-8255; gage.miskimen@thegazette.com