Home / News / Government & Politics / Campaigns & Elections
Iowa state Rep. Kirsten Running-Marquardt running for Linn County supervisor
The state legislator announced her campaign for county District 1 on Friday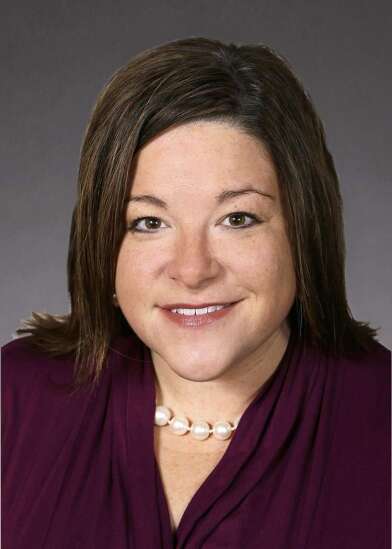 A current state legislator in Linn County is looking to transition into county government next year.
Kirsten Running-Marquardt, the Democratic state representative for District 69, announced on Friday that she would be running for the District 1 seat on the Linn County Board of Supervisors.
Born and raised in southwest Cedar Rapids, Running-Marquardt, 44, said she is looking to move on from 13 years in state government to county government to work more closely on local issues.
"I like making government work for people," Running-Marquardt told The Gazette on Friday. "I want to be the voice at the table for the west side of Cedar Rapids, Fairfax, Ely and Walford, and I'm excited to work in partnership with other community members on issues and make our community a place where our kids and grandkids want to stay and live and bring back those who have left."
Her current state district aligns with the future County District 1 that includes west Cedar Rapids, Fairfax, Walford and adds Ely. The supervisors voted earlier this month to approve the new district maps that split up the county's more rural areas and gives the southern portion to District 1.
Running-Marquardt graduated from LaSalle High School, attended Kirkwood Community College and received her bachelor's degree from the University of Iowa as well as her master's degree from the University of Northern Iowa. She lives on the west side of Cedar Rapids with her husband, Coy, and her 15-year-old son, Jack.
In the Legislature, Running-Marquardt is currently the ranking member of the House Economic Development Appropriations Subcommittee. She has also worked on local projects through collaboration and legislation including the local amphitheater, Czech Village, Ellis Harbor, Hawkeye Downs and has also worked on strengthening local public health, no-shame lunch protections for students, allowing epi-pen usage and distribution for school nurses, and addressing breast cancer funding, access and density information, according to her campaign.
"I bring a strong voice that has experience and I'm also willing to take fresh looks at things," Running-Marquardt said. "I have great experience working and collaborating with multiple levels of government. Those relationships are still in place, and I'll work with those as I have over the years."
Outside of the Legislature, Running-Marquardt has served as a board member of the Iowa Small Business Development Centers, Iowa Workforce Development and The History Center of Linn County. In the past, she worked as the Director of Iowa for Health Care and worked the former U.S. Rep. Dave Loebsack.
Running-Marquardt said some of the issues she would like to tackle include workforce development, child care and addressing the safety of proposed CO2 pipelines that could run through parts of Linn County.
"The city has a new endeavor working with community college on workforce development, and I think we should work as a county to work with them as well as the trades. We have trade unions in the area that are national models for apprenticeships and programs," she said. "We need to make sure we are getting people back in the workforce. … There are also some things we could do in child care to go above what the state is looking at. Providing affordable, good-quality child care will help our workforce."
She added that the proposed pipelines are a major concern for her.
"I want to make sure that the safety of our communities is the number one priority," she said. "I also need a priority for any pipeline coming through to make sure not to use eminent domain."
Running-Marquardt is the second person to formally announce she's running for the District 1 seat, currently held by Stacey Walker, who announced last year he wouldn't be running for re-election.
Breanna Oxley, a fellow Democrat and teacher at Roosevelt Middle School, is also running for the seat. Oxley, 30, announced her campaign back in October. Oxley is also the granddaughter of the county administration building's namesake: Jean Oxley, the first woman to serve on the board and the longest-serving member.
Linn County Supervisors currently make $119,198 a year.
Comments: (319) 398-8255; gage.miskimen@thegazette.com