Home / News / Government & Politics / Campaigns & Elections
Iowa City Council at-large candidates talk affordable housing
They differ on developers paying a fee in lieu of providing affordable units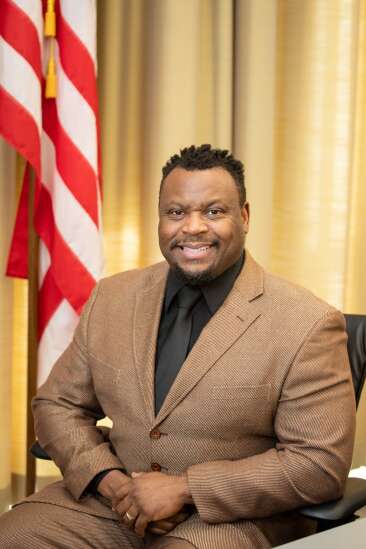 IOWA CITY — Three Iowa City Council candidates for two at-large seats all view affordable housing as an important issue but differ on strategies, including whether developers should be able to pay a fee in lieu of adding affordable housing units to their plans.
The city now requires developers receiving tax increment financing to earmark 15 percent of their new units for affordable housing. Developers, however, can opt instead to pay a fee to the city's affordable housing fund.
For example, a project preserving and reactivating a block of the downtown Pedestrian Mall — being spearheaded by the Minnesota-based Tailwind Group — opted to pay a fee of more than $1.8 million rather than set aside units for affordable housing.
The three candidates running for two at-large council seats in the Nov. 2 municipal election — current Mayor Bruce Teague; ACT senior manager Megan Alter; and Jason Glass, vice chairman of the city's Human Rights Commission — responded to questions on the topic sent by The Gazette and spoke with The Gazette's editorial board.
"I don't really support the fee in lieu of," Teague said. He brought up his own experience of moving to Iowa City at age 17 and not being able to live in the more expensive parts of the city.
He said the city needs to be "intentional" in making sure new and current residents can live in new developments for a reasonable price. Teague said six units at Augusta Place apartments and five units at The Chauncey were acquired for public housing downtown.
Alter said affordable housing is "a balancing act." A benefit, she said, is that some of the city's affordable housing funds have been used to expand the South District program. But actual housing units still are needed, she said.
"I would like us to start using the money that we have in the affordable housing pool to be able to create permanent housing," Alter said, suggesting the city work with organizations to rehab existing housing into affordable options.
Alter said she's not in favor of granting tax increment financing for more luxury student housing unless the city benefits from it. She cited the Tailwind project as an example, where she sees the city benefiting because the developer is preserving historic aspects of the block.
Glass said allowing a fee in lieu of housing units has been "pretty successful."
He acknowledged the criticism that actual affordable housing isn't being built but pointed out how the fund can help city residents struggling with rent or how it can make current housing units more affordable.
All candidates brought up the shortage of affordable housing in the city.
Teague said it's important for the city to have housing available so "we have a variety of people that live in our community." He said an affordable housing group is creating a plan for the city.
"I think that's pretty valuable because that's been a part of the missing piece, is that we've been doing affordable housing here, there, but now with a plan," he said. "I really believe that we can be strategic about it."
Teague and Alter both brought up the benefits of the city's South District home ownership program, which helps renters buy homes in the neighborhood at an affordable price.
Alter said she is in favor of expanding the program to other neighborhoods.
Glass said the city needs to take a "holistic approach" to affordable housing, including mental health and substance abuse treatment, child care and removing barriers to employment.
Glass said Iowa City "has developed a reputation of not being friendly to development" and has denied projects that would have increased its housing supply.
He brought up how new development downtown can attract students closer to campus, which could potentially free up some housing and be "a great opportunity for neighborhood building."
"As those students move closer to campus, we're going to have a vacuum that's there, and we have to be very intentional and very forward-thinking now about developing that area," Glass said.
Comments: (319) 339-3155; izabela.zaluska@thegazette.com