Home / News / Government & Politics / Campaigns & Elections
Cedar Rapids mayor candidates seek to leverage city's position as second-largest in Iowa
Challengers call for city to lead on strengthening regionalism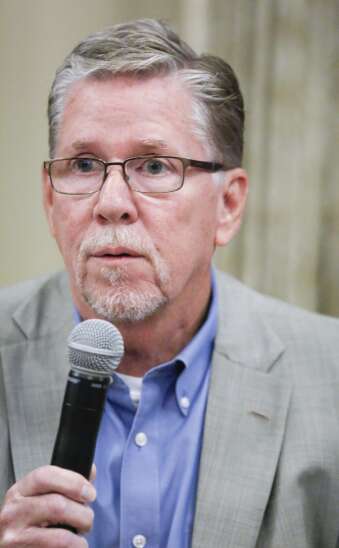 CEDAR RAPIDS — Cedar Rapids mayoral hopefuls, in seeking to lead Iowa's second-largest city, say they aim to leverage relationships to fuel the region's strength as a whole and tap into the collective powers of neighboring communities.
At an Oct. 6 forum hosted by the Cedar Rapids Metro Economic Alliance and Hawkeye Area Labor Council, Amara Andrews said Cedar Rapids' relationships with neighboring cities and the county are important and should be considered part of a group.
At TrueNorth, a financial consulting and insurance company where she is an executive, Andrews said there is a focus on collective IQ, so when the rights minds are together in one room, "we can come up with solutions to any problem."
"We are a region, and when one rises we all should rise," Andrews said. "So it is important that we have these alliances."
Andrews told The Gazette's editorial board the cities offer people similar experiences.
"Whether they're in Marion or in Cedar Rapids, there should not be a feeling that one area is safer than another or that one's better and more engaging than the other and, frankly, Cedar Rapids needs to be leading in that effort," Andrews said.
Mayor Brad Hart told The Gazette editorial board that relationships beyond the city have sometimes proven difficult to foster, as communities are different and some local elected officials and constituents want to keep a focus on Cedar Rapids.
He also said Cedar Rapids and Iowa City have different cultures that have made it a challenge for the chamber and Cedar Rapids Metro Economic Alliance "to cooperate."
Still, Hart said, "we would be at the table if it helps. Generally if it helps the region, it's going to help Cedar Rapids."
At the Oct. 6 forum, Hart pointed to a variety of ways in which area partners already work together, such as through the Metropolitan Planning Organization, joint lobbying efforts for federal and state money, the Cedar Rapids/Linn County Solid Waste Agency and a monthly Linn County mayors meeting. He also said the cities have agreements in place not to poach businesses from each other.
"The more we can work together, the better, because we all benefit," Hart said. "The people who work in Cedar Rapids — they live in Hiawatha or Marion, they'll still spend a lot of their time and money in Cedar Rapids and vice versa."
Women Lead Change Chief Executive Officer Tiffany O'Donnell at the Oct. 6 forum said her first 100 days in office would be focused on relationships.
She mentioned connections with Linn County officials as an area for growth, and referred to a September Gazette article about how the city and county are navigating strained relationships to allocate a combined $72 million in federal American Rescue Plan Act stimulus funds.
"I worry that the citizens are ultimately the losers when those relationships are fractured," O'Donnell said.
As mayor, O'Donnell said she would look to her eight other City Council colleagues as well as regional partners, including mayors of surrounding cities, and to leaders of not-for-profits and large or fast-growing companies to "level-set where they are and where I am, and find a way forward that is mutually successful for all of us."
At the state level, O'Donnell has said she would work closely with Iowa leaders to ensure they prioritize Cedar Rapids — such as with the Iowa Economic Development Authority's provisional award of $9 million through its Reinvestment District program. That fell short of Cedar Rapids' $39.5 million request.
"Especially in a form of government when it's a part-time position, your currency really is your leadership and your influence and cultivating those relationships," O'Donnell told the editorial board.
For his part, Quaker Oats employee Myra Colby Bradwell said at the Oct. 6 forum, "I just can't even understand not participating and helping other communities."
Comments: (319) 398-8494; marissa.payne@thegazette.com