Home / Business
U.S. jobless claims see first drop in four weeks
Iowa notes a slight rise in new applications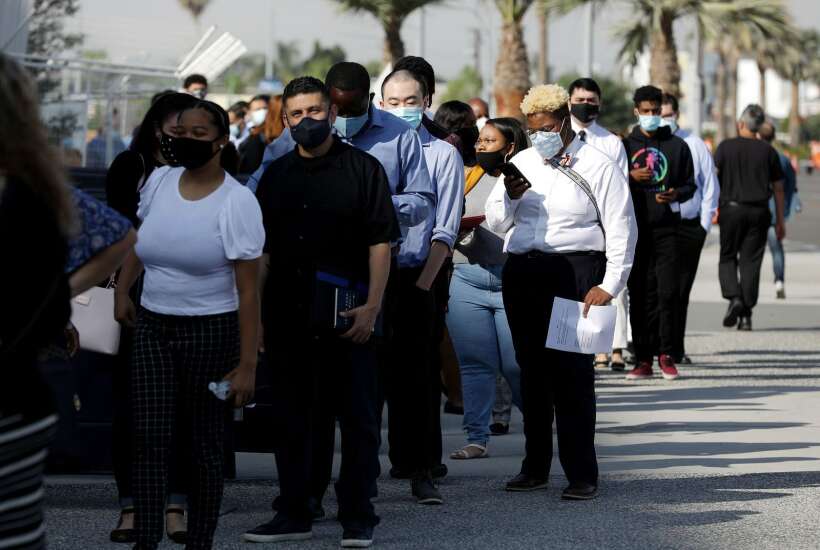 The number of Americans applying for unemployment benefits fell last week — another sign that the U.S. job market and economy continue their steady recovery from last year's coronavirus recession.
Unemployment claims fell by 38,000 to 326,000, the first drop in four weeks, the U.S. Department of Labor said Thursday.
Since surpassing 900,000 in early January, the weekly applications, a proxy for layoffs, had fallen more or less steadily all year.
Still, they remain elevated from pre-pandemic levels. Before COVID-19 hammered the U.S. economy in March 2020, weekly claims were consistently coming in at around 220,000.
After hitting a pandemic low of 312,000 in early September, claims had risen three straight weeks, suggesting that the highly contagious delta variant was at least temporarily disrupting a recovery in jobs.
Iowa recorded 1,767 new claims for the week, which was an uptick from the previous week's 1,719. On the other hand, the state had 9,723 continuing claims, a drop of 821 applicants.
Linn and Johnson counties both reported declines in new claims — 123 new claims, from 142, for Linn, and 50 for Johnson, from 61 the week before.
Employers nationwide so far this year have been adding 586,000 jobs a month, and this month's employment report, due Friday, is expected to show they tacked on another 488,000 in September, according to a survey of economists by the data company FactSet.