Home / Business
Teens back at summer jobs, but Iowa businesses still facing worker shortage
At 9.6%, the last time teenagers hit single-digit unemployment rate was 1956. But many businesses still struggling to fill positions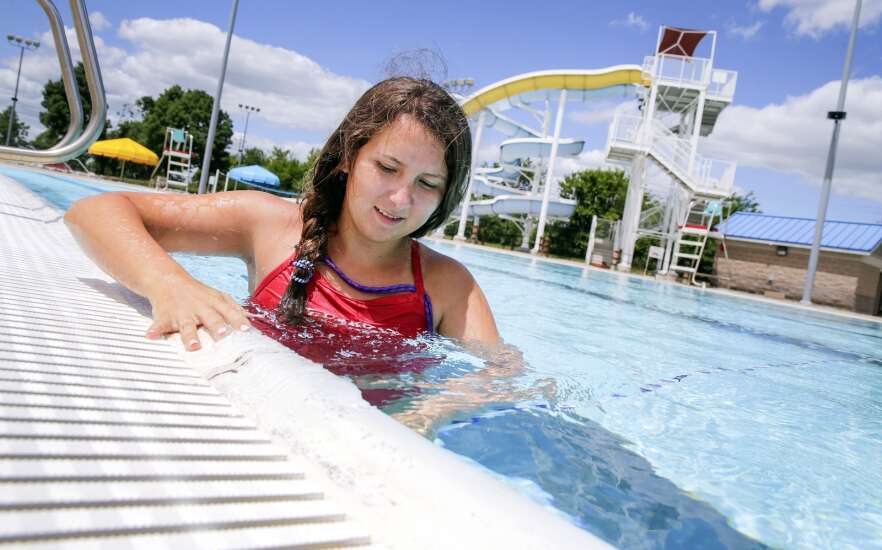 When the final school bell rings, the lack of assignments and exams is replaced with responsibilities of a summer job. Whether it be warning children not to run at public pools or bagging produce at a grocery store, teenagers traditionally fill jobs over summer months.
The U.S. Bureau of Labor Statistics said more than 5.4 million U.S. teenagers between 16 and 19 years old had jobs in May, an increase of 400,000 over May 2019 and 1.5 million over the same month in 2020, the Atlanta Journal-Constitution reported in June.
The unemployment rate for the age group fell to 9.6 percent last month.
"It's something we have not seen for decades," said Lisa Lynch, a former U.S. Department of Labor chief economist who now teaches at Brandeis University. Bureau of Labor Statistics numbers say the last time teenagers hit a single-digit unemployment rate was 1956.
It's a far cry from 2020, when the pandemic closed businesses and hit young people particularly hard. While the unemployment peaked at 14.8 percent for the general U.S. population in April 2020, it was 32.1 percent among all 16- to 19-year-olds.
But while more Americans told the Bureau of Labor Statistics this year than last that they aren't looking for jobs because of increased family responsibilities, illness or school, that's not the case for teenagers and other young people.
In a survey of those not in the workforce, the number of people in the 16 and 24 age group who say they are not looking for work shrank by roughly 700,000 over May 2020.
While there is an increase in employment within this demographic, it's hard to ignore the now-hiring signs still along well-traveled streets in the Corridor that promote incentives along with pleas for job candidates to apply.
Summer recruitment often focuses on teens
Boone-based Fareway Stores typically expands recruitment efforts ahead of summer, as an increase in demand for grocery-related items correlates with summertime activities — and sales — requiring more hands on deck for the grocery store chain.
"In looking at month-to-month comparisons for this year leading into the summer months, we have seen an over 30 percent increase in application counts," said Emily Toribio, Fareway corporate outreach and communications manager in an email.
Toribio emphasized the comparison of hiring and applicant numbers is difficult from 2020 to 2021 because of a variety of reasons, many related to the pandemic.
Fareway operates 129 stores, with locations in Iowa, Illinois, Minnesota, Missouri, Nebraska and South Dakota.
Positions such as courtesy clerk, checker, online shopper and bagging purchased items usually are held by teenagers. Eighteen-year-old and recent Kennedy High School graduate Kallie Kolthoff first started working at Fareway in Hiawatha when she was 14.
A part-time job helped with her time management skills, Kolthoff said.
"Working here has helped me manage my time really well because at the beginning occasionally I'd oversleep, or come in a little late, but then I knew where my priorities were and now I haven't been late," Kolthoff said.
"With extracurriculars, it helps because I turn in my availability earlier so then I know what days I can work and what days I have off, and I have my schedule planned out months in advance."
Kolthoff enjoys the flexibility and variety within her position, as well as building relationships with other employees.
"I think when students come in and it's their first job, it's hard for them to leave because they really do build a little bit of a family at the store," said Stephanie Rohrer, human resource generalist at Fareway.
"Those are some of our advantages. In regard to our culture, it's a really fun, friendly environment that students want to work at that allows flexibility to do other things."
Teens fill a need for struggling local businesses
Michelle Jordan believes there's a number of factors contributing to the problem many businesses are facing with being short-staffed.
Jordan, owner of Wild Hogs Eatery and Saloon in Walford, Iowa, cut lunch service.
"There probably is some fear in some of them about COVID still being around and existing, but I don't think that's the driving factor," Jordan said.
"We've been doing this for 10-and-a-half years and you do go through difficult times, hiring staff, (and) this is the worst I've ever seen it."
Jordan employs a small number of teenagers at the moment, and she's not opposed to hiring more.
"They kind of rejuvenated my hope in the younger generation because they're very ambitious, they're very loyal, they're on time, they want to learn more about what they're doing, they want to have opportunities," she said.
Younger workers learn new skills from tenured members of the staff, as they are "always there to dig in." Jordan consults staff members as a whole when making decisions, as they are the ones executing and facing the effects of restaurant-wide decisions, such as cutting lunch service.
"Keeping everybody involved and making them feel like they are a part of the bigger picture helps them to want to be motivated or want to contribute and go above and beyond," Jordan said.
Incentives often can further convince employees to apply for specific positions, whether it be monetary bonuses or days off. And a variety of incentives are being offered with various summer jobs this year.
"A lot of our incentives are really based on flexibility and schedules," Fareway's Rohrer said, noting the chain doesn't offer "any hard benefit incentives."
Fareway did increase promotion of incentives already put in place, such as flexibility in scheduling and Sunday's off.
"In relation to this certain demographic, a lot of that comes with we are interested in students who want to be involved in community as well as extracurricular activities, sports, whatever it might be. Additionally we're closed on Sundays, which is a big perk, especially because you need a day to rest."
Using incentives to lure teen workers
"It's really nice to have a flexible work schedule with a couple different things going on," said Stephanie Allen, 18, a lifeguard at Cherry Hill Aquatic Center.
When pools were forced to shut down last summer, Allen picked up a different job, which she's juggling on top of her current position at Cherry Hill.
For the Cedar Rapids Park and Recreation Department, incentives are used to ensure pools are staffed for the summer and can operate properly, but were promoted heavily this season, especially as capacity restrictions are loosening.
Due to closures last year regarding COVID-19, fewer lifeguards are returning for the 2021 season, having gotten different jobs. Reliant on returners, Cedar Rapids had to instead really on new hires.
Cedar Rapids raised starting wages from $10 to $12 an hour, as well as a reimbursement of up to $120 for lifeguard certification class fee, a $50 bonus for signing up and taking the lifeguard certification class with a friend, and the potential for a wage increase of $2, $3, or $4 for the final three weeks of the season if the employee remains in good standing throughout the season.
The key aspect Recreation Superintendent Angie Cole attributes to gaining new applicants was meeting them where needed.
"We did more job fairs this year to bring people in, tell them about the incentives, then we had computers on-site so they could do their application right there, and in some cases they could do their interview right there," Cole said.
"Sometimes transportation is an issue. And for some others, just getting to a public computer is hard to do, too, because there was so many places shut down when we started recruiting."
A number of businesses pushed job fairs for this summer. Louisville, Ky.-based steak chain Texas Roadhouse, for example, in May held job fairs this year, holding its first such event in June at its restaurants in Cedar Rapids, Coralville and Cedar Falls.
Allen has been working as a lifeguard for four summers and spends the school year working at an indoor pool.
"There's just something new every single year that really keeps me interested and it's just a really fun job, I don't even think about it as work anymore," said Allen.
Atlanta Journal-Constitution and Tribune News Service contributed to this report.
Comments: (319) 398-8386; sierra.hoeger@thegazette.com