Home / Business
Pokemon Go brings foot traffic to local businesses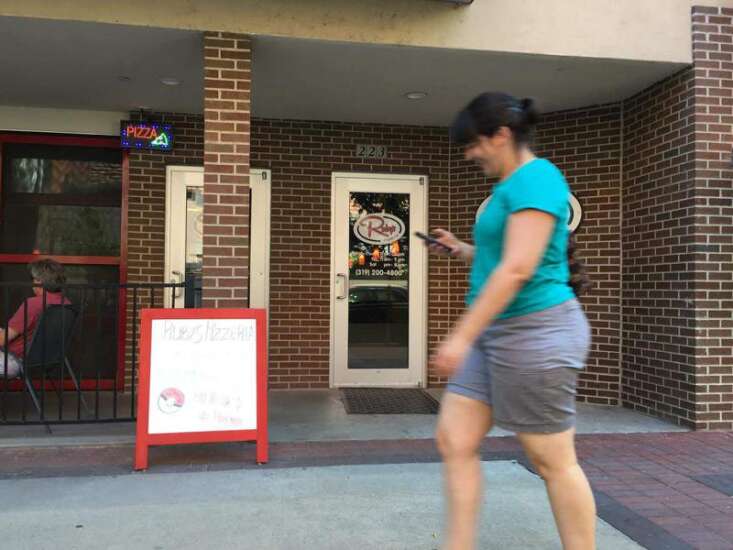 Bill Payne, owner of Ruby's Pizzeria in downtown Cedar Rapids, is seeing dollar signs as people playing Pokemon GO stop in while hunting down virtual cartoon characters on their smartphone screens.
'Half the people who are in here are new faces since we started supporting the game," Payne said Thursday. 'I recently bought Ruby's and I wanted to own a place that was skewed toward families and children.
'A lady and her two children had dinner on our front porch. She said that was the first time she and her teenagers were able to go out and do something together."
Payne said Ruby's became a 'Pokestop" where people can find cartoon characters on their smartphones after his manager, Travis Meyer, made him aware of the popular game.
'He came in and said 'Check this out. There's a Pokemon in the kitchen!' I had no idea what he was talking about," Payne said. 'He showed me the game and we saw all the traffic that was going around, I thought it was fantastic."
Veronica Tessler, owner of Yotopia in downtown Iowa City, said being a Pokestop has increased traffic into her frozen yogurt store, but she is unable to say if it has increased sales.
'I think it's a little too early to tell," Tessler said. 'It's only been out for a week, but we've certainly seen a lot more people downtown."
Tessler said Yotopia became a Pokestop after it was part of a previous virtual reality game. Typically business owners activate a 'lure module" feature of Pokemon Go that attracts virtual characters to their store.
Jan Weissmiller, co-owner of Prairie Lights Books in Iowa City, said being a Pokestop has brought a lot of young people into the store.
'They aren't necessarily here to talk with us, but some of them have bought books," Weissmiller said. 'They're young and it's nice to get them reading actual books.
'Our baristas are the ones who have set the 'lures' and it's bringing customers to our cafe."
Cory Goldensoph and his wife, Megan, were enjoying lunch Thursday at Ruby's Pizzeria with their children, Atticus, 7, and Anika, 11, who were quick to recommend Pokemon Go as a marketing tool,
'I think it's really smart for places like Ruby's to be a Pokestop," Anika said. 'It's really good for business. If I owned a business, I would definitely do it."
Jen Neumann, partner with de Novo Alternative Marketing in Cedar Rapids, said her company began informing clients Monday about using Pokemon Go to market their product or service.
'We had get out in front of it and explain what it means," Neumann said. 'We advised them to use the game to their advantage in social media.
'We gave the example of ImOn Communications, which used the game on Facebook to promote the use of its free Wi-Fi service in downtown Cedar Rapids."