Home / Business
NewBo sees $16 million property value boost since 2008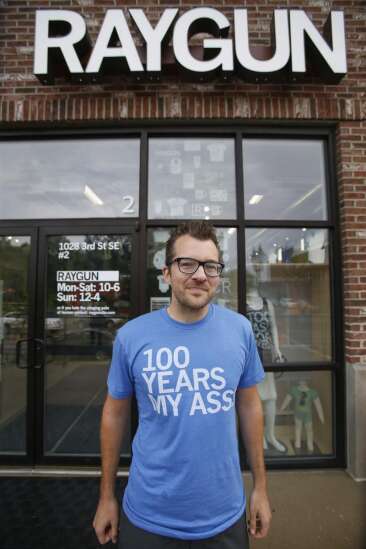 CEDAR RAPIDS — Mike Draper first visited the NewBo neighborhood about a year and a half after the flood of 2008 to scout Cedar Rapids for a new store.
At the time, buildings such as CSPS Hall were still under renovation and the NewBo City Market didn't yet exist.
Six years later, by the time Draper signed a contract to open a Raygun store in the newly constructed NewBo Station on Third Street SE, the district south of downtown looked much different.
What Draper saw was an up-and-coming neighborhood that people wanted to be in — and most important, one that would support his business, a Des Moines shop known mostly for its satirical print T-shirts.
'It was the summer of 2015, and they were doing yoga outside the City Market,' Draper recalled. 'Numerically, there was not a lot in NewBo or not a ton going on (at the time), but a place with energy and people who wanted to be there and wanted to do that kind of stuff. If you can get on that train, you're in a neighborhood that's going up.'
Nowadays, one can't visit the NewBo City Market on weekends for lunch without waiting in line. In some summer evenings, hundreds flock to the neighborhood for the weekly 'Meet Me at the Market' group exercises.
Draper said that culture in NewBo is what drew him to open a store there, citing the energy of visitors as well as a business potential that's not found everywhere.
'The store in Cedar Rapids does six times what the store in Iowa City does,' he said.
Cedar Rapids has staked a lot to make the neighborhood the place to be. Over the past eight years, the New Bohemian district — popularly known as NewBo — has been the subject of a revitalization effort by city officials, business owners and developers that has brought an influx of new commercial and residential spaces to the area.
'I think it's a tremendous success,' Cedar Rapids City Manager Jeff Pomeranz said. 'It's a fun place to go, and it's an amenity for the entire area.'
The numbers back him up. According to data from the Cedar Rapids Assessor's Office, that effort has shown an increase in property values by more than $16 million since 2008.
In January 2008, the total valuation of the NewBo neighborhood was about $29 million.
Eight years later, in January 2016, that value had risen to approximately $46 million.
More than $44 million has been invested in NewBo and Czech Village, according Czech Village/New Bohemia Main Street District. As NewBo is in the same Main Street District as Czech Village — the neighborhood just over the Cedar River along 16th Avenue SW — most of the data included pertains to both districts.
This includes investments from the city, which has put about $98 million into the Oakhill-Jackson, NewBo and Czech Village neighborhoods, according to city data. Pomeranz said there was no specific effort by the city to make the neighborhood the new, trendy place to be.
The Development of NewBo
The NewBo district is defined by the Czech Village/New Bohemia Main Street District as the approximately 40-square-block area bounded by Eighth Avenue SE, the Cedar River, the tail end of Ninth Street SE and the railroad tracks along 15th Avenue SE.
Development in the NewBo and Czech Village districts since 2009:
$44 million — Money invested in residential and commercial properties
$7 million — Public improvement investments, including infrastructure improvements
103 — Net new businesses
419 — Net new jobs
Source: Czech Village/New Bohemian Main Street District
According to Jennifer Pruden, executive director of the Czech Village/New Bohemia Main Street District, there were some 484 properties in the districts as of February. That includes 120 commercial spaces and 149 separate residential units, including those in housing complexes such as Water Tower.
The successful development model used in NewBo, according to Pomeranz, includes three specific components — housing, work opportunities and entertainment.
'I'd say it (NewBo) has all of the elements that made it successful, and that success is going to continue to grow and continue to develop because there's places to live, there's places to work and there's places to enjoy,' Pomeranz said.
The development of NewBo began with the city's involvement on improving infrastructure of the area, which included new sidewalks and lighting, Pomeranz recalled. Then, the private sector took over.
'Often you see that when cities make investments in infrastructure, the private sector follows,' he explained. 'That's exactly what happened here, particularly in the development of Third Street.'
Several venues throughout NewBo track visitor counts per year. In 2016, the African American Museum of Iowa had about 26,000 visitors while the NewBo City Market counted approximately 300,000 the same year.
There are approximately 1,300 residents within a half-mile radius of the center of the district, according to U.S. Census projections, Pruden said.
One of them is Karen Teig, who moved into the NewBo Station, 1100 Third St. SE, in April after downsizing her four-bedroom, two-story house on Blake Boulevard on the southeast side of Cedar Rapids that she'd owned for 30 years.
Teig, 61, said most of the residents are in their 20s or 30s, but there are a few others her age in the building.
'I decided this is where I wanted to be. I liked this area, and I like this sense of community that we have here,' said Teig, who works at the Linn County Courthouse as a court reporter for Judge Fae Hoover-Grinde. 'When I started driving around, looking for apartments, I didn't realize how much this area had grown and expanded.'
Growth and Challenges
The largest jump in the net number of new businesses in the districts was in 2013, from nine in 2012 to a total of 31, according to data from the Czech Village/New Bohemia Main Street District.
According to 2016 data, the cumulative total of net new businesses since 2009 was 103.
NewBo and Czech Village business as of 2016:
Retail — 39 percent
Service — 33 percent
Restaurant/food related — 28 percent
Source: Czech Village/New Bohemia Main Street District
Josh Seamans, retail specialist with Gibbs Lamb Drown commercial real estate, said the neighborhood creates an environment for entrepreneurs to 'establish a footprint in the market and start their business.'
'The 2008 flood gave us the opportunity for NewBo to fill that void, kind of as the destination for newer, trendy, more local, entrepreneurial-type businesses,' Seamans said. 'Post-flood, we really started to see — really driven by the NewBo Market — an emphasis of that neighborhood becoming that destination.'
The Main Street District is pushing for more retail in the area to balance the more than 40 restaurant- or food-related businesses. Bill Rieckhoff, who opened the Great American Popcorn Company at 1121 Third St. SE in 2014, agrees more retail is needed.
'We just need more retail mass. That's a little bit of a supply-and-demand thing,' Rieckhoff said. 'We don't have a tremendous amount of supply of retail space right now. So we need a little bit more supply, because I think there's a demand down here.'
Sandy Rosenberger, who has operated the NewBo Mercantile and Vintage Shop on 11th Avenue SE for five years, foresees a struggle to interest aspiring small-business owners due to the rising cost of rent for a commercial space in the neighborhood.
'I think since we're still in flood recovery, developers have a lot of money they want to recuperate,' Rosenberger said.
The affordability for residential properties in the area also will be an issue, if it's already not, said Sam Bergus, a mechanical engineer at Shive Hattery and vice chairman of the Legion Arts board of directors, a not-for-profit organization that resides in CSPS Hall on Third Street SE, one of the oldest buildings in the neighborhood.
'One of the things that's talked about but is underplayed as far as the flood, the amount of low-to-low or low-to-middle income housing that was destroyed was huge,' Bergus said. 'It hasn't actually been replaced ...
It's definitely an issue as far as the long-term sustainability.'
Don Barrigar, owner of Acme Electric Co. in Cedar Rapids, developed the Row Houses on Second, the condominiums on Second Street SE in late 2013, and owns the Kurik House at 124 Second St. SE. Barrigar said stakeholders in the area expected the homes to be at a lower market rate. Instead, he said his condos were sold for $300,000 and above.
'I think there's a good mix of buying and renting opportunities, but I think originally there was some perceptions that it was going to be an arts district and that starving artist-type residents. It just didn't work out that way,' Barrigar said.
To some, NewBo is considered an arts district. Before the flood, Bergus said it was a 'rundown, cheaper part of the city' where artists moved into, which has yielded studio and gallery spaces such as the Cherry Building and Legion Arts.
Bergus said he believes the development of market-rate housing, or housing sold at the market value without a reduced rate, and retail space also could eliminate NewBo's arts district status.
'I see as NewBo continues to grow and continues to build newer and bigger things that those elements really get pushed out,' Bergus said.
However, without that push, the economic development of the neighborhood wouldn't be at the point it is today, Barrigar said.
'I think certainly if it would have been focused primarily on starving artists, you wouldn't have seen the development that you seen,' he said.
Construction currently underway in NewBo includes the Depot, $20 mixed-use development behind NewBo City Market, and plans have been proposed for a housing project on the 400 block of 16th Avenue SE geared toward artists and entrepreneurs, called ArtTech Village.
Going forward, part of the Main Street District's focus is on in-fill development, or the construction of mixed use buildings in the smaller lots throughout the area, Pruden said.
In fill developments may pose some problem, Bergus said, since it's oftentimes more feasible to string several lots together to build one large mixed-use development.
'I'm sure someone in the world has a model that would work for that, but as far as locally, or even in Iowa, I don't know if there's a good examples of where that kind of in fill has been implemented and worked,' Bergus said.
NewBo Going Forward
Many involved in the neighborhood — including Bob Schaffer, business owner and property developer in Czech Village — point to the 2008 flood as the spark that helped the NewBo neighborhood revitalize itself.
'All of us very quietly, cautiously admit that, though always in mind that it hurt a lot of people,' Schaffer said. 'Some people's lives were very much destroyed by it.
'Overall, it ended up with a lot of improvements, a lot of new things that wouldn't have happened otherwise.'
More than 31 feet of water from the Cedar River caused approximately $5.4 billion in damage, affecting 7,198 Cedar Rapids properties, including more than 5,000 residential properties and more than 1,100 businesses and industry, according to Army Corps of Engineers's figures.
Despite the development following the flood, economic expert Pike Powers said the language developers and city officials are taking with NewBo can pose a problem.
Powers is an Austin, Texas-based businessman and chief executive of Pike Powers Group who visited Iowa about five years ago to consult on the Iowa City Area Development Group's economic strategy in Iowa City and the surrounding area. Throughout his weeklong trip, Powers said he was 'dismayed' that no matter the topic being discussed by business leaders and developers, the flood was always brought up.
This, Powers said, is the biggest challenge the city faces today. That language can create concern among potential developers and business owners about the risk of building near the river, Powers said.
'You've got change the language,' Powers said. 'You've got to change how you react when that subject came up. You've got a positive line, describing the community after the flood and we aren't going to be whipped by the water, but it sticks out like a sore thumb as someone who's an outsider.'
The city's plan to install a flood protection system along the Cedar River is what Pruden calls 'a game changer.'
'When you add flood control, I think that's going to give confidence to future investors about the city's commitment to the area,' City Manager Pomeranz said.
This year marks the biggest progress in the project since the record flooding nearly 10 years ago. Three of the five projects are underway, including a $5.9 million pump station off 11th Avenue SE designed to protect NewBo.
City officials estimated it would take about $625 million to protect the city from future floods, which includes about $73 million from the federal government that hasn't been allocated.
Once flood protection is completed, Pruden said the city will release several plots of land on the southern end of NewBo for development.
'With a lot of those vacancies and demolitions, there is potential for 138,000 square feet of first floor retail or mixed-use space. That's just in NewBo,' Pruden said. 'I think that's about 60 new buildings we could support.'
l Comments: (319) 368-8536; michaela.ramm@thegazette.com