New Pioneer critical of TIF assistance for Lucky's Market in Iowa City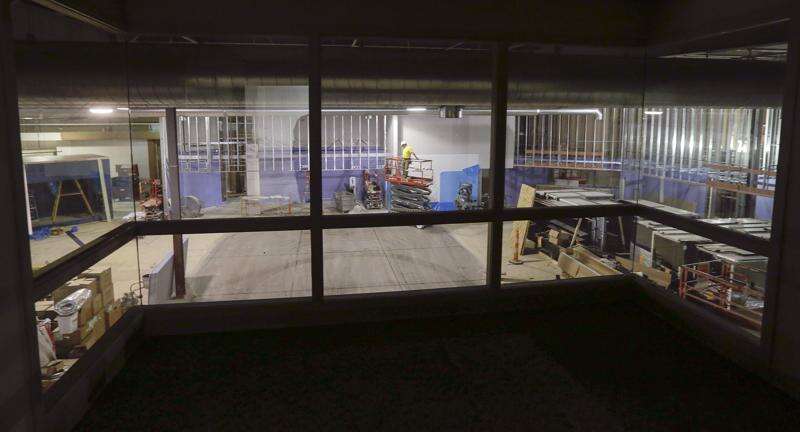 IOWA CITY - Officials with Iowa City's longtime food cooperative are displeased with the city's consideration of financial aid for a Colorado-based natural food store.
New Pioneer Co-op's board of directors sent a letter Wednesday to the Iowa City Council expressing concern over the city's proposed $1.75 million tax increment finance (TIF) package to Lucky's Market, a Boulder, Colo. natural food grocery store with plans to open a 34,000-square-foot store in Iowa City Marketplace's former Von Maur location.
Matt Hartz, New Pioneer general manager, said the board's qualm is not with Lucky's Market moving to Iowa City, but with the unfair advantage such financial aid would give an out-of-state company.
'The concern has been that it's subsidy support for a large percentage of the project cost, for a company that's based out of state," Hartz said. 'We've been here for over 40 years, we're owned by the community, we're kind of like the Green Bay Packers of food and all of our profits stay here."
The Iowa City Economic Development Committee will discuss the TIF proposal Monday, with a recommendation for approval or denial reaching the Iowa City Council in the next few weeks.
Earlier this year, the council approved adding the proposed $1.75 million TIF to the city's urban renewal area, which is required before TIF can be approved.
Iowa City Manager Tom Markus said the TIF being discussed is not geared directly to Lucky's Market, but is an investment in the entire neighborhood.
'That's the intent, and if there is an area that we want to invest in and make sure that it's viable, it's that center because that center influences a lot of the rest of the commercial business in the area and is certainly a benefit to the neighborhoods there," Markus said.
Markus added that all communication regarding the proposed TIF has taken place between city officials and the Iowa City Marketplace.
'We've not had that conversation with Lucky's Market at all," he said. 'The money is not going to Lucky's Market, it's going to the shopping center."
Iowa City Marketplace - formerly Sycamore Mall - lost its anchor tenant, Von Maur, last year when the apparel store relocated to Coralville's Iowa River Landing after being offered a TIF package estimated between $11 and $16 million from the city.
With Von Maur and other retailer departures, the mall's value dropped from $16.4 million in 2011 to $10 million in 2014. An estimate based on property valuation indicates the mall's tax contribution dropped from $669,778 in 2011 to $367,803 in 2014.
In order to receive the full $1.75 in TIF funds, Iowa City Marketplace officials must bring the center's assessed value back up to $16 million, which is anticipated to take place if the mall reaches full occupancy, said Jeff Davidson, Iowa City economic development administrator.
'If they don't uphold their part of the bargain, they aren't going to get the full TIF amount," Davidson said. 'That's why we feel like it's appropriate for the city to be involved in re-establishing the vacant space."
Lucky's Market is expected to bring 7,500 to 10,000 customers to the mall every week, with hours of operation from 11 a.m. to 7 p.m.
While New Pioneer officials are unhappy with the city's proposed funding to Lucky's Market, the co-op actually had first dibs on the mall space.
After multiple proposals, including New Pioneer Co-op, as a tenant for property on the corner of Gilbert and College streets failed to gain council support last year, the council ultimately chose The Chauncey for the site. Hartz said co-op officials then considered the former Von Maur space in Iowa City Marketplace.
'We did a market study on that site during our overall site search process in the wake of the College and Gilbert decision by the city council," Hartz said. 'We did have ongoing conversations with Core Realty Holdings, the owners of the mall, and we did have conversations with the city of Iowa City as well. When we looked at the mall site, our data showed that it gave us the lowest sales per square foot of any other place we studied."
Just Tuesday, the Cedar Rapids City Council approved $731,500 in tax savings over five years and $2.2 million in property taxes over the next 15 years to New Pioneer Cooperative Society for the co-op's $5.5 million renovation of a vacant building at 3338 Center Point Rd. NE.
Hartz said there's a big difference between the Lucky's Market TIF and New Pioneer's Cedar Rapids project.
'We see that we're a locally owned business that's been here for decades, and we're going into a site as the owner for the long term," he said, adding that several infrastructure needs were discovered after the co-op purchased the Cedar Rapids site.
'The board selected and purchased the site without an assumption at that time of TIF in it, though the city of Cedar Rapids has been very supportive of our planning and growth efforts," he said.
The total Cedar Rapids project is estimated to cost $5.5 million, and Hartz said the store could open later this year.