Home / Business
National Czech and Slovak Museum store aims to be a holiday family tradition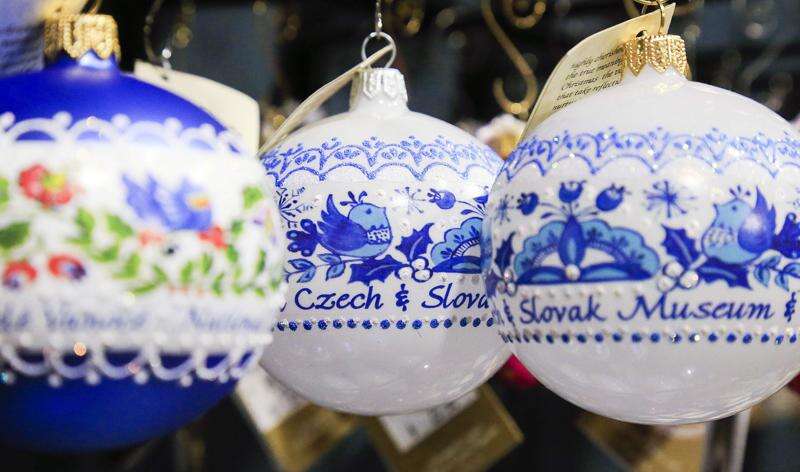 CEDAR RAPIDS - Shopping at the Museum Store at the National Czech and Slovak Museum and Library this time of year, Sarah Jane Wick believes, has become for many a family tradition.
'Families come in and get their ornaments signed," Wick said, referring to museum supporter and local artist Marj Nejdl's personalized NCSML ornaments. 'It's a very special and unique thing."
Wick has worked as the director of the store for the past three and a half years, having come to the job from other retail experience.
The Museum Store is able to tap into the museum's volunteer core - supporting Wick and her team of two part-time employees - to keep the store running.
'Our volunteers are always so excited and wonderful, and we so appreciate their contribution," Wick said.
Wick spends most of her time behind the scenes, handling the buying, but she occasionally works behind the register.
'The most fun part of my job is merchandising," she said. 'I like to be out here setting the stage, so to speak. When I buy for the store, I have in my mind how I might set things out for display."
Much of the store merchandise, both in store and online, Wick said, corresponds to the current exhibitions on display at the museum or relates to the Czech and Slovak collection and heritage the museum celebrates.
'Customers are sure to find new items here all the time because our exhibits are always changing," she said.
And while mouth-blown glass Christmas ornaments are out in full force, with a smaller selection available all year, shoppers can expect a jewelry sale as Valentine's Day approaches and a display related to egg decorating before Easter.
A couple years ago the Museum Store launched a custom charm collection.
'Each piece takes inspiration from our collection here at the museum," she said, noting that this year's design is a linden tree leaf - an important Slovak and Czech symbol for strength and perseverance.
'Each story means a lot here," Wick said, pointing out the information cards displayed by the handcrafted items. 'We like to tell shoppers why this item is here in the store and who made it. These stories are very validating for customers. It helps them feel attachment to the cause."
But Wick added that the staff puts 'a focus on a wide variety of items that will appeal to visitors whether they have Czech or Slovak heritage or not. And I think people perceive this as a high-end museum, but we try to have a wide variety of price points here."
l Know a business that's been in operation for more than a year that could make for an intriguing 'My Biz"? Let us know at michaelchevy.castranova@thegazette.com.
At a glance
l Director of the Museum Store: Sarah Jane Wick
l Business: National Czech and Slovak Museum and Library
l Address: 1400 Inspiration Place, Cedar Rapids
l Phone: (319) 362-8500
l Website: https://store.ncsml.org