Home / Business
'Mob grazing' helping Iowa cattle producers, pastures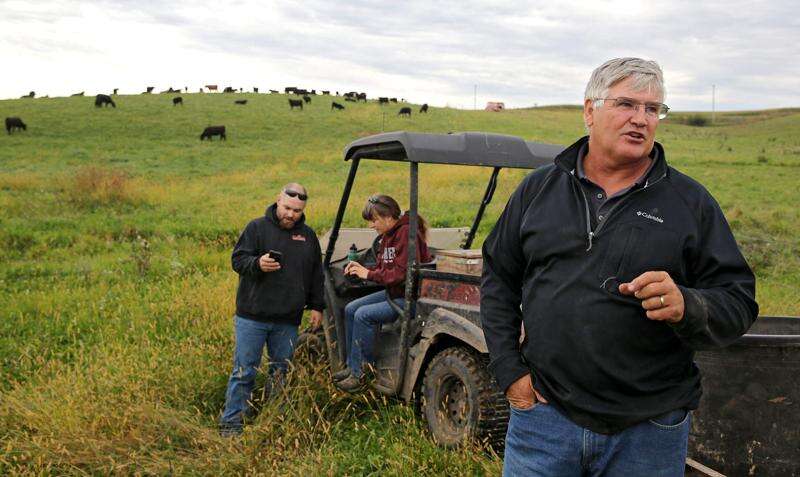 OXFORD - It's a flash mob for cows.
In a practice called mob grazing, all 150 of Doug Darrow's beef cows and calves move each day into a paddock of fresh grass, graze it intensively and move on the next day.
'It's a brand new process. It's really pretty cool stuff," Darrow said Wednesday during a field day on his all-pasture 160-acre farm south of Oxford.
Darrow, a 40-year cattleman in his second year of mob grazing, said the practice yields healthier soil, more forage per acre and healthier, happier cattle.
Last year, Darrow converted to pasture 80 acres that had been in row crop production, a move that helps diversify a landscape increasingly dominated by corn and soybeans while nearly eliminating the loss of soil and nutrients to surface waters.
The conversion has also eliminated for Darrow many expensive trips across his farm with heavy machinery.
Darrow has divided his 160-acre farm into 2.28-acre paddocks. each of which is grazed for one day every 60 days.
Elaborate watering and electric fence systems facilitate the daily moves.
Jess Jackson, a grazing specialist with the Natural Resources Conservation Service, said the cows don't have time to overgraze the predominantly grass and clover pasture.
With all the roots and many of the leaves intact, the plants have the strength to quickly replenish themselves, he said.
Mob-grazed pastures 'produce more biomass per acre and more pounds of beef per acre than continuously grazed pastures," Jackson said,
Rick Bednarek, an NRCS soil scientist, said undisturbed root systems enable microorganisms in the soil to flourish, improving soil health and increasing the percentage of organic material in the soil, which makes soil more tolerant of both wet and dry conditions.
Darrow said he is 'trying to mimic nature" with the practice and, in the process, establish a minimum input operation.
Toward that end, Darrow said he no longer administers antibiotics to protect his cattle's health, and he relies on bulls, rather than embryo implants, to impregnate his cows.
Nor does he apply herbicide to control weeds or fertilizer to stimulate pasture growth.
The cows fertilize the soil and eat what others might consider weeds. 'If a cow eats it and converts it to manure, I don't consider it a weed," Darrow said.
Darrow's operation also mimics nature in that he has 300 chickens trailing the herd, just as prairie chickens once trailed buffalo herds on the Great Plains.
'The chickens' job is to stay three days behind the cows and eat the fly larvae from the manure," Darrow said.
That means fewer flies to pester his cows, and plenty of free-range chicken eggs to sell, he said.
The chickens roost each night, safe from predators, in an old school bus that can be moved from paddock to paddock to keep pace with the cows.
Darrow said he markets most of his grass-fed beef under his own private label and gets a premium price for it.
'We're getting the crutches out from under (the cows) and letting them express their genetic potential on grass," he said.