Home / Business News / Small Business News
Is it bigger than a bug? Call Paw Control in Hiawatha for nuisance critters
Owner taught biology, astronomy before starting animal-control business
By Steve Gravelle, - correspondent
Sep. 13, 2021 5:45 am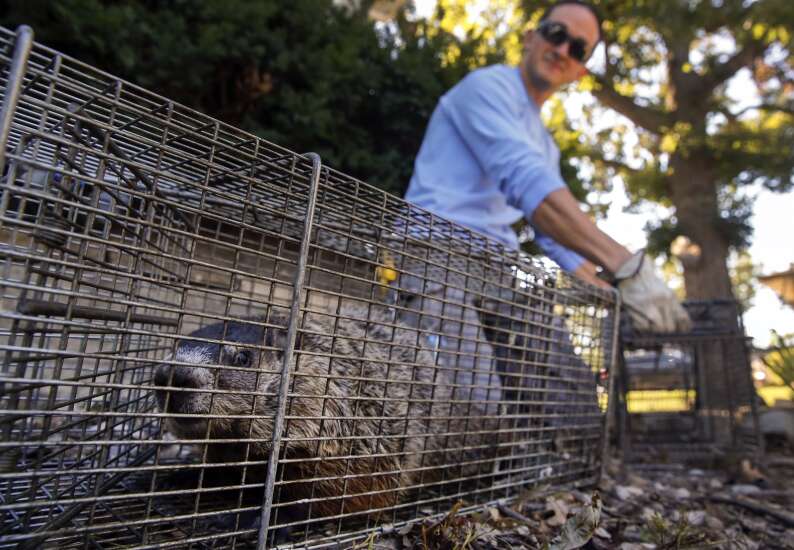 Joe Taylor searches for the things that go bump in the night. But unlike those cable TV shows, he comes back with something to show for it.
"All they have to say is, 'I saw a furry tail,' or 'I hear scratching noises,'" Taylor said.
If it's bigger than an insect, a call to Paw Control Wildlife Solutions brings Taylor for an initial inspection of a property and its nuisance-critter situation.
"That first phone call is basically a first interview to start narrowing things down when we can," he said.
"Then we've got to show up and figure out what we might be going after. Every so often we can't say for certain whether it's this or that."
Identifying a species may mean motion-activated video cameras, or something as simple as a strip of sticky tape over a downspout. Fur left on the tape will identify the culprit.
"That's my favorite part, the detective work," Taylor said.
Taylor taught biology, astronomy and other sciences at Cedar Rapids Washington High School for eight years. He worked three years for another animal-control service for before starting Paw Control in 2018.
"My last year teaching was the best one ever, but I also knew I wasn't going to teach for 25 years," Taylor said. "I knew I wasn't a one-career person."
Once the nuisance creature is identified, Taylor devises a trapping strategy, often followed by remedial work to "wildlife-proof" a property to prevent recurring issues.
Taylor's sole full-time employee specializes in trapping strategies while he focuses on inspections and consulting with property owners.
Paw Control works with homeowners, apartment complexes and commercial properties.
"It's a good combination," Taylor said. "There's residential, there's property-management groups. I get a lot of calls from Realtors -- they're representing either the buyer or the seller. There's commercial (property) work."
Groundhogs, bats and rodents are frequent unwanted guests. Different homes present different challenges.
"If you had a home that was built, and an addition was put on and then a deck was put on -- because of those things they're more likely to have particular issues," Taylor said.
In older homes, "there's going to be some weathering and there are some species that are going to take advantage of that decaying wood. Really, no structure is off limits."
One recent morning, Taylor was on his way to inspect a home for bats, a frequent nemesis.
"It was flying around in there, and they bailed last night," he said. "I'll go see if I can track it down for them. We're in a seasonal spike right now for bats inside of homes."
Taylor draws on education and experience to identify an animal and anticipate its behavior.
"Skunks can go into a house if they wanted to," Taylor said. "They can get in through a cat door, but they don't. It's so rare, but they love to go under a deck."
A bat also could enter through a hole in a home's foundation, but they're more likely to find a higher gap along the roof line.
"They need about a three-eighths inch to about an inch," Taylor said.
"A hole this big on the ground, they're capable of going through that, but behavior-wise they're not going to. We don't rule that out, but it's such a low probability we would be looking at other places."
Taylor sends trapped bats to the state hygienic lab for rabies testing.
"I don't think we've ever had one come back positive," he said.
Rabies is rare across most species, but he doesn't discount homeowners' concerns.
"That's one of the first things that typically comes up," he said. "We'll get calls that they've spotted an animal, and they've already concluded it must have rabies.
"The frequency gets over-exaggerated, but the risk or the health concern is real. The disease is viral and it takes over your nervous system, so once you're showing symptoms you're going to die."
Taylor works with state Department of Natural Resources to identify places to release trapped animals.
"If it's something we can live-trap and locate it elsewhere, that's what we do," he said. "We always go 10 miles from the point of capture to where it gets released.
"It has to to be out of city limits, it has to be released at a place that's suitable. We just try to help (DNR) with the management. We wouldn't want to release 50 raccoons at one place and overwhelm it."
The occasional reptile nuisance call often leads to a multi-species strategy.
"It makes up a small percentage of our calls," Taylor said. "The size of a hole a mouse will make to get into a home is the right diameter for a snake to follow them right in.
"We had one (where) they had mice and they had snakes for years and years. We were able to pretty quickly address the mouse problem and seal things up, but we knew that any snakes that were inside were not going to be getting out. Sure enough, over the next two or three months there were snakes that had to be rounded up."
The last snake that was captured at that property, he recalled, "had been in there for over half a year, and it was a big guy. It was probably five feet long and he had been able to go all that time without a meal."
Last year's derecho affected animal routines, and Taylor's.
"All the conventional wisdom I've relied upon went out the window," he said. "I've had to re-think how animals behave because of the derecho."
Paw Control Wildlife Solutions
Owner: Joe Taylor
Address: PO Box 401, Hiawatha, IA 52233
Phone: (319) 777-9861
Website: pawcontrol.com
Taylor was out of commission for about a month, repairing damage to his own home. Continued recovery efforts still lead to calls, too.
"We're still feeling the aftermath of the derecho," he said. "The contractors are finally at the house, they're going to be doing a repair and there's two eyeballs staring back at them. The homeowner's in a panic."
Beyond that, Taylor's business follows seasonal patterns.
"There will be bat calls through the rest of the year," he said.
"They're really going to be feeding heavy to build up that fat reserve. Individually, bats decide whether they're going to stay locally to hibernate, or if they fly off, typically to a cave system that can be 100 miles away. Sometimes we'll leave and they'll be right back."
As for raccoon and skunk, "as we get into the fall their appetite gets really heavy and they'll start tearing up sod and lawns looking for grubs and earthworms," Taylor said. "I've got customers who call pretty much every fall because their lawns are vulnerable."
Whatever the challenge at hand, Taylor doesn't take it personally.
"It's never really me against them, like a duel," he said. "It's more, this a member that's part of a population that needs to be managed. Some of our calls are simple -- we make them aware of why an animal is going to be doing what they're doing, and what are the legitimate concerns that someone would need to have.
"In the end, we advise them to monitor. If things change, let us know and we can talk about a trapping plan. But in many cases, these issues go away with a little time."
Know a business that might make for an interesting "My Biz" feature? Tell us about it at michaelchevy.castranova@thegazette.com.