Indoor golf simulator X-Golf coming to Coralville, Cedar Rapids
'It gives people another option to do something indoors on the rainy days or especially during those long winter months here in Iowa'
CORALVILLE — Indoor golf simulator X-Golf will have two locations opening later this year in the Corridor.
The Cedar Rapids location at 5235 Buffalo Ridge Dr. NE, which is near Fleet Farm, is expected to open around early July, followed by a location in Coralville's Iowa River Landing in early November, said Bryant Nicholson, who is part of the ownership group.
"It gives people another option to do something indoors on the rainy days or especially during those long winter months here in Iowa," Nicholson told The Gazette this week.
Indoor golf simulators have seen a boom across the country, including in Iowa. Des Moines is seeing several options opening and Eastern Iowa is following suit. In addition to X-Golf, PinSeekers is opening in Tiffin later this year and Ringer Golf is already open in Cedar Rapids.
X-Golf has more than 80 locations across the country since opening in 2016 and has plans to open dozens more locations this year. Iowa's first X-Golf location opened earlier this year in West Des Moines through a different ownership group.
X-Golf's technology is the "most comprehensive indoor golf tracking system," according to the company. It takes real-time measurements of every swing's ball speed, launch, direction and spin; club path, impact and speed; distance to flag and more.
"This gives you the chance to understand your golf performance at an analytical level," according to the company's website. "This also boosts the golf lessons you can take at X-Golf, as you can see yourself improve in real time with proper instruction from a PGA professional."
The X-Golf locations will have golf simulators that can be rented on an hourly basis year-round, Nicholson said. There will be an opportunity for leagues, lessons, corporate events and more. The locations will offer something for golfers of all ages and levels — from beginner to experienced.
"One of the things I like about it is if you're a brand-new beginner, it gives you an opportunity to try out golf in a safe setting," Nicholson said.
Each X-Golf location includes a full bar serving beer, wine and liquor, along with various food options. Among the amenities at the West Des Moines location are seven simulators, 14 TVs, full bar, event space, along with leagues, lessons and club fittings.
"Trying to focus on golf first, but it will also be very sports bar atmosphere," Nicholson said.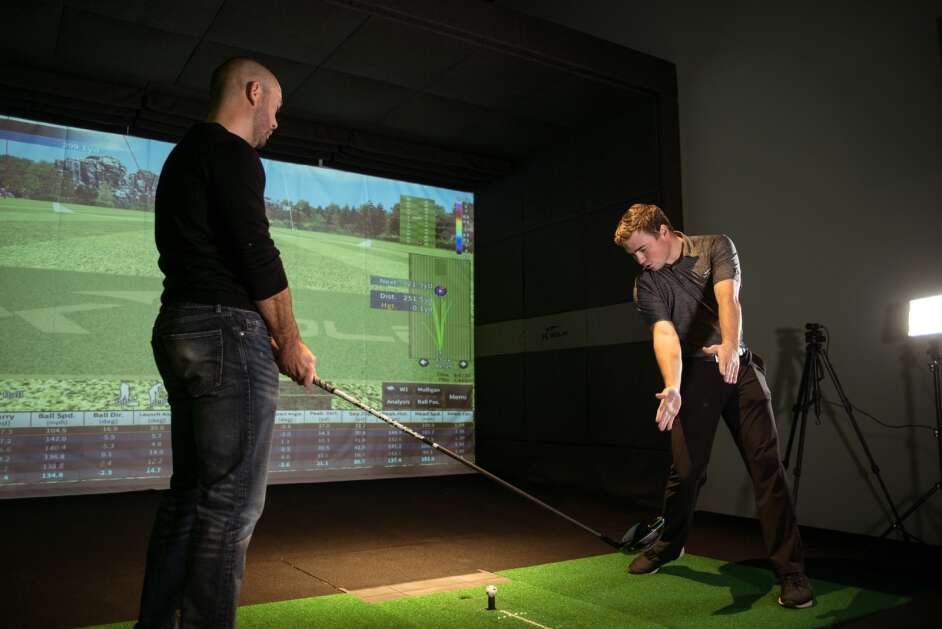 The high-quality restaurants and stores, along with the overall plan for the area, is what attracted the ownership group to the Iowa River Landing, Nicholson said.
The Iowa River Landing has seen increased traffic, events and sales. The Iowa River Landing home to the Xtream Arena, restaurants, retail stores and other attractions.
The Coralville City Council approved a new 10-year lease for the location at 211 E. Ninth St. during the council's Tuesday meeting, pending a May 23 public hearing. Next door, Blue Agave Mexican Restaurant is preparing to open, along with fitness center The Gym.
"We've seen that area get really, really busy," Nicholson said. "We're excited to join that location."
Comments: (319) 339-3155; izabela.zaluska@thegazette.com