Home / Business
Hy-Vee offers 'ugly' produce in order to reduce food waste, reduce cost of fruits and veggies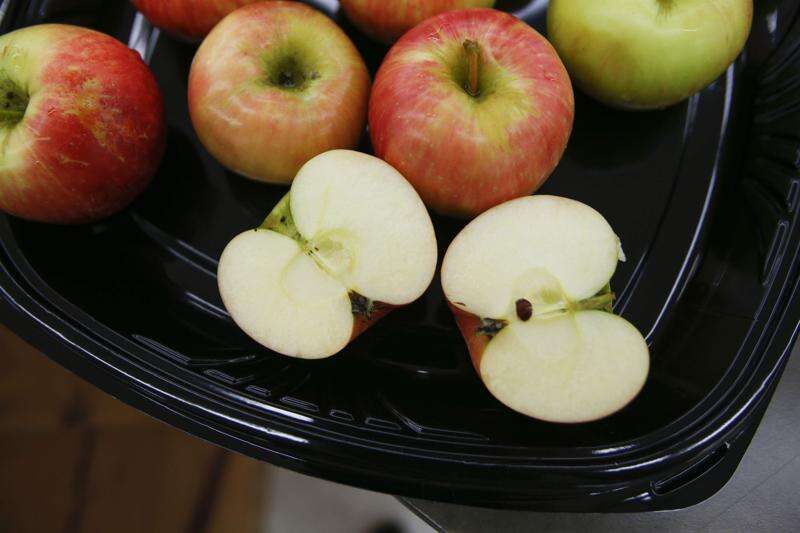 Whoever said 'beauty is only skin deep" probably wasn't referring to fruits and vegetables.
West Des Moines-based Hy-Vee recently began offering so-called 'ugly" produce in nearly all its 242 grocery stores across eight Midwestern states. The cosmetically challenged fruits and vegetables traditionally would go unsold due to the industry's size and shape standards.
The movement to sell 'ugly" produce and fruit and reduce food waste has been embraced in recent years by national grocery chains such as Wal-Mart and Whole Foods as well as supermarket operators in Europe.
John Griesenbrock, Hy-Vee vice president of produce, said the company has partnered with Robinson Fresh of Eden Prairie, Minn., to offer its line of Misfits produce at an average 30 percent discount in price.
'We came across the Robinson Fresh program at one of our trade shows," Griesenbrock said Thursday. 'We have been focusing as a company on how we can divert food waste.
'When Robinson explained what they have and what they provide, it absolutely went hand in hand with where our focuses are and we knew right away that we were going to partner with them."
Through the Misfits program, Robinson delivers four to six different varieties weekly, based on what is seasonally available. The produce is packaged and ready for display in grocery stores.
Some of the Misfit items include apples, avocados, cucumbers, lemons, red and yellow peppers, squash, and tomatoes.
'The beauty of this program is that the produce tastes the same and is of the same high quality. It just looks different," Griesenbrock said. 'It think it really resonates well with the 25- to 34-year-old consumer that is driving to our store and wants to reduce food waste and still get quality produce."
Christy Frese, dietitian at the Hy-Vee in the Fountains development, at 5050 Edgewood Rd. NE in Cedar Rapids, sees the lower cost of the Misfits as an incentive for families seeking to reduce food expense and still serve nutritious meals.
'As a registered dietitian, I want to see people with greater access to healthy foods," Frese said. 'Because it depends on seasonal availability, it can be a great way to add variety to meal planning. One of the things we promote as dietitians is eating a wide variety of foods to improve health."
Frese said buying ugly produce also offers an opportunity to educate children.
'It provides an opportunity to give young people the big picture," she said. 'Where does their food come from and how much is not consumed either because it is left in the farm field or sent to a landfill."
The United Nations estimates between 20 to 40 percent of produce harvested each year is thrown away because it does not meet sizing and appearance standards for store shelves. The U.S. Department of Agriculture's recently announced a goal of reducing food waste by 50 percent by the year 2030.
More than 220 Hy-Vee stores have implemented composting operations and collectively diverted 17.8 million pounds of food waste in fiscal year 2016.