Home / Business
Gilded Pear Gallery keeps its artists roster full
By Steve Gravelle, correspondent
Mar. 14, 2018 2:46 pm, Updated: Apr. 30, 2018 3:19 pm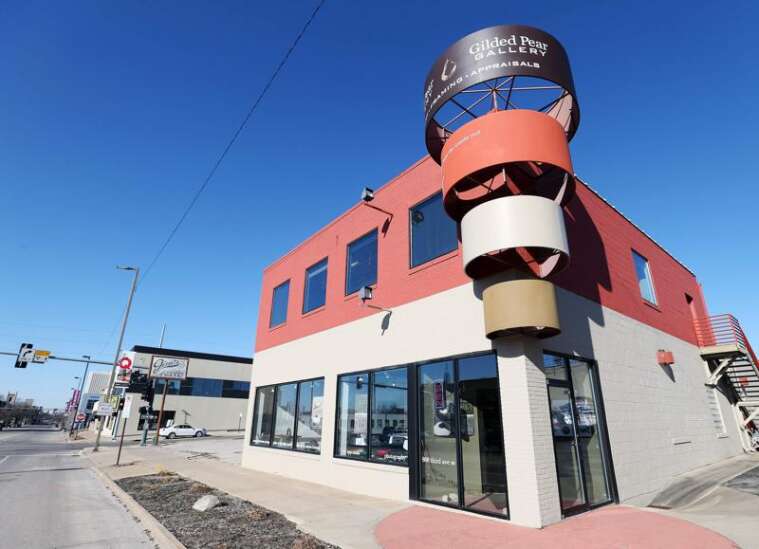 CEDAR RAPIDS — Finding just the right spot for just the right painting can take some planning.
'This was a commissioned piece to fit an 18-foot wall, and then they made this all glass,' said Suzy McGrane-Hop, pointing to a cardboard-and-paper mock-up of an office floor plan. 'So we took this out' — pointing to another miniature room — 'reposition all these to fit, then fit the pieces around to work off their color palette.
'These are all windows, so we want to see how the lighting's going to hit.'
McGrane-Hop actually hadn't seen the Los Angeles office she was redesigning for a Cedar Rapids-based company.
'Their home office is here, so it was important for them to use Iowa art,' she said. 'They wanted that branding put onto their L.A. office, so we mapped out this to scale to see how things are going to fit.'
McGrane-Hop opened Gilded Pear Gallery on the east end of downtown Cedar Rapids in 2011. She calls it 'a full-service kind of gallery.'
'Between the gallery sales, the corporate (jobs), just regular framing, and the appraisals, we keep pretty busy,' she said.
McGrane-Hop worked at two local galleries after graduating from Coe College with a degree in studio art. The owners of Kliks Photography called when she was working at Corner House Gallery and Frame.
'They said there was a frame shop they had that was available, if I'd ever thought about opening my own business,' she recalled. 'I said, 'Yes, actually I have, and yes, actually this is where I wanted to be.' I knew Corner House was transitioning to sell the property so I made my move before that happened.'
McGrane-Hop shared the building with Kliks until 'a couple years ago.'
'They moved to a different location, so I was able to expand to take over the whole first level,' she said.
'They were looking to downsize at the same time I was looking to upscale. So now we're looking to our seven-year anniversary. It's been good.'
The gallery displays works in virtually every media and style, including wearable art.
'Traditionally-made jewelry, as well as some statement, more art, pieces,' said Lauren Tucci, a ceramic and mixed-media artist who's Gilded Pear's gallery assistant and inventory manager.
McGrane-Hop's husband, Scott Hop, the gallery's framer, is its other full-time employee.
McGrane-Hop became a certified appraiser in 2009. That work entails setting values on art objects for insurance companies, estates and donated work.
And she still finds time for her own art. 'GUILT,' a show of works by McGrane-Hop and Tucci, runs through the end of the month, when 'Formations,' a show by Crit Streed and Satomi Kawai, will open. They're among the 70 or so McGrane-Hop considers 'our usual roster of artists.'
McGrane-Hop stays alert to add to that list.
'Sometimes people contact us, sometimes we'll pick up on somebody that we'll come across,' she said. 'It's just a matter of who fits, and at what time. We have a lot of really talented people here.'
That approach helps maintain the gallery's eclectic mix of styles, forms and media.
'Some people are looking just for landscapes, some are looking for just abstracts, and a lot of people are looking for something in between the two,' McGrane-Hop said.
She also follows trends in interior design for jobs such as that California office project.
'Grays are hot, and that makes it perfect for abstract pieces to really show on those gray walls,' she said. 'We do see some of those kind of trends, so we follow what the designers are using and work with the designers.'
The variety of displayed art and the range of work Gilded Pear takes on deliver their own rewards.
'It's when somebody comes in and totally falls in love with a specific piece,' Tucci said.
'The perfect piece for the perfect spot, that's really gratifying,' McGrane-Hop said. 'That's why I got into this business, to help people, it sounds corny to say 'share the love of art,' but I love these pieces so much when we can find the right place for them it means a lot to me.' 
AT A GLANCE
[naviga:ul] [naviga:li]Owner: Suzy McGrane-Hop[/naviga:li] [naviga:li]Business: Gilded Pear Gallery[/naviga:li] [naviga:li]Address: 808 Third Ave. SE, Cedar Rapids[/naviga:li] [naviga:li]Phone: (319) 366-0205[/naviga:li] [naviga:li]website: gildedpeargallery.com[/naviga:li] [/naviga:ul]
Know a business that would make an intriguing 'My Biz'? Contact michaelchevy.castranova@thegazette.com.