Home / Business
Eastern Iowa companies produce racing wheels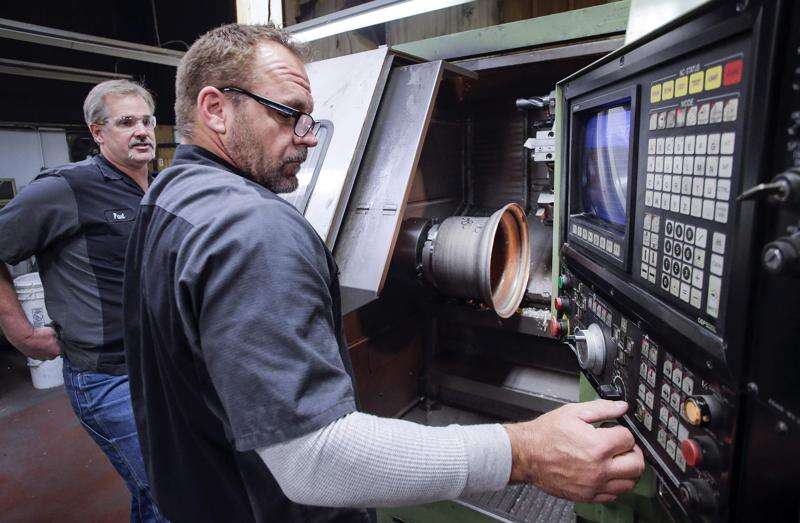 Iowa is known for its corn, soybeans, hogs and cattle. But the auto racing world knows the state as a source of racing wheels.
Eastern Iowa boasts three - Real Racing Wheels in Independence, Aero Race Wheels in Estherville and K2W Precision, its products under the name Keizer Aluminum Wheels, in Orange City.
Jerry A. Boubin, who founded Boubin Tire and Automotive in Cedar Rapids in 1971, launched Real Racing Wheels. Boubin Tire continues to operate locations in Cedar Rapids, Waterloo, Manchester and Independence.
'When my grandfather moved to Independence in the early 1970s, he got interested in racing and started selling racing tires," said Troy Boubin of Real Racing Wheels. 'That kind of grew into handling all kinds of racing products - shocks, springs, suspension parts and wheels.
'In the early 1990s, there was one big distributor of racing wheels and it had the market cornered. The company had a good product, but its delivery times were horrendous.
'We would wait and wait for wheels, so my grandfather decided we would make our own wheels."
Real Racing Wheels initially focused on dirt track racing, the kind found at many county fairgrounds in Iowa.
From that start, the company expanded its product lines to supply rims for niche markets such as truck and tractor pulling, motorcross, dune buggies and sand rails.
'We can make aluminum wheels for all kinds of off-road applications," Boubin said. 'We can still make wheels from steel, but as the cars got faster, people were looking for weight savings.
'There were attempts to use carbon fiber and plastic, but aluminum was the most durable. The 6061-T6 aluminum that we use has been great for racing applications."
It is light enough and strong enough, he explained, 'to take a hit, keep its shape and not distort."
A steel wheel weighs 40 pounds and an aluminum wheel weighs 18 pounds. Truck and tractor pull competitors use the different wheel weights to their advantage, Boubin said.
'Take that times four and you can put that 80 to 100 pounds anywhere on the truck to improve the handling," he noted. 'When the weight comes down on the sled, you can keep the weight off the tires and more it around on the vehicle to increase performance.
'The same is true with circle track racing. Any time you can take weight away from the wheels, you can put it where you want to improve performance."
Boubin takes time during the winter months to visit with racing teams to learn new trends in tires and wheels.
He said racecar builders are reluctant to discuss specific details for fear of tipping off competitors.
Many of the drivers involved in dirt track racing during the summer months are farmers. Boubin anticipated the wet weather in April and May coupled with depressed prices for corn and soybeans will reduce the company's sales this year.
'Farmers are some of our biggest customers," he said. 'They get their crops planted in March and April, and they want to do something fun in the summer months.
'A lot of them are racing on the weekends. With the lower crop prices and higher farm equipment prices, many of them cut back or were not racing this summer.
'If they are not racing, they're not burning up tires or patching wheels."
Boubin said the company, which purchases aluminum and steel blanks that are welded together and drilled for the appropriate lug pattern, also has had supply issues due to the tariffs imposed by the Trump administration.
'Our suppliers raised their prices on speculation," Boubin said. 'While some offered to work with us, others raised their prices on steel by 20 percent.
'We have had orders in since October 2017 and we expected them to honor those prices. They told us that we would just have to eat the increase.
'We will have to raise prices because we cannot absorb that kind of increase."
Real Racing Wheels also has customers in Australia, Iceland, South Africa and the United Arab Emirates.
Real Racing Wheels, which employs about 15 on a single-shift operation, is expanding its produce line to add 20-inch wheels.
"The new 2018 trucks have 20-inch wheels standard from the factory," Boubin said. 'If you are going to convert it to a racing application, the brake and suspension package is set up for 20-inch wheels.
'We hope to have those ready by December to exhibit at a Performance Racing Industry trade show in Indianapolis."
From farm wheels to racing wheels
In northwest Iowa, Aero Race Wheels in Estherville was established in 1995 by F.L. 'Skip" Miller, who had previous experience making wheels for farm equipment at Armstrong Rim and Wheel in Armstrong.
After selling off the farm equipment wheel portion of the business in 1998 to GKN, a holding company from Great Britain, Miller retained the Aero Racing Wheels portion and moved production to a new plant in Estherville.
With the help of Ed Cluka of Wisconsin, who was well connected in the racing industry, Miller and Aero Racing Wheels were able to attract racecar drivers to become customers.
Forty-four of the top 45 Winston Cup teams use Aero wheels.
The 30,000-square-foot Aero plant manufactures 600 to 800 wheels per day or nearly 250,000 per year.
K2W Precision, located about five miles north of Orange City, manufactures Keizer Aluminum Wheels for the racing industry.
Wade Huisman, K2W Precision president and CEO, started working with wheels in the late 1990s and became general manager of Keizer Aluminum Wheels in 2003.
In 2013, Huisman formed K2W Precision and acquired the production rights to manufacture and market the Keizer wheel product line.
The company offers an extensive line of wheels sold to customers in the United States and overseas.