City leaders, tenants optimistic about sale of Lindale Mall
Sale also includes former Collins Road Hy-Vee, other buildings
CEDAR RAPIDS — The city and tenants of Lindale Mall are optimistic the northeast Cedar Rapids center's new owner will recruit more businesses and make improvements after two of its longtime anchor tenants closed four years ago and remain empty.
"While transitions like this always cause a bit of chaos and a lot of work for local management, that team was optimistic about what this might mean for Lindale Mall," said Doug Neumann, executive director of the Cedar Rapids Metro Economic Alliance.
Neumann said members of the alliance visited Lindale's local management team after the Kohan Retail Investment Group bought the 732,666-square-foot mall for $28.5 million in March.
The deal also included nine properties outside the mall — at First Avenue and Collins Road NE — including the now-vacant Hy-Vee Food Store just west of the mall. But it doesn't include the now-closed Sears store, whose anchor space in the mall is owned by Seritage Growth Properties of New York.
The local Lindale management team, Neumann said, "recognizes the opportunities for development of available land within the mall footprint, and they recognize there's room for creative thinking on adaptive reuses of available space within the mall."
The sale is important for the community, too, because the previous owner — Washington Prime Group of Columbus, Ohio — had filed for bankruptcy protection, Cedar Rapids City Council member Scott Olson, a commercial Realtor, told The Gazette.
It's a "positive sign" that the buyer kept current mall managers, who get along well with the mall's tenants, he said, noting improvements the previous owner had made at the mall and that the new owners may do more.
"The city's hope is they will be successful and be able to fill up the vacant spaces," Olson said.
"The city streets project (of Collins Road NE) is completed now, and the area across the street (is developed) with Home Goods. The Raising Cane's restaurant recently opened and the (former) Hy-Vee building would make a great conversion space or for an entertainment-type business," he said.
Lindale Mall had an assessed value of $44 million when Washington Prime Group filed for Chapter 11 bankruptcy in 2021. The value was lowered to $30 million after the company appealed the assessment.
In its purchase, the Kohan Retail Investment Group bought:
The former Hy-Vee Food Store, 279 Collins Rd. NE, and the parking lot outside
Jared The Galleria of Jewelry, 159 Collins Rd. NE
Five Guys Burgers, 157 Collins Rd. NE
Fantastic Escape, 4444 First Ave. NE
Jo-Ann Fabrics, 255 Collins Rd. NE
Three parcels of vacant land and private roads along First Avenue NE.
The assessed value of all the properties included in the sale totals $36.7 million, according to the Cedar Rapids Assessor's Office.
Lindale now has 70 tenants and six vacant spaces, according to its management group. Among the vacancies are anchors Sears and Younkers, which went out of business and closed at the mall in 2018.
Westdale example
Olson hopes Lindale, which opened Sept. 15, 1960, and the surrounding properties will increase in value under the new ownership, just as the value of the former Westdale Town Center has increased under the $90 million redevelopment begun in 2013 by the city and Frew Development Group
The Westdale area now has an assessed value of $62 million, an increase of $54.6 million over its predevelopment value, Economic Development manager Caleb Mason told The Gazette in March.
Olson noted the retail landscape has been changing shopping areas all across the country, similar to what's happened at Westdale, which has merged retail with office and living spaces, hotels and restaurants.
Lindale also has changed, he said, adding services — a beauty school, employment center, tattoo shop and music school — alongside its retail stores.
Neumann said it's difficult to predict how the Lindale area will look in a few years, but "it sure is great to see the optimism that comes with new energy and investment in the property."
Collins Road work done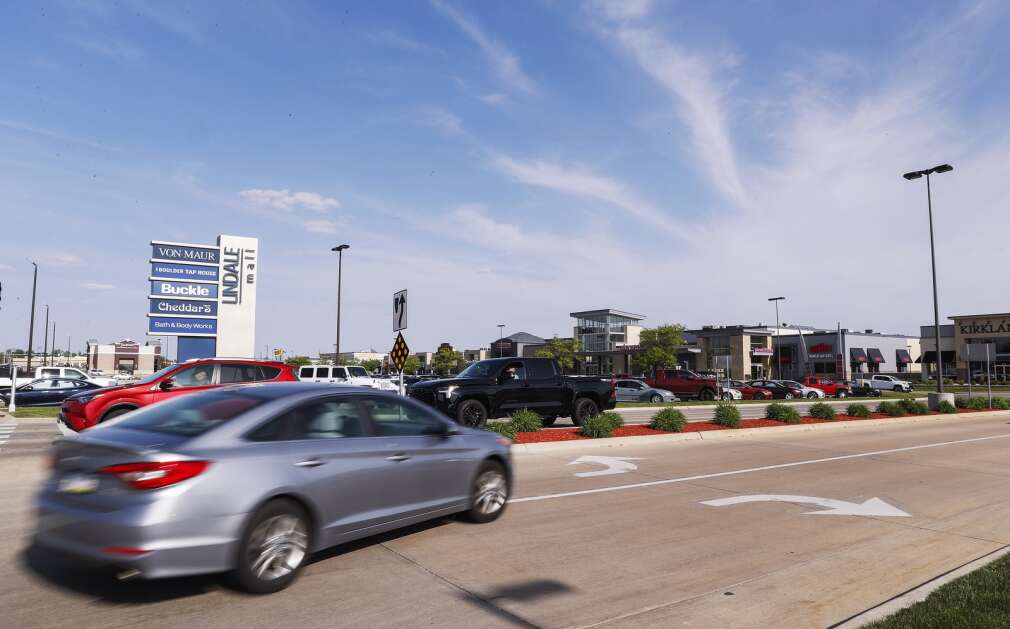 As Olson noted, the city's investment in Collins Road has boosted development along the east-west thoroughfare.
An average of about 24,000 vehicles per day travel both sides of Collins Road at the Lindale entrance, according to the Iowa Department of Transportation.
Ken DeKeyser, Cedar Rapids city engineer, said the Collins Road project added an eastbound through-lane to help traffic flow by the mall. Additional paving also was completed to provide another westbound lane when it's needed.
"The city has also updated the traffic signal timing in the corridor, which has been shown to reduce the delays in that area," he added.
Mall tenants hopeful
Sean Holley, who owns Holley's Shop for Men in Lindale, said he sees the sale and the new owner's retention of local management as positives.
He said he hopes the new owners can recruit more retailers and make overall improvements to the mall. Holley's has been in the mall for 59 years.
Megan Long, who opened Lead With Light Photography in the mall last July, said she also sees the potential for growth and would like to see more recruitment of retailers to fill vacant spaces.
She also hopes the new owner does more advertising of events and of the businesses in the mall.
Of the 70 tenants at the mall, 11 businesses are non-retail, including Nichols' Lead with Light Photography, La James International College, Iowa Works Center; Cedar Rhapsody School of Music, All Out Rampage, Iron Lotus Tattoo Shop, Basement Beauty Salon and Quilts of Valor.
The former Younkers retail space has been rented out on a temporary basis to various tenants such as iHeart Media, Spirit Halloween, Weetails consignment, vendor fairs and others. But a permanent use for the anchor footprint has not been announced.
Becky Eckley, general manager of Lindale Mall who will remain in her position under the new ownership, said she expects the new owner will fill the six vacancies and "maintain a vibrant and entertaining atmosphere for the local community."
"For more than 60 years, Lindale Mall has offered immersive family traditions and experiences in addition to a lively marketplace, and we're grateful for the opportunity to continue this tradition," she said.
Buyer owns 60 malls
Kohan Retail Investment Group, based in Great Neck, N.Y., owns about 60 shopping malls throughout the country, including two in Iowa — in Marshalltown and in West Burlington — plus two New York hotels. The company is known for buying financially distressed malls at a reduced cost.
Mike Kohan, founder and chief executive officer of the group, declined to share his plans for Lindale Mall.
"While plans are still being evaluated, we will provide new and growing businesses leasing opportunities, maintain meaningful relationships with our current tenants, continue to provide a sense of place for the community, and position the center to achieve its highest potential," Kohan said in a statement.
The Kohan Group's website states that it sees the future of large malls as more of a "hybrid of entertainment, food, and retail than the past model where retail reigned supreme."
The group bought 13 of its malls in 2021 during the pandemic.
One of those properties, McKinley Mall in Hamburg, N.Y., was sold for over $7 million in an online auction last week, according to WGRZ-TV in Buffalo, N.Y. Kohan bought the property for $8.5 million that was in foreclosure in 2021. Kohan owed $176,069 in overdue taxes on the property for 2022.
Kohan owed $355,434 in unpaid base taxes in January and accrued $30,157 in penalties for another property, Central Mall in Port Arthur, Texas, but those taxes were paid in April, according to the Jefferson County Tax Office.
The payments were made by Home Tax Solutions LLC, which is a tax loan business that helps Texans pay their residential or commercial property taxes, according to its website.
Real Deal — a real estate publication — reported in 2022 that power was cut off at least two times at Kohan Group malls because it had not paid the utility bills, and that power to a Vero Beach, Fla., mall was threatened after the group had not paid its electric bill in three months.
In early March, Kohan owed more than $1 million in taxes on a mall property in Midland, Mich., and that property was sold in an online auction for $5 million in April, according to the Midland Daily News. The group had owned the property since 2018.
The Kohan Group also is being sued over the Great Northern Mall in Clay, N.Y., for not adhering to purchase and sale agreement requirements of the new buyer. The lawsuit was filed in January, according to report in the Post-Standard of Syracuse, N.Y.
Eckley, the general manager of Lindale, was asked if Kohan's legal problems cause the mall management any concerns.
"Lindale Mall is a desirable addition to the Kohan Retail portfolio for many reasons, including the existing tenancy and engaged community," she said.
City Council member Olson said he and other city officials are going to a large retail convention in Las Vegas next month and hope to meet with Kohan or others with the company. Olson said city officials also will be meeting with a retail coach that helps cities recruit retailers.
Comments: (319) 398-8318; trish.mehaffey@thegazette.com