Home / Business
Business Notes: Oct. 10, 2021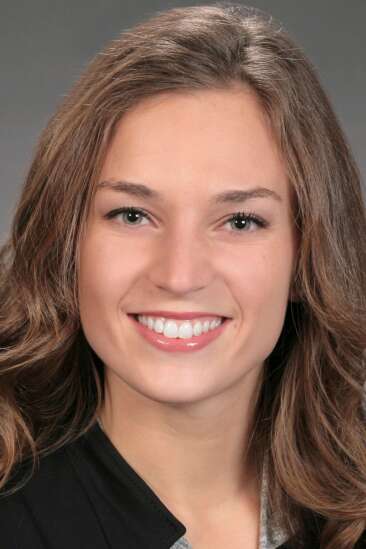 The Gazette's Business Notes is a compendium of the week's promotions, new hires, certifications, added business lines and business events, among other items, in Cedar Rapids, Iowa City and the rest of the Corridor.
Information and photos can be submitted to Business Notes by email to businessnotes@thegazette.com, or on our site at thegazette.com/businessnotes.
New hires
Bryan Stobb joined BerganKDV's Cedar Rapids office as a senior adviser.
Katie Harris now is with Hills Bank as Friend Club director, officer.
Megan Clevenger was hired by Brucemore as program and outreach manager.
Molly Hocken joined the Buchanan County Economic Development Commission as communications manager.
Rick Thompson now is with ImOn as director of its Dubuque market, and Rich Brecht was hired as Customer Care director.
Promotions
Mitch Ahrendsen has been promoted to parks superintendent with the city of Cedar Rapids Parks and Recreation Department.
Ashley Deason is now community-based services program manager with Tanager Place.
Amanda Spencer has become a recruiting supervisor with Skywalk Group.
RSM US promoted in its Cedar Rapids office in audit services, Maddy Blomquist to supervisor; Emma Gray, supervisor; Caitlin Knierim, senior associate; Teble Lawrence, manager; and in tax services, Hanna Cartney, supervisor; Brittany Gibbs, manager; Danielle Jackson, supervisor; Neil Marshall, manager; Casey Pence, senior associate; Alec Shultz, senior associate; and Lexi Soldwisch, senior associate.
ImOn promoted Tony Bennet to network and outside plant operation operations director; Kirk Hauskins, business operations director; Matthew Horan, finance director and controller; Randy Schoon, outside plant operations construction director; and Allan Zinkula, network systems planning and engineering director.
Awards
The Tippie College of Business is the recipient of the UPS George D. Smith Prize, presented to academic institutions that produce graduates who are most prepared for careers in analytics and logistics.
More
The World Food Prize Foundation's annual Norman E. Borlaug International Dialogue will be held Oct. 20-22, with sessions on topics related to food security. Go to worldfoodprize.org/workshops.
The Cedar Rapids Museum of Art's sixth annual Gala to support the museum's educational and outreach programs will be held Friday, Nov. 5, at the Cedar Rapids Country Club. Go to bidpal.net/crma or www.crma.org, or contact Joanne Wzontek at (319) 366-7503, ext. 207, or jwzontek@crma.org.
Insights
Watch interviews with this year's Gazette Business Award recipients — plus the keynote interview with Rand Corp. economist Kathryn Anne Edwards — at thegazette.com/businessawards. Award recipients discuss business decisions they made over the past year and what they see in the years to come. TrueNorth is presenting sponsor.
Also, The Gazette's Iowa Ideas In-Depth week series' focus on workforce issues — panel discussions plus a national overview from Andy Challenger of global outplacement and executive placement firm Challenger, Gray and Christmas — can be viewed at iowaideas.com.