Home / Business
Business camp inspires kids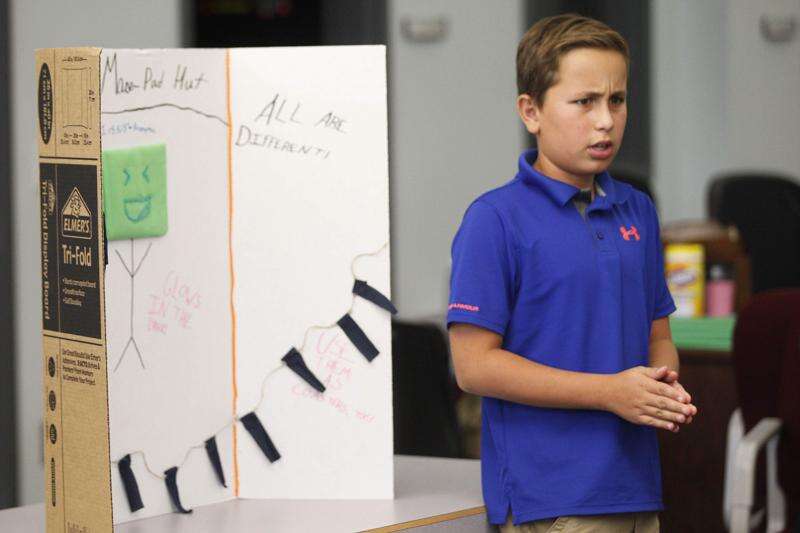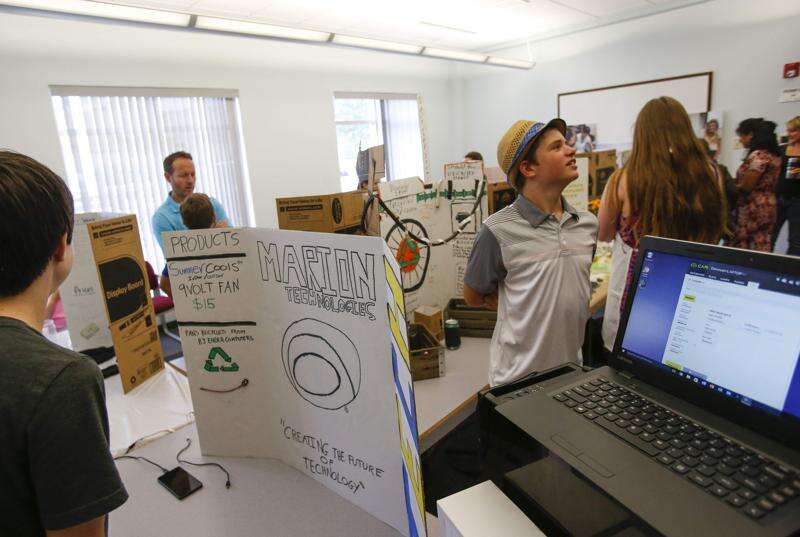 The next crop of young entrepreneurs received training this week at a special hands-on camp in Marion.
Each summer, the Jacobson Institute for Youth Entrepreneurship at the University of Iowa hosts weeklong camps in Iowa City and Cedar Rapids. However, this was the first time the camp put down stakes in Marion.
Eight or nine preteens gathered each day this week at Marion's City Hall, where either they worked on a new product idea or one from last year. They then decided their price point, name for their business and their target market. On Friday, they presented their results.
Presley Mussman, 13, was attending the camp for the second time.
'It's a camp you can do multiple times and have different experiences," Mussman said. 'You can always come back and learn something new or you can build on your idea you had last time, fix your mistakes and make something better.
Mussman's new products are koozies and wallets made out of recycled bike tire tubes. Incorporating innovation into a business plan is a key skill entrepreneurs need to have, according to camp leader Diane Fickel, who is a business professor at the University of Iowa.
Mussman already is planning his product for next year's camp, which may have something to do with 3-D printing because it's a popular trend, he said.
For her project, Abigail Scott, 11, created Knick Knack Creative Shack, to sell her handmade, decorated mason jars, hair accessories and greeting cards. Donovan Eichorst, 14, constructed box fans from recycled computer fans and cardboard. Other products included decorative magnets and gloves that can be worn while operating a smartphone.
Dawn Bowlus, director of the Jacobson Institute, said the camps are intended to give participants a chance to sample the business industry.
'Our feeling was that it was really important for students at a young age to be exposed to innovation, creativity and problem solving. (Camp attendees begin) understanding how people in local communities are solving problems through business start ups."
Not only do the students have the opportunity to create a product based on their interests each year, but they gain life skills, Bowlus said.
'One of the things we know is that students need to learn 21st century skills," Bowlus said. 'In the world of employers, problem solving, problem finding, professionalism, critical thinking and hands-on experience is important. Students have to communicate effectively, written and orally, identify who their customer is and actually interact."
The camp has taught Mussman what it takes to be an entrepreneur.
'It takes up to two years for entrepreneurs to make a good amount of revenue because of factors like you have to worry about paying the bills, especially if you're purchasing a building or workspace," he said. 'You have to worry about getting stuff for your products. You have to worry about quality. You even have to worry about getting food on the table."
Jill Ackerman, president of the Marion Chamber of Commerce, said she is excited students were able to attend the camp in Marion because the city is looking to grow its business sector.
'It's planting the seed early," she said. 'Jobs by the time they get out of college will probably look very different from the jobs we have today. We could teach them a little bit about their community that they're growing up in and show them there are possibilities to stay in Marion. They can do whatever they need to do with schooling and they can stay right here."
Mussman said he is thinking of majoring in business in college.
'The sooner you get started on this type of stuff, the better," he said.