Home / Business
Alliant Energy invests in infrastructure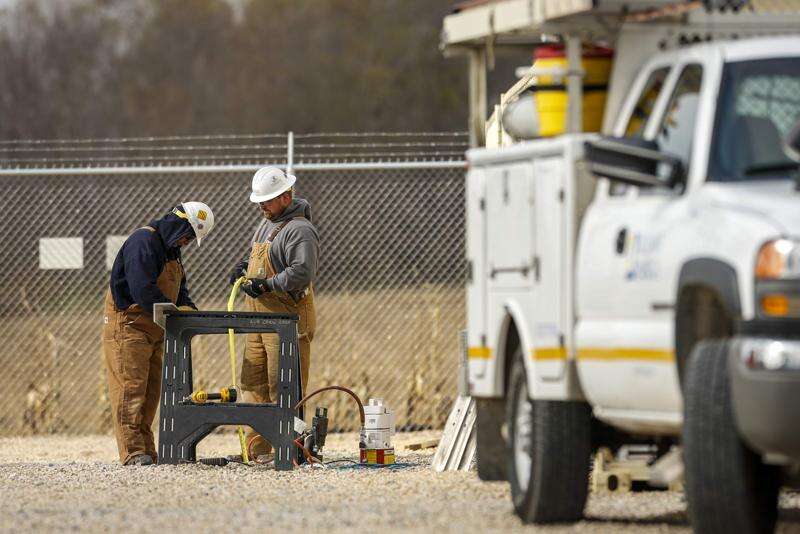 CEDAR RAPIDS — As Cedar Rapids and surrounding communities added homes and businesses over the past century, Alliant Energy's Iowa electric utility predecessors constructed dozens of 'neighborhood' electrical substations.
With the development of new technology and more efficient electric power distribution, Madison, Wis.-based Alliant is two-thirds of the way through a 30-year project to reduce the number of substations in Cedar Rapids and surrounding communities.
'We are creating substations that allow for more reliability and redundancy in the community,' said Justin Foss, Alliant communications program manager. 'Part of what we've been doing is upgrading the power lines throughout Cedar Rapids to a higher voltage. The lines can carry electricity a lot better for farther distances.
'That allows us to build a couple of big substations and retire a lot of small substations.'
Alliant is spending $210 million in 2015 on electrical distribution projects. Construction has begun on Emerald Isle, a larger electrical substation near Town and Country Shopping Center in the 3800 block of First Avenue SE.
'This substation will serve about 8,000 households,' said Don Finn, senior director of operations at Alliant. 'Normally a lot of our smaller substations serve about 1,000 customers.'
Finn said the new substations create short- and long-term jobs.
'We have a lot of engineers who have spent a lot of time analyzing and planning the system, making sure it will efficiently meet the needs of our customers,' he said. 'We have people who are designing our new substations as well as the people who build the facilities.'
Finn said construction of the Emerald Isle substation — one of 27 that Alliant is building in Cedar Rapids to upgrade its system — will continue through the winter months.
'Crews have been working to get the concrete foundation poured before it gets really cold,' he said. 'We will start bringing in a lot of the infrastructure, including transformers and relays that will help us with troubleshooting.
'Hopefully we will be able to completely energize this station in the first or second quarter of 2016.'
Foss said the larger substations need to be located close to the customers they will serve and where there is access to high-voltage transmission lines owned by ITC Midwest.
'This substation (Emerald Isle) is located strategically next to existing transmission towers,' he said. 'There aren't that many places in town where there is an appropriate plot of land next to large electric transmission towers.
'It's a very strategic process of trying to find the perfect spot that causes the least disturbance and yet meets the needs of our customers.'
Alliant encountered opposition from neighboring property owners last year when it sought a conditional-use permit from the Cedar Rapids Board of Adjustment to build a new electrical substation on three lots in the 2100 block of Mount Vernon Road SE.
After hearing comments from nine neighboring property owners, the board voted 4-1 to grant the required permit. The City Planning Commission in March recommended the permit on a 6-0 vote.
The construction of the Emerald Isle substation coincides with the relocation of power and telecommunication lines — for Mediacom and Windstream — underground, from overhead on utility poles along segments of First Avenue East.
The Cedar Rapids City Council in 2009 established a plan to improve the aesthetics of public improvements along major arterial streets. A franchise agreement with Alliant approved in April 2009 includes a provision that the company will move its overhead power lines underground after it is paid the difference between the costs of overhead and underground installation.
'We've done this on other major street projects,' said Gary Petersen, capital improvements project manager with the Cedar Rapids Public Works Department. 'The first one that was done was on First Avenue East from 40th Street to Collins Road. We've also done it from 34th Street to 40th Street.'
Petersen said the city has requested that the power lines for Alliant and other utilities' cables be relocated underground as part of the next phase of First Avenue East reconstruction from 27th Street to 34th Street and the upcoming Collins Road widening project.
ITC Midwest has participated in seven new substations constructed in the area — six jointly with Alliant Energy/Interstate Power and Light — and one alone. The company also has been involved with five existing substations that were expanded and/or rebuilt.
The nation's rural electric cooperatives also are investing in upgraded distribution facilities. Since 2009, the U.S. Department of Agriculture has funded $34 billion in loans to build more than 185,000 miles of transmission and distribution lines serving approximately 8.5 million rural customers.
The USDA announced last month that it is providing a $59.8 million loan to Central Iowa Power Cooperative to fund more than 126 miles of new or upgraded power lines. The utility distributes power to more than 125,000 residential customers and 17,000 businesses in 51 Iowa counties.
Maquoketa Valley REC will receive a $5 million loan to fund more than 156 miles of new or upgraded power lines. The cooperative also will get a $323,325 USDA loan for Smart Grid upgrades.
The Smart Grid uses digital technology to improve reliability, resiliency, flexibility and efficiency of the electric delivery system.
Alliant's upgrades to its electrical distribution system are part of a $28.2 billion capital investment nationwide on distribution facilities, according to the Edison Electric Institute, a Washington, D.C., association that represents investor-owned utilities.
Since the beginning of 2000, the industry has invested $336 billion in the nation's distribution system.
Krista Tanner, president of ITC Midwest, said the utility and distribution upgrades come at an appropriate time for the industry.
'We're all at the same point in the life cycle of our facilities,' Tanner said. 'A lot of these facilities are being upgraded because they're at the end of their useful life.
'At the same time, we all have the same challenges with new environmental rules. There's so much wind generation in the state, and that's requiring us to do it differently than we have in the past.'