Home / Arts & Entertainment / Books
Review: 'Between Gravity and What Cheer: Iowa Photographs' focuses on scenes from small-town Iowa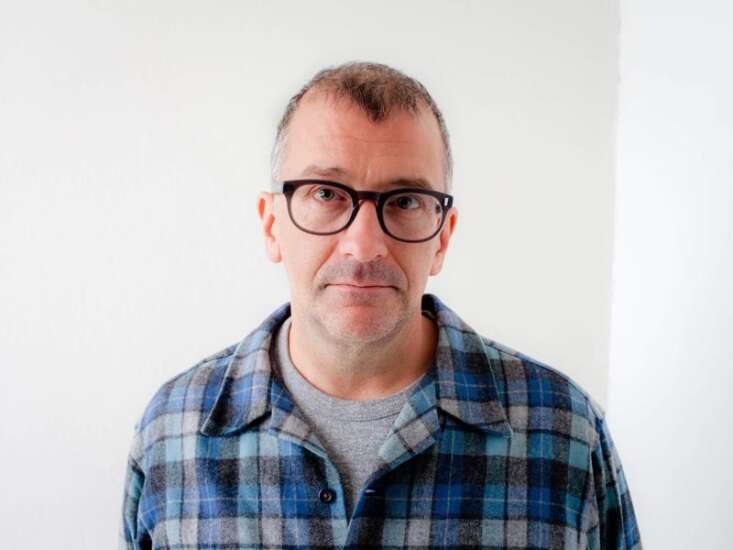 A job offer for his wife involved more than a move for multimedia artist Barry Phipps; it revitalized his photography. His photographic inquiries into the nature of small-town Iowa have been collected in 'Between Gravity and What Cheer: Iowa Photographs," published by the University of Iowa Press.
'I lived in Chicago for 22 years and moved there from the Kansas City Art Institute to be in a band," Phipps said. 'I had a whole career and life there in Chicago and never thought I was going to leave. But after being there for 22 years, my wife was offered a job at the University of Iowa that was a good enough deal for us to say, 'OK, let's uproot and relocate to the middle of Iowa.' "
His band, The Coctails, had played Gabe's Oasis in Iowa City a few times in the 1990s, but that was his whole experience of the town.
'Everyone told us you're going to love Iowa City, it's a great place ... and it turned out to be a lifesaver for both us of," he said. 'I feel like it was the change we both needed after being in a city that can be very challenging to live in."
His Iowa photography project was born after he got a flat tire on a trip back from Galena to Iowa City. He stopped in Dubuque to get his tire changed.
'I started walking around Dubuque taking photos, and I was just blown away. I had no idea that this kind of thing existed in Iowa. ... Just the signage and the buildings and the vibe and everything about it - I no idea that this kind of city environment would exist in the state of Iowa."
Once he was on the road again, he found himself turning down various roads and taking photographs of things along the way. Then, a couple of weeks later, he and his wife took a day trip to Eldon to see the house that was the inspiration for Grant Wood's American Gothic. En route, they passed through Ottumwa. 'And I was like, wow, Ottumwa, this is an amazing town. I took a couple of photos there that I felt belonged with that other set of photos that I took in Dubuque and the Northeast region."
Old state highways radiate out from Iowa City like spokes from a hub. That was perfect for what Phipps realized he wanted to do:
'OK, I need to go in every direction from Iowa City and just see what's there."
The project quickly acquired momentum.
'Because Iowa was set up agriculturally at a time when six miles was a long distance. ... I realized that every six miles there was another town," he said.
Many of them sprang up during the same time period.
'A lot of the towns had this consistent architecture and history, and they also have the same state of decay, in the sense that these agricultural towns no longer serve the same function as they did when they were established because of larger-scale farming and different things. I found that the texture and the accumulation of layers of culture were consistent from town to town," he said. 'It was like the discovery of different iterations of the same thing over and over. But as a photographer who has a background studying painting, my photography is really about color, line, texture, and form ... It was like I was going from town to town to find the palette I was working from to compose these images."
Photography, of course, now seems like a universal activity because of the phones in our cameras. But Phipps points out that people - like his mom, the family photographer back in the day - have been taking tons of photographs for decades.
'There was still an entire planet of people taking photos, but we didn't have access to see them because we didn't have Instagram ... Since the Brownie camera came out and made photography more accessible to everyone, everyone's always been taking tons of photos."
Phipps also believes phone photography might help inspire more serious work for some.
Far from shunning a platform like Instagram, Phipps believes the connections photographers form via social media is a net positive for both the artists and the art form. He acknowledges, however, that his sense of his own uniqueness has been diminished.
'Now, on Instagram, I feel like I'm connected to every photographer on the planet who is photographing the same stuff in the same way I am ... But now I feel like I'm part of a community that's worldwide of people who are inspired by the same photographers who came before us, working in the same way, working with the same subject matter," he said.
He believes every genius was part of a community of artists.
'I think we're now in a situation where that community is Instagram. It's a community of people who have never met each other, but they are influencing each other daily through their posts on Instagram."