Home / Arts & Entertainment / Books
'Horrorstor': Novel is crafted to look like catalog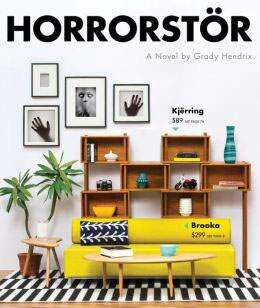 Grady Hendrix manages to both send up corporate retail life and deliver some genuinely scary stuff in 'Horrorstor" (Quirk Books, 250 pages, $14.95). Hendrix's efforts are enhanced by a clever book design by Andie Reid and illustrations by Michael Rogalski.
'Horrorstor" is crafted to look like a catalog from an Ikea knockoff called Orsk. The opening pages include a map of the store, some marketing materials, and an order form that doubles as the book's copyright page. Once the narrative gets underway, we are introduced to Amy, a young woman with a soul-crushing gig at Orsk. Soon it's apparent that soul crushing of a more lasting sort may well be a danger at the store.
Hendrix handles the pacing of the story very well. The book opens with a few ominous moments, but gets in plenty of satirical jabs at the ways in which a certain kind of corporation can seek to impose its cultural imperatives on its employees. Soon enough, things turn darker as night falls over the store. The trapped denizens of a prison that used to stand on the Orsk site arise to menace a group of employees who had hoped to discover the source of some strange goings-on, but are sorry when they do.
The notion that working in retail is like being in prison is, of course, present, but Hendrix doesn't overplay it. Instead, his story is one in which work connections and responsibilities turn out to be central to everyone's efforts to survive. His scariest scenes also allude to the ways in which we trap ourselves even without the influence of the supernatural. Employing both humor and horror, 'Horrorstor" succeeds as social critique.