Home / Arts & Entertainment / Books
Curiosity, following of faith has led Iowa native, writer to faraway travels
By Laura Farmer, correspondent
Nov. 25, 2017 6:17 pm, Updated: Nov. 27, 2017 8:03 am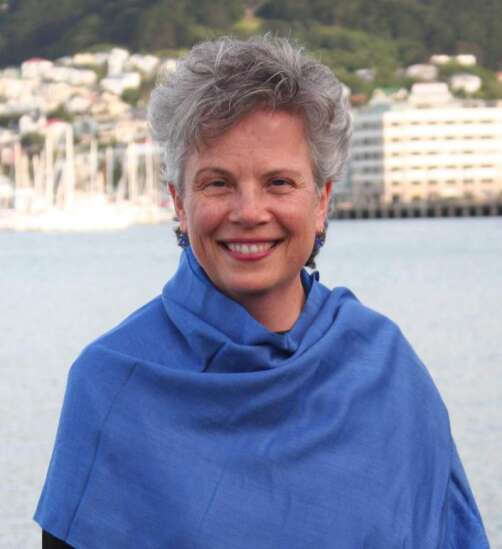 Writer Lori Erickson has come a long way since her childhood days on the family farm in Northeast Iowa.
She's spent decades traveling the world as a travel writer and now specializes in writing about spiritual journeys and pilgrimages. Her latest collection of essays, 'Holy Rover: Journeys in Search of Mystery, Miracles, and God,' is available now.
'I love having a childhood that was not one of travel,' Erickson said in a recent phone interview. 'I never forget how fortunate I am. And I love Iowa. Iowa is full of holy places.'
Erickson, who has published eight travel books, said there are a number of misconceptions about pilgrimages. 'One is that pilgrimages are only for really religious people or fanatics. And what I try to do in the book is expand the definition of a pilgrimage. At its heart it's a journey that changes people.'
RELATED -- REVIEW: 'Holy Rover: Journeys in Search of Mystery, Miracles, and God'
While Erickson said there are the familiar pilgrimage sites, such as Mecca or Jerusalem, there also are places that may be sacred to just one individual. 'What's a pilgrimage for you or a place that's holy or special to you might not be to anyone else. It often has to do with memory.'
'A lot of people have a place that's really special to them. Maybe a family farm or a cabin that they've gone to for many summers.
Returning to a place like this is a pilgrimage, Erickson said. 'It's a place you go when you are more open in one way or another. When you're there you're not rushed, you're noticing nature more, you're connecting with loved ones. That's the heart of spirituality. And you don't have to follow a doctrine or say a particular prayer in order for that to resonate for you.'
Erickson's own passion for pilgrimage began in the religion section of her local public library. In her 20s, Erickson drifted from her Lutheran roots and sought out other paths to the divine, eventually following Wiccan, Buddhist, and other traditions before returning to Christianity.
'I'm a firm believer in being a curious spirit,' she said.
Her sincere interest in, and appreciation for, various faith traditions is what lead her to pursue so many pilgrimages over the years.
'There's nothing wrong with an ordinary vacation, but sometimes, especially at transition points or when people are recovering from some kind of loss, I think that a more deliberate journey is exactly what we need.'
Erickson, who now lives in Iowa City, says people over 50 seem particularly keen to pursue spiritual travel.
She said this could be because our spiritual questions deepen as we age. 'But the questions don't necessarily get answered. For people on a spiritual path often the questions deepen and multiply. But you become more comfortable with not having easy responses to them.'
'Most people have spiritual yearnings. Even if you don't attend a faith community of any sort, that doesn't go away — you have to do something with it, especially, I think, as you grow older.'
And while one does not have be part of a specific religious tradition in order to find great meaning in its holy sites, Erickson cautioned that all such travels should be approached with reverence and respect.
'Unfortunately, sometimes people think that they can take on 'whole cloth' someone else's tradition. I think there's a way of taking other traditions seriously and learning from them without appropriating them.'
In her essays, Erickson weaves together details from her pilgrimages with candid reflections on her own spiritual journey, including her growing need for a faith community.
'That gets to the heart of some of the difficulties with being spiritual and not religious,' Erickson said. 'As I say in the book, I was that for a number of years and learned a lot, but at a certain point it really becomes hard to do it all on your own: being freelance, as it were.'
'The value of community is it can carry you when you don't have the energy or the ability to do it yourself. There's deep wisdom built into a tradition that's been around for a long time. There are prayers, songs, foods, traditions, and the way you learn those and experience those is in community.'
For Erickson, it became 'really important' to be rooted in one tradition. 'That was one of the things I learned in my own travels — that I wanted to have real roots. The line in my book about being in an open marriage with Jesus — I really do believe that. It's like being married: you have a firm commitment to your spouse, but that doesn't mean you can't go out to coffee with a new neighbor down the street.'
In an age when there is often conflict and misunderstanding between religions, Erickson sees pilgrimage as a way to find common ground.
'There's so much more that unites us than divides us. It's easy to focus on differences between people and religions and doctrines, but there is a common thread that runs through all traditions.'
'Without exception, I have been welcomed at every holy site I've visited, even when I wasn't of that particular faith. People really want to share these places and are honored when you visit them.'