Home / Plan a potluck for 'Food, Inc.' screening
Plan a potluck for 'Food, Inc.' screening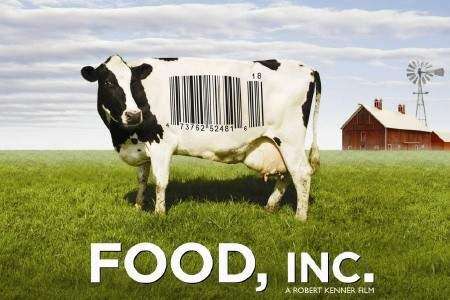 The POV (Point of View) series invites you to get your pots, pans, televisions, computers and friends ready for the special broadcast of the Academy Award®-nominated documentary "Food, Inc.", on Wednesday, April 21 at 9 p.m. on PBS, in celebration of Earth Day.
Food, Inc. asks: How much do we know about the food we buy at our local supermarkets and serve to our families? Though our food appears the same as ever, it has been radically transformed. Producer-director Robert Kenner and investigative authors Eric Schlosser (Fast Food Nation) and Michael Pollan (The Omnivore's Dilemma) lift the veil on the U.S. food industry, exposing how our nation's food supply is now controlled by a handful of corporations.
The livelihood of the American farmer and the safety of workers and consumers are potentially at risk. "Food, Inc." reveals surprising - and shocking - truths about what we eat, how it's produced, who we have become as a nation and where we may go from here.
Beyond the national broadcast, the POV Web site will offer viewers many opportunities to learn and participate:
[naviga:ul]
[naviga:li]Invite your family and friends over for a healthy, delicious, affordable and sustainable potluck meal. Then watch Food, Inc. and discuss the many issues it raises. POV will be giving away books, DVDs, sustainable food items and more to potluck hosts and participants.[/naviga:li]
[naviga:li]Plan your party with POV's Potluck Party Guide, which features an online invitation, checklists, discussion topics, links, resources and recipes. (See samples below.) http://www.pbs.org/pov/foodinc/party_kit.php[/naviga:li]
[naviga:li]If you missed the broadcast, watch the film online in its entirety from April 22-29 at http://video.pbs.org[/naviga:li]
[naviga:li]Join our Potluck Campaign and you may be selected for a free POV gift basket - Visit the POV Web site from April 22 to May 3 to enter the giveaway. Gifts include autographed copies of Fast Food Nation and The Omnivore's Dilemma, Food, Inc. DVDs, autographed Food, Inc. movie posters and more.[/naviga:li]
[naviga:li]Blog/Tweet/Facebook about your potluck - POV wants to know what you served, who joined in, what you thought of the film and what you talked about. Blog about your potluck and send us a link. Tweet @povdocs to tell us what you ate. Fan POV on Facebook and leave us a comment about your party.[/naviga:li]
[naviga:li]Calling all bloggers - Food bloggers are joining the Food, Inc. potluck campaign by sharing recipes, reaching out to their readers, hosting potlucks and more. Bloggers, including the cooks behind Food 52, Not Eating Out in New York, Last Night's Dinner and many more sites, will be encouraging their readers to host potlucks and discuss the issues raised in the film. http://www.pbs.org/pov/foodinc/blogger_info.php[/naviga:li]
[naviga:li]Take action and take part - The social action network Take Part has partnered with POV to help viewers find out how to support healthy school lunches, and stay up to date on the issue by reading the Hungry for Change Blog.[/naviga:li]
[naviga:li]10 Simple Things You Can Do - Take steps to change your diet and change the food system with these tips from the Food, Inc. filmmakers.[/naviga:li]
[naviga:li]Schools and community groups - Are you interested in hosting a public Food, Inc. screening and/or potluck? It's simple - Just join the POV community network http://www.amdoc.org/outreach/events/ request Food, Inc. and we'll lend you a screening kit that includes a DVD.[/naviga:li]
[/naviga:ul]
POTLUCK RECIPES
Below are three sample recipes (meat and vegetarian entrees and dessert) for Food, Inc. potluck parties. More can be found at http://www.pbs.org/pov/foodinc/potluck_recipes.php
I Am Not a Chef's Pasta With Spicy Sausage and Spinach
http://iamnotachef.com/2007/10/19/pasta-with-spicy-sausage-and-spinach/
1.5 lbs. spicy Italian sausage, casing removed
2 oz. olive oil
2 garlic cloves, minced fine
6 oz. white wine
10 oz. fresh spinach, washed, and stems removed
6 oz. half & half
1 oz. unsalted butter
4 oz. freshly grated Parmesan cheese
1 lb. pasta (I used shells, but any ½- to 1-inch shape would work well)
Boil a large pot of salted water for the pasta.
Heat the oil in a large sauté pan on medium-high heat. Cut the sausage into ¼- to ½-inch pieces and then sauté until the sausage is cooked through and lightly browned. Remove the sausage from the pan, leaving the fat and the oil (now would be a good time to put the pasta in the boiling water). Turn the heat down and add the garlic. Cook for a few minutes and then add the wine. De-glaze the pan on high heat, making sure to scrape all of the little bits of sausage and garlic into the liquid. When it has reduced a bit, add the spinach and cover until the spinach has wilted completely. It won't take long, so don't walk away for another glass of wine. It is a little disconcerting how little spinach is left, but it is enough to flavor the dish.
Turn the heat down to medium and add the half & half and the butter. Swirl the sauce around until it thickens a bit more and the butter is completely incorporated. Put the sausage back into the pan, and when it is reheated, dump it over the pasta. Toss the pasta into the sauce as you sprinkle the Parmesan cheese over the whole thing, and serve hot.
Last Night's Dinner's Savory Bread Pudding by Jennifer Hess
http://www.lastnightsdinner.net/2009/05/17/on-the-radio/
3 farm eggs (ours are usually in the large to extra-large size range)
3 cups whole milk
1 cup heavy cream
2-3 tablespoons good, sharp Dijon mustard
kosher salt
freshly ground pepper, if desired
4-5 cups of cubed bread (Note: I like the textural effect of leaving the crusts on, but you can certainly remove them if you like. Also, I prefer using a rustic country-style bread, but almost any bread will do – even croissants are good if that's what you've got on hand. Finally, slightly stale or dry bread tends to soak up the custard better.)
2-3 cups fresh seasonal vegetables (I used about 2 cups of diced asparagus and 1 cup of thinly sliced scallions, but again, use what's fresh and in season in your neck of the woods. If you like, a little bit of thinly sliced prosciutto, cooked crumbled bacon or sausage is good, too, as are fresh herbs.)
1-2 cups flavorful artisan cheese, shredded or crumbled (the amount will vary according to your taste and how mild or strongly flavored the cheese is)
butter for the baking dish or muffin tins
Preheat oven to 450 degrees. In a large bowl, whisk the eggs, then stir in the milk, cream, mustard, salt and pepper if using, until the mixture is well-combined. Add the bread cubes and press down so that they are completely submerged in the egg mixture (clean hands are best for this, so you can really put some muscle behind it). Let this sit for a few minutes, then toss and press again so that all of the cubes are thoroughly soaked. Add the vegetables a little at a time, stirring through so they are fairly evenly distributed.
Butter your baking dish or muffin tins. Spoon the bread mixture in until it comes about halfway up the sides, then sprinkle a layer of cheese on top. Repeat with the remaining bread and cheese, then cover tightly with foil. (If you are preparing this ahead of time, you can stop at this point and store it in the fridge until you are ready to bake it.)
Bake covered for 20 minutes, then remove the foil and bake an additional 10 minutes or so, until the top is golden and bubbly. Serve hot or at room temperature.
Not Eating Out in New York's Cranberry Ginger Jam Thumbprints by Cathy Erway (makes about 20)
http://noteatingoutinny.com/2008/12/23/cranberry-ginger-jam-thumbprints/
1 stick unsalted butter, softened
1 cup all-purpose flour
1 egg yolk
1/4 cup sugar
1/4 teaspoon vanilla
pinch of salt
1/3 cup chopped nuts or 2 Tb rolled oats
For the cranberry jam:
1 1/2 cups cranberries (fresh or frozen)
1/4 cup water
1/3 cup sugar
1-2 teaspoons grated fresh ginger
Preheat oven to 375 degrees. Heat cranberries, sugar and water in a saucepan over medium heat. In a medium bowl, cream the butter and sugar for the cookies. Add the egg yolk, vanilla and salt and beat well. Gradually add the flour until fully blended. Fold in the optional rolled oats at this time.
Meanwhile, stir occasionally as the cranberries cook over medium heat. Once all of the berries have "popped" (you will hear them pop) or have been smushed with your spoon or spatula, add the grated ginger. Stir and taste - adding more sugar if desired. Continue cooking over low heat, stirring occasionally, until it reaches a jam-like consistency and sweetness is right. (Total cooking time should be 8-10 minutes.)
Roll the cookie dough into roughly 1-inch balls (or slightly smaller). If using the chopped nuts, place the nuts in a bowl and roll each ball in them to coat its surface. Place on a greased baking sheet 1 inch apart. Create a small well in the centers with your thumb (or other fingers). Bake for about 10 minutes and remove from oven. Fill the centers of each cookie with a small scoop of the cranberry jam. Return to oven and bake another 5 minutes or until the edges are just slightly crisp and golden. Let cool on a cooling rack before serving.