Home / Sports / Iowa Prep Sports / High School Basketball
Linn-Mar's Trey Hutcheson finds a D-I college basketball home at Albany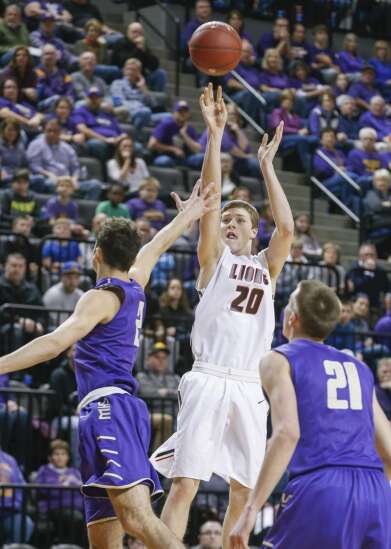 CEDAR RAPIDS — The plan all along was to see it through. Play this high school season, then make some sort of decision.
But Trey Hutcheson's official visit last weekend changed his mind. He's all in, all Albany.
The Linn-Mar senior wing announced Wednesday night he has committed to play college basketball at the D-I school in New York. The Great Danes are a member of the America East Conference.
'Really, there was just nothing missing at Albany,' Hutcheson said. 'The coaches put together a really great visit, a full visit of me meeting with academic advisors and coaches and watching film and meeting the players and seeing the city. Campus tours and all that. I got recruited by a lot of really great schools with a lot of really good things to offer, but Albany just kind of stood apart from the rest of them. There were no flaws with the school at all. When something is a perfect fit, you've got to take it.'
The 6-foot-6 Hutcheson is a three-year starter for Linn-Mar. He averaged 18.7 points and 7.3 rebounds last season, including making 160 of 185 free throws (86.5 percent).
He had other D-I offers from North Dakota, Furman and Air Force. The temptation was there to wait for more ... until last weekend's visit.
'At the end of July, that's what I was planning on doing: waiting,' he said. 'But then I picked up that offer from Albany and started visiting a couple other places. Things just kind of changed for me. At the start, I wasn't in a hurry to commit to anything. I hadn't really taken any visits, so I didn't really know what I wanted in a school and all. I really have just taken this fall to figure out a lot of that stuff.'
Hutcheson will be the fifth Iowa player to play at Albany under head coach Will Brown, who is his 17th season at the school.
l Comments: (319) 398-8259; jeff.johnson@thegazette.com