Home / Sports / Iowa Prep Sports / High School Basketball
Iowa boys' state basketball tournament 2023: A look at Friday's championship games
North Linn plays for back-to-back Class 1A titles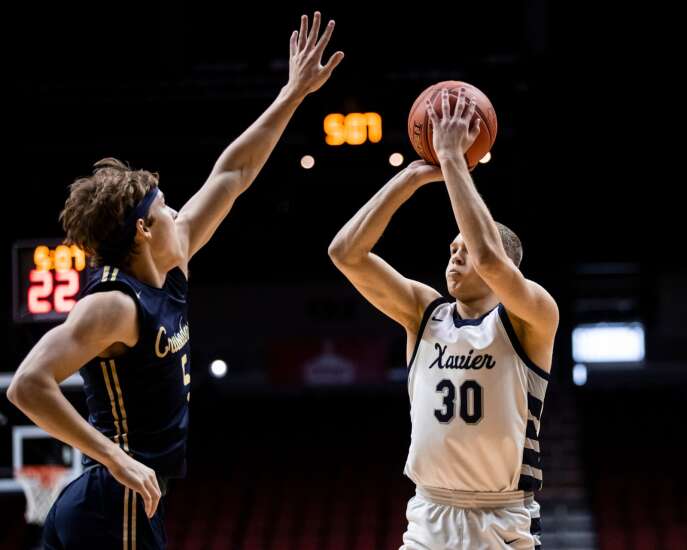 DES MOINES — Capsules for Friday's games involving area teams at the Iowa high school boys' state basketball tournament at Wells Fargo Arena.
Class 1A championship
No. 2 North Linn (26-0) vs. No. 1 Grand View Christian (26-0)
Time: 1 p.m.
Scouting report: Let's repeat last year's championship game. And 2018's. North Linn won last year, 52-48. GVC won five years ago, 49-46 ... These teams have been ranked 1-2 all season. How they got to this point was very different. Grand View beat New London in the quarterfinals, 61-51, and built a 30-point halftime lead en route to a 68-50 win over West Harrison in the semifinals. North Linn got past Madrid in the quarterfinals, 72-60, and rallied from 16 points down in the fourth quarter to stun Remsen St. Mary's in the semifinals, 52-50 ... Senior guard Josh Sanderson had 41 points for GVC in the semifinals, 29 of them in the first half. Grand View has a front line of 7-footer Daniel Tobiloba, 6-9 Emiliano Barrantes and 6-5 Noah John ... The health of senior forward-center Tate Haughenbury is a big question mark for North Linn. The Lynx's best player injured an ankle in the first half of the semifinals and was a shell of himself after. He is a key to everything his team does offensively and defensively. North Linn relied on 3-pointers from Breckyn Betenbender and Ty Pflughaupt in their monumental comeback. They'll need to keep hitting for the Lynx to have a chance.
Class 3A championship
No. 4 Cedar Rapids Xavier (20-6) vs. No. 1 Bondurant-Farrar (25-0)
Time: 5 p.m.
Scouting report: Xavier seeks its third state title. It went back to back in 3A in 2016 and 2017. Assistant coach Jackson Joens was a part of those teams. Bondurant-Farrar won a 2A championship in 1997 ... These are the top two seeds in the field, B-F being the 1. The Bluejays blew out Algona in the quarterfinals, 81-52, and rallied in the fourth quarter to oust North Polk in the semifinals, 54-45. In both games, four of B-F's five starters scored in double figures, an example of the team's offensive balance. Colby Collison leads the Bluejays in scoring at 19.7 points per game ... Xavier won a slugfest in the quarterfinals against Des Moines Hoover, 49-38. It beat Sioux City Heelan in the semifinals, 72-59. ... Junior point guard Joe Bean and senior wing Aidan Yamilkoski are the team's best players and were offensive catalysts in the Saints' first two games here. Bean had 15 points and Yamiloski 13 against Hoover. Against Heelan, Yamilkoski had 21 points and Bean 19. Saints head coach Mike Freeman is a former Xavier player.
Other championship games
3 p.m. — Class 2A: No. 1 Central Lyon (22-1) vs. No. 5 Western Christian (22-3)
7 p.m. — Class 4A: No. 4 West Des Moines Valley (20-5) vs. No. 3 Waukee Northwest (23-2), 7 p.m.
Comments: (319)-398-8258, jeff.johnson@thegazette.com