Home / Sports / Iowa Prep Sports / High School Basketball
Heartbreak redux for Marion in boys' state basketball tournament
Wolves fall to Sioux City Heelan in Class 3A quarterfinals, 68-59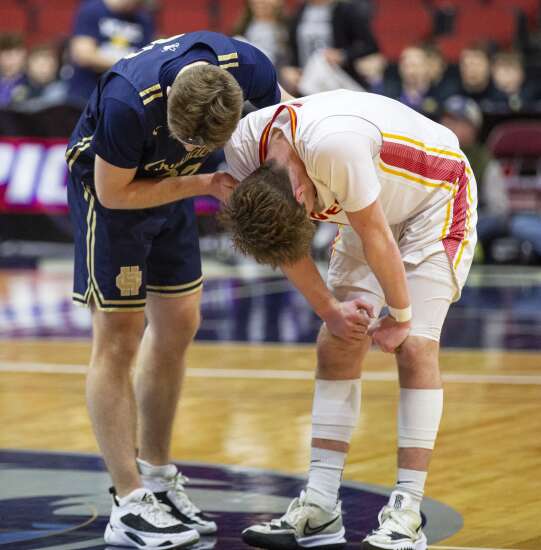 DES MOINES — It didn't go to overtime, but that was inconsequential.
This one hurt for the Marion Wolves. Again.
Sioux City Heelan scored 29 points in the fourth quarter and pulled away for a 68-59 win Tuesday night in a thriller of a Class 3A boys' state basketball tournament quarterfinal at Wells Fargo Arena.
Marion (19-6) came into this tournament with high hopes, a repeat qualifier and 3-seed playing well. But the school's first state tournament win since 1952 remained so frustratingly, agonizingly elusive.
The Wolves lost in last year's quarterfinals to Winterset in OT. Extra time, regulation time, a state tournament loss is a state tournament loss.
"It's more than just basketball," said Marion Coach Pete Messerli. "We've been saying it the whole season. It's a bummer to end this way. We didn't play our best game tonight."
"We definitely didn't play our best basketball, but it was a fun year," agreed Marion's Calen Claypool. "Same type of feeling (as last year). It sucks coming all this way to see it go in a close battle against a good team."
Marion led by three points after a quarter, by six at halftime and by one after three. An Alex Mota 3-pointer gave the Wolves a 49-48 lead with 5:15 left.
But Heelan (19-6) rattled off 12 straight points for a 60-49 edge, and that was that. The Crusaders play either Cedar Rapids Xavier or Des Moines Hoover in Thursday's semifinals.
Brayson Laube finished a brilliant career with 18 points. He became Marion's all-time career scoring leader earlier in the season.
⧉ Related article: Photos: Marion stumbles against Heelan in boys' state basketball quarterfinals
Mota added 14 points, Claypool and Payton Hodges 10 each. Heelan's 6-foot-8 senior Matt Noll was simply too much at times for the Wolves, putting up a double-double of 25 points and 13 rebounds.
"We just wanted to prove everyone wrong," Noll said. "We saw all the rankings, no one had us winning the first round. We came out here to prove everyone wrong."
"They just made a couple of big plays down the stretch," Laube said. "(Noll) got rolling in the fourth. We gave it everything we had. Credit to them, they just made more plays."
Everyone got taken back to 1952 or earlier for a part of the first quarter when there was a main scoreboard malfunction at Wells Fargo. Accurate time was kept on the shot clocks above each basket, with public-address announcer Father Craig Collison announcing the score to fans and everyone else after a point was scored.
A Laube 3-pointer and lane jumper at the buzzer gave Marion a 16-13 lead.
The teams jockeyed back and forth in the second, with a flurry by 6-foot-5 post player Claypool giving Marion a 30-20 lead at one point. Claypool, who did not score in the first quarter, had eight points on three inside hoops and a drive.
Heelan closed within 30-24 at halftime. Marion shot 50 percent from the field in the opening half (12 of 24) to Heelan's 47.6 percent (10 of 21).
Heelan pulled within 40-39 after the third quarter, with neither Laube nor Mota scoring. In fact, it was unsung Payton Hodges who had eight of Marion's 10 points, with Trey Franck coming off the bench for the other two.
AT DES MOINES
SIOUX CITY HEELAN (68): Carter Kuehl 6-11 3-3 17, Sam Skinner 2-7 0-0 6, Quinn Olson 3-6 4-4 10, Matt Noll 8-14 8-8 25, Sean Schaefer 3-3 0-0 7, Mason Streeter 0-0 0-0 0, Beau Chamberlain 1-3 0-0 3. Totals 23-44 15-15 68.
MARION (59): Brayson Laube 6-16 2-2 18, Myles Davis 2-7 0-0 5, Payton Hodges 4-9 0-0 10, Alex Mota 4-11 3-4 14, Calen Claypool 5-7 0-0 10, Jordan Fischer 0-1 0-0 0, Trey Franck 1-1 0-0 2, Elijah Smith 0-0 0-0 0. Totals 22-52 5-6 59.
Halftime - Marion 30, Heelan 24. 3-point goals - Heelan 7-20 (Kuehl 2-7, Skinner 2-5, Olson 0-1, Noll 1-4, Schaefer 1-1, Chamberlain 1-2), Marion 10-24 (Laube 4-10, Davis 1-4, Hodges 2-3, Mota 3-7). Rebounds - Heelan 31 (Noll 13), Marion 17 (Claypool 6). Total fouls - Heelan 8, Marion 15. Fouled out - Claypool. Assists - Heelan 12 (Olson 7), Marion 9 (Laube 6). Turnovers - Heelan 14, Marion 7
Comments: (319)-398-8258, jeff.johnson@thegazette.com